Arno Pfefferling, Zen's Central European lead, traveled across Europe for three months to represent Zen at several conferences. He'd like to share his account of the road trip from Oslo, Norway; to Amsterdam, Netherlands; and finally Essen!
During my first hundred days as Zen's Central European Lead, I was able to meet most of my team and get in touch with people from other divisions. The team was so kind and open, which was no surprise since ZenCash's core values are freedom and privacy. I hope you enjoy hearing about where Zen's European team spent their time! Thanks to the Zen team and community for making it possible for me to spread Zen all across Europe!
OSLO Blockchain Days (April 28)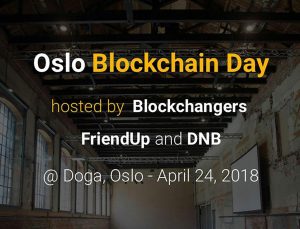 I first got ready to head out to the "DOGA" building.  I was surprised that I wasn't able to pay in Euro at this event; instead I used FIAT called Norwegian Crowns. At DOGA, our first business talk was with Blix Solutions.   We discussed mining infrastructure and opportunities in Germany. Our next discussion was with different developers from Ethereum, including Christoph Jentzsch from slock.it, whom I had the pleasure of meeting before in Germany. This time he showed me a crypto accessible lock.
The most interesting presentation at OBD18 was Stefan George's new approach to two-factor-authentication.  His approach allows users to recover their private keys through their social contacts.  At the end of the program, I got the chance to meet PÅL KARLSEN, who is a producer of blockchain movies.  He took me to a nearby church for some real experience in filmmaking. A trailer of one of his upcoming movies can be seen here – Overall, it was a small event, but everyone there was committed to advancing the crypto space.
AMSTERDAM Chainges Conference (May 4-5)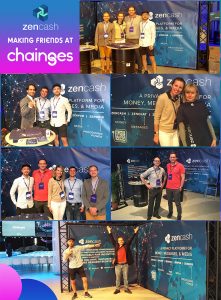 Our next stop was the Chainges Conference in Amsterdam.  The ZEN team stayed in a great Airbnb near the city center for this event, so we were close to the conference venue and got to experience the heart of the Netherlands.  
I wasn't able to check out that many presentations at the conference, but I had a chance to get together with Josef Marc, an experience IT developer, from Publica. We discussed current use-case scenarios of blockchain technology. All in all, for me, the Chainges conference was really great! A big thanks to Kamila, Jos, Lukas, Jonas and Philippe for making it an unforgettable team experience.
Check out our interview with the Bitcoin Magazine NL:
Essen Blockchain Tech Meetup (May 25-26)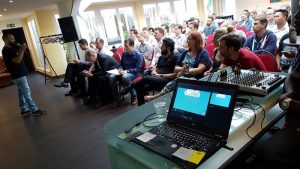 The third, and last, event of this road trip offered me the chance to see a completely different side of the crypto space, and I got the opportunity to meet the rest of the ZEN team! Our day started at Unperfekthaus and the WG-Room which, inevitably, opened my thoughtfulness for other projects like Liberland and Pangea.  Liberland and Pangea are mobile blockchain applications for creating your own blockchain nation.
On the first day of the Essen Blockchain Tech Meetup, I gave my presentation about governance and privacy.  My hope was for the audience to gain knowledge about current state-of-the-art solutions, and bring attention to the work that needs to be done to build the bridge between the centralized systems we live in and the virtual crypto space.  The panel discussion was fascinating; it was run by old school Bitcoin evangelists, Jörg Platzer and Amir Taaki.  They were able to share their crypto ideologies with me and describe what it means for them to fight for freedom.
Summary
Over three months, I got to attend three events and meet Zen team members from more than three countries. By experiencing old and new crypto projects, I was able to get exposure to various initiatives that make up the crypto space. These opportunities introduced me to new friends and allies. We're hoping to see the Zen community at our future conferences and meetups!
If you want to see more ZEN pictures just check out our regional twitter accounts at
or check our #meetups discord channel
or look on Facebook for the official ZEN pages / groups.
ABOUT THE AUTHOR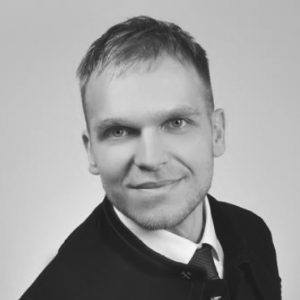 Arno Pfefferling is ZenCash's Central European Lead.
Arno was born and raised in the Free State of Saxony (Germany). He also works there as a manufacturing engineer. His career path is placed in the semiconductor industry for more than 5 years, which gives him a direct view in the fabrication of leading edge integrated circuits.
To keep high integrity and enable continuous improvement in manufacturing processes, Arno gained a B. Eng. in Microtechnology and M.Sc. in Electronic- and Sensor Materials from the Technical University Bergakademie Freiberg. The will to break technology boundaries naturally brought him to blockchain technology, which he views as a game-changing opportunity for society.
Feature cover Image source: wiki, getty images, Think Norway