Horizen is proud to announce the launch of Horizen Academy, a go-to educational platform on blockchain technology, cryptocurrency, and privacy for everyone.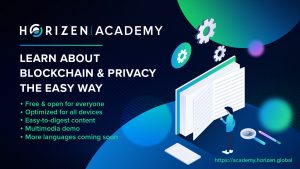 Our academy ensures that everyone can learn about these topics, regardless of their comfort level and experience, for free!
Horizen believes that education is important in the journey of bringing the blockchain technology to everyday life. If people don't understand what crypto is and how it works, then they won't use it. It's in our entire industry's best interest to have an educated consumer base. Educated consumers mean more interesting use cases and faster adoption.
Our Academy is geared toward people with varying levels of blockchain knowledge. In our team's experience, articles are often too trivial or too complicated, leaving you with gaps in knowledge. The Horizen Academy lets you adjust the content to your needs. We even have an ELI5 (Explain it Like I'm 5) section, to get people started on the very basics of blockchain and cryptocurrency.
In terms of topics, Horizen Academy covers blockchain technology, online privacy, and Horizen's history. In the future we plan to gamify our platform, giving Horizen Academy users rewards for completing courses.  
Horizen Academy is currently available in English. To better serve our global audience, we will be adding Chinese, German, French, Spanish, and Italian in the near future.  
We hope you enjoy our platform. Feel free to leave us feedback on the content and our user interface.