Zendoo's mainnet launch completes Horizen's transition from a privacy-focused cryptocurrency to a zk-SNARK enhanced cross-chain platform enabling the creation of fully decentralized blockchains and applications
We are excited to announce that Horizen's blockchain platform Zendoo, is now live on mainnet. You can now custom-build private or public blockchains on Horizen's zero-knowledge-enabled ecosystem! 
2021 has been the year for blockchains to prove their worth in the face of mass adoption. From defi trading and NFT marketplaces, we have witnessed an exponential rise in new wallet addresses and funds pouring into the crypto economy. 
While blockchains have onboarded millions of users, their growth has come at the cost of security and decentralization. With every batch of new wallet addresses comes an increasingly greater risk of nodes going offline, smart contracts becoming exploited, or gas fees skyrocketing to unsuitable levels for everyday users. 
These challenges represent the growing pains of mass adoption, which can be remedied by a network of blockchains that emphasizes decentralization and privacy freedom as a core feature while enabling scalability through independent yet interconnected blockchain networks. 
Zendoo is the culmination of three years of hard work to redefine what it means to achieve blockchain scalability.
Alberto Garoffolo – Horizen's Director of Engineering

"Zendoo unleashes the potential of blockchains to scale via the creation of multiple parallel networks that operate independently and can be customized for speed, privacy preservation, and consensus. Our highly flexible system increases the design freedom and usability of blockchains while introducing cutting-edge technologies such as zero-knowledge proofs to preserve data privacy and SNARKs to allow communication with any kind of sidechain in a scalable way. These features are essential for building a boundless crypto-economy that is inclusive to all. With Zendoo, Horizen now enables the creation of blockchain applications without binding to a specific architecture, but at the same time, it allows decentralization, scalability, and security." – Alberto Garoffolo, Horizen Engineering Director. 
More About Zendoo 
Zendoo is our unique interoperability protocol and scaling solution that fosters an ecosystem of independent blockchains and dapps for real-world use cases by enabling developers to custom build zero-knowledge-enabled public or private blockchains with scalability and flexibility unmatched by others. You can choose your consensus, speed, and throughput and leverage the ecosystem benefits of Horizen. 
Rob Viglione – Horizen Co-Founder and Team Lead

"Zendoo pushes the boundaries of what is possible for decentralized networks by introducing new levels of flexibility and scalability not yet seen in our industry. This enables more transparent and secure networks for storing and exchanging valuable data or assets while reducing the costs and settlement times between transactions. I strongly believe our patience and long-term focus on creating the most decentralized and privacy-preserving system will pay off massively as the traditional economy begins to catch up to the benefits of blockchain technology in the coming months and years".  –  Rob Viglione, Co-founder & Team Lead
Zendoo-based blockchains can leverage the following ecosystem benefits in their design: 
Scalable and flexible

The Zendoo system architecture allows a modular protocol that stresses functionality over design choice. This permits massive scalability, application design freedom, and flexibility.

Permissionless and decentralized

The Zendoo sidechain model is decentralized in all its components. It leverages zk-SNARKs to verify cross-chain communications without relying on any third party. The largest node network supports Zendoo for further decentralization, which provides resilience and reliability to the network.  

Private and auditable

Horizen's focus on privacy in its scalability solution design uses the leading privacy technology, zk-SNARKs, to enable verifiable communications between the Zendoo blockchains and the Horizen public mainchain. This approach allows users to create auditable and data privacy-preserving applications to address real-world use cases.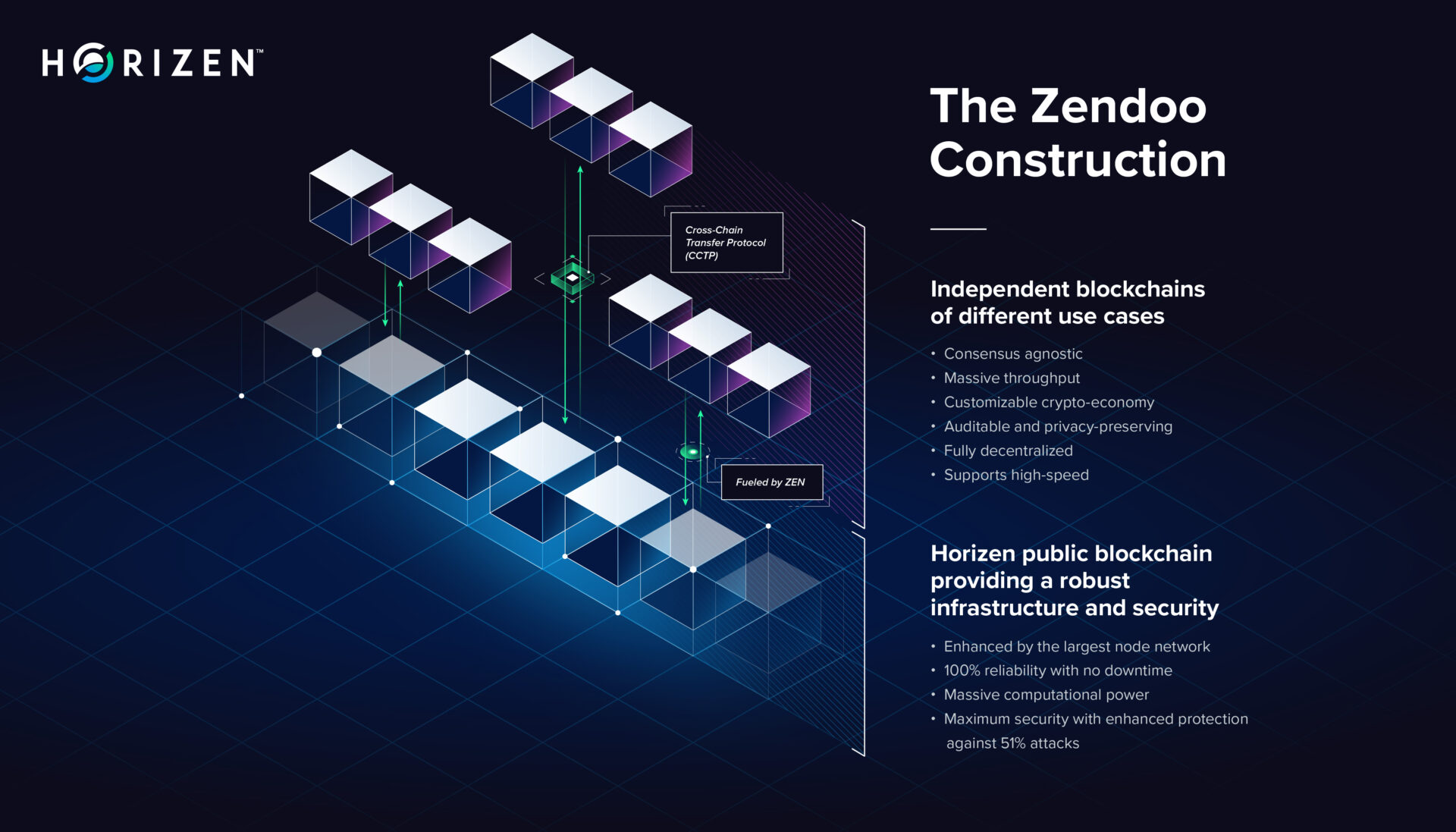 The backbone of the zero-knowledge network of blockchains is the highly secure and decentralized Horizen public mainchain fueled by Horizen's native cryptocurrency, ZEN, and powered by the largest node infrastructure consisting of more than 47,000 nodes. The Horizen mainchain is also secured by an improved proof-of-work consensus mechanism with enhanced protection against 51% attacks.
About the Blaze SDK
Blaze is our answer to how developers and traditional companies can leverage blockchain technology to improve their business. The Blaze SDK enables developers to launch a high-speed blockchain on the Horizen network and is designed to achieve high transaction throughput of up to 1,000 transactions per second per chain. The Zendoo platform can support up to 10,000 blockchains running in parallel. 
In addition to our Blaze SDK, we will have the Latus SDK, a permissionless SDK that enables fully decentralized blockchains and EVM integration for Ethereum smart contract compatibility. Both SDKs are expected to be available in 2022. 
How Developers Can Begin Building on Zendoo 
Building on Zendoo is now open to anyone. You can join projects like Celsius, Dash, Morpheus.Network, and HeroEngine on our ecosystem by building on Horizen today. To begin the process of building your own crypto-economy, visit our GitHub or Zendoo tutorial page. For questions about the process of building your blockchain, please join the #zendoo channel in our Discord. You can also join the Zendoo Hackathon with HackerOne! This public hackathon helps ensure our ecosystem is as robust as possible.

There will be new Zendoo-related HDE tasks available soon!
Celebrate With Us!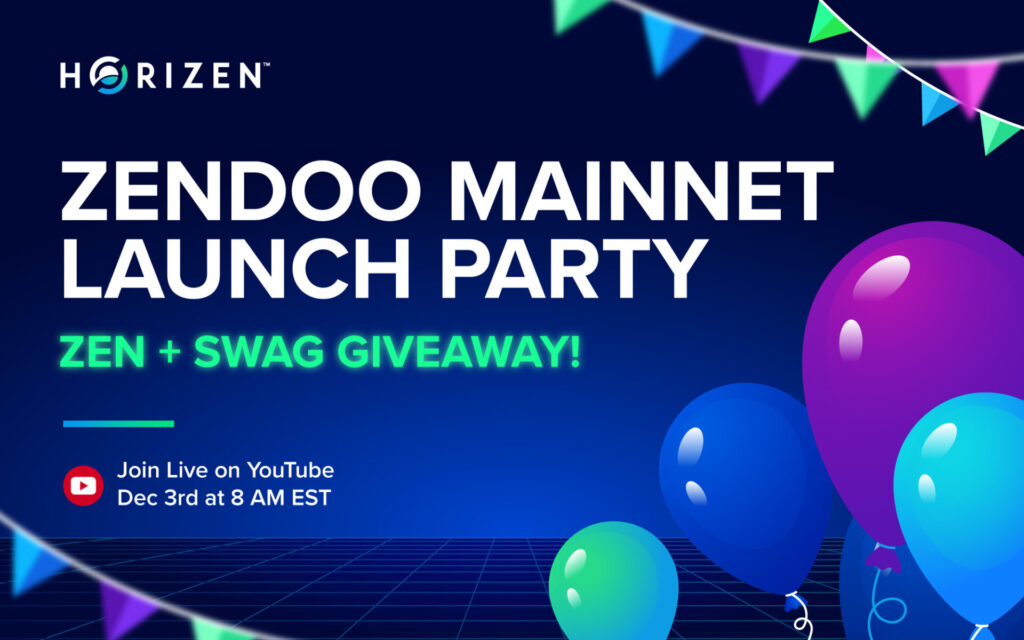 We are celebrating the biggest milestone with our community and partners on Dec. 3! There will be ZEN and swag giveaways and Horizen team and industry leaders as guest speakers. Everyone is invited to join! 
So be sure to stay up to date on all of our announcements by following us on Twitter, Facebook, and Discord.