We are excited to announce SpookySwap, a leading decentralized exchange and yield farm on the Fantom Opera network, is live on Horizen EON! This is SpookySwap's first DEX Multichain deployment, and this integration is set to boost the DeFi landscape, enhancing liquidity and fostering innovation on the Horizen EON ecosystem.
SpookySwap, renowned for its user-centric approach and innovative features, brings a wealth of experience and a vibrant community to the Horizen EON ecosystem. This integration will facilitate seamless asset swaps, yield farming, and liquidity provision, creating a robust environment for DeFi users and developers alike.
"This is SpookySwap's first multichain deployment, and we couldn't be happier about launching on EON; the Horizen team has been incredibly supportive and has brought an intense level of passion and enthusiasm that we love to see from a partner. We have so much we want to work on and can't wait to launch those products on EON."

Owen Palmer, Head of Business Development at SpookySwap
The Horizens EON ecosystem, recently launched on mainnet with support from a wide range of protocols and dapps, stands to benefit immensely from SpookySwap's innovative solutions and strong community engagement. This integration is a testament to both platforms' commitment to advancing decentralized finance and setting new standards in the industry.
"Integrating with SpookySwap marks a significant milestone for the Horizen EON ecosystem. Their expertise in decentralized finance and their commitment to user empowerment align perfectly with our vision. Together, we are set to deliver unparalleled value and innovation to the DeFi space."

– Rob Viglione, Co-founder of Horizen and CEO of Horizen Labs
ZEN Trading is Open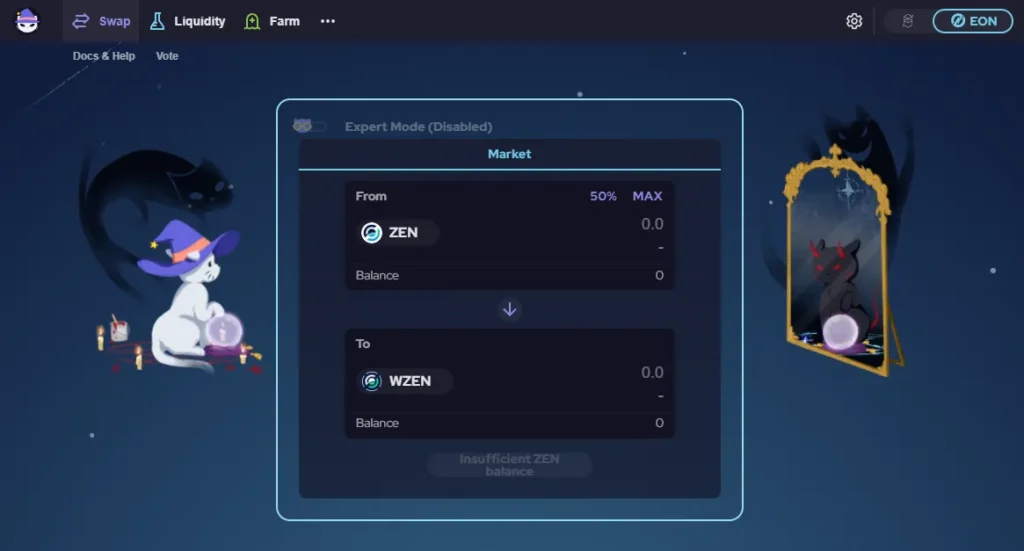 Deposits & withdrawals are available for ZEN pairs and can be accessed here. USDC is tradable against ZEN and wZEN, with additional pairs being enabled once sufficient liquidity develops.
Stay tuned for more updates as we work together to shape the future of DeFi and deliver exceptional value to our users and the broader web3 community.
Resources
About Horizen EON
Horizen EON is a fully EVM-compatible smart contracting platform and the first of many smart contract sidechains in the Horizen ecosystem. It allows developers to efficiently build and deploy decentralized applications (dapps) on Horizen, while fully benefiting from the Ethereum ecosystem. EON is built with scale and user experiences in mind, on Horizen's powerful horizontally scaling protocol, Zendoo.
For more information, visit https://eon.horizen.io
About SpookySwap
SpookySwap is a decentralized exchange and yield farm on the Fantom Opera network, offering users a range of innovative features and a user-friendly experience. With a strong focus on community and user empowerment, SpookySwap has quickly risen to prominence in the DeFi space, providing reliable and efficient solutions for asset swaps, liquidity provision, and yield farming.
For more information about SpookySwap, please visit SpookySwap's Official Website.