We are excited to announce the official mainnet launch of Horizen EON, Horizen's fully EVM-compatible sidechain and smart contracting platform. Developed and powered by Horizen, Horizen EON is poised to play a pivotal role in the web3 revolution. Horizen's goal is to offer a market-leading solution to drive the industry forward – a permissionless, interoperable, customizable multi-chain network with EON being the first of many smart contracting sidechains on Horizen that will onboard the next generation of builders and users to the web3 economy!
Why Build on Horizen EON?
Horizen EON (Ethereum Open Network ) is a scalable blockchain platform optimized for streamlined and diverse dapp development. It is compatible with the Ethereum Virtual Machine, leveraging Ethereum's vast resources and community for easy and seamless dapp deployment on Horizen. 
While Ethereum has been driving broad adoption of DeFi ecosystems and smart contracts, Horizen has been developing its ZK-powered cross-chain protocol and horizontal scaling solution, Zendoo, that allows a wider adoption of blockchain technology with full customization at the protocol level. With the addition of Horizen EON, Horizen now also opens its fast-growing ecosystem up to more opportunities for efficient development and usage of a wide range of dApps and services than ever before.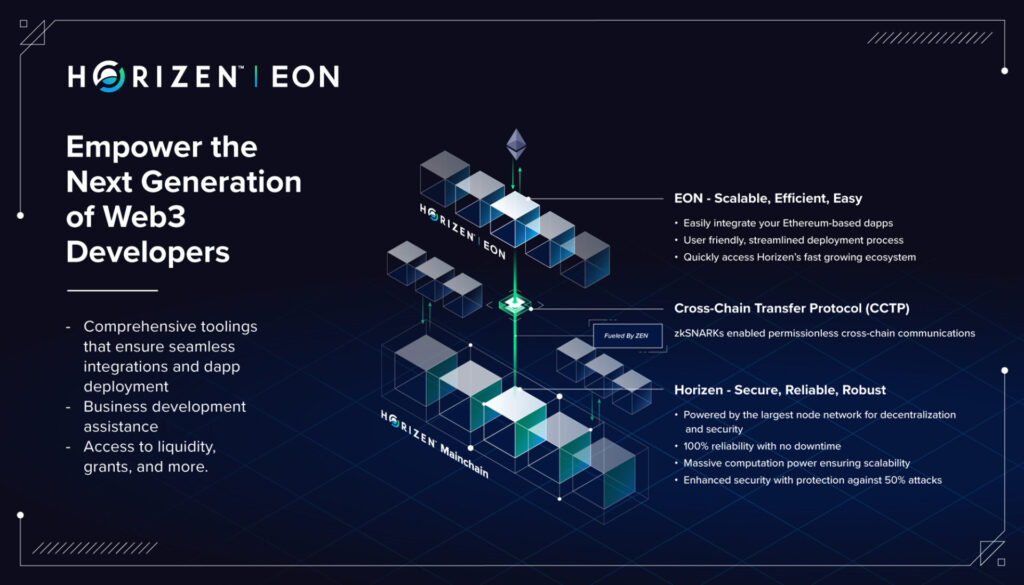 Horizen EON's mission is to empower the next generation of Web3 developers
Focus: Horizen EON is dedicated to nurturing the next wave of Web3 developers. These are innovators eager to introduce groundbreaking web3 products, but are hindered by the limitations of existing chains, such as inadequate tooling, network congestion, centralization, and lack of growth support.
The EON Ecosystem: Horizen EON is committed to establishing a robust ecosystem tailored for visionaries aiming to challenge and replace the status quo by offering best-in-class launch and growth support including :
Comprehensive toolings that ensure seamless integrations and dapp deployment
Business development assistance
Access to liquidity, grants, and more.
The EON Identity: Horizen EON also positions itself to be the new hub for consumer dapps aimed at bridging the Web2 – Web3 divide. This ambitious goal is supported by EON's hands-on approach to crafting an ecosystem optimized for everyday users. The EON platform is designed to provide both the technical infrastructure and a nurturing environment for builders, complete with product support and incubation.
The EON Launch is Joined by a Vibrant Range of Protocol Integrations and Partnerships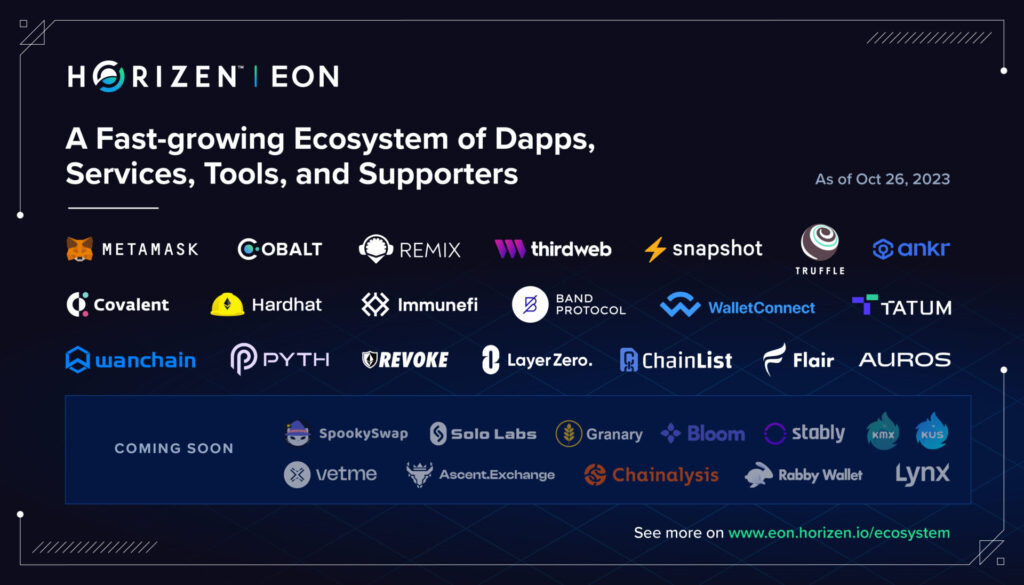 The Horizen EON ecosystem welcomes protocols, builders, and dapps that resonate with its core values:  Transparency, Accountability,  Security, Community Engagement, Continuous Growth, and Social Responsibility.
The EON ecosystem is launched with a wide range of protocols and dapps, providing a vibrant ecosystem for its new users starting day one. These integrations, partners and supporters include developer toolings, bridges, DeFi protocols, liquidity providers, and infrastructure essentials. Some of the integrations and supporters currently live on Horizen EON include LayerZero, Tatum, Pyth, Band Protocol, Ankr, Third web, Stably, and with many more that are forthcoming in the next few days, including SpookySwap, Chainalysis, and Granary. 
Embrace the Web3 Revolution
Horizen EON's foundation rests on the belief that the path to web3 adoption involves enhancing the web2 experience. It is not looking to reinvent the wheel but to optimize it, ensuring that the unique features of web3 (like Tokenization, Authentication, and Interoperability) seamlessly integrate into applications that are familiar and user-centric.
Across cutting-edge verticals, EON aims to support innovative application ideas that can bring the next generation of builders and consumers to web3.
As the world has been ushering in a new era of decentralized applications, Horizen invites developers, innovators, and users to join the Horizen EON ecosystem and work together to drive mainstream adoption of web3 technologies, foster a more connected multi-chain world, and create solutions that cater to users at every stage of the Web3 journey.
For more insights into this launch and the future of EON, stay tuned to the upcoming EON Mainnet Launch Summit joined by the teams behind Horizen EON and the launch integrations and partners and ambassadors of the Horizen community.
Resources