Horizen is excited to announce that our first Sidechain node is now up and running!
This is a big step in Horizen's transition toward offering robust Sidechain services to developers and businesses. It's also a giant leap forward toward completing Horizen's Sidechain SDK and our novel Cross-Chain Transfer Protocol.
If you missed it, you can read about Horizen's transition to Sidechains HERE or check out our whitepaper. This is the first in a series of blog posts and videos which will keep the community updated on our progress. Please follow us, as more exciting news is coming soon!
The First Sidechain Node – A Big Step Forward

Having our first Sidechain node running is the result of 7+ months of development led by Horizen's R&D Director Alberto Garoffolo. The first Sidechain node allows us to integrate independent node components and ensure that they work as expected. 
Our Sidechain Node consists of 4 independent elements, maintained, and aggregated together by NodeHolder software component:
State

: controls the list of unspent outputs

History

: contains all the blocks of Sidechain and validate them through Sidechain Consensus

Wallet

: contains Node related secrets (like private keys) and balances

MemoryPool

: like in ZEND contains transactions that can be included in to Block
Before creating this first Sidechain node, we were only able to test components via unit tests. Now we can see all node components in a coherent view as a single entity. This view allows us to work on testing the Sidechain network and to develop features and fixes to make it more stable. Our first Sidechain Node also  allows us to develop complex integration tests for different workflows. Now, we'll continue to BUIDL (build)!
In the next couple of months, we will continue working on the API, which interfaces to interact with the sidechain. We'll also be spending time building the backward transfer functionalities on the mainchain. Of course, we'll have to do extensive testing and bug fixing on the delivered code. Lastly, we'll be working on the consensus, as the one we are using now is a simplified version. 
Our end goal for the beginning of Q4 2019 is the Sidechain Alpha, which will allow developers to build applications with customized transactions and custom business rules.
Read the second article in the Horizen Sidechains Series 'A Quick Intro To Horizen Sidechains'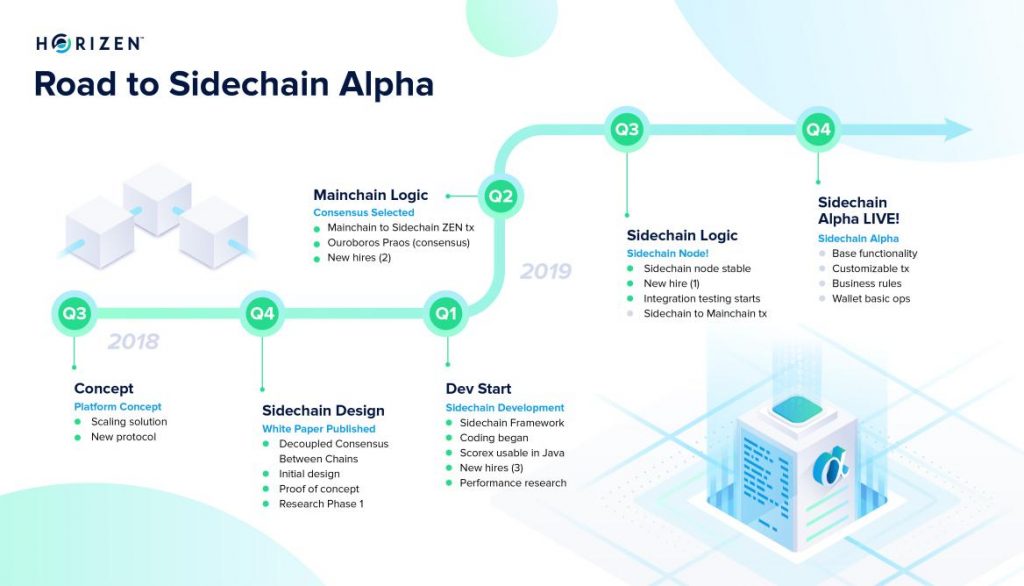 Learn about Horizen Sidechain use cases by watching this video presented by Rolf Versluis, Horizen Co-founder and Executive Adviser: