The Horizen Community Hub (The ZEN Faucet) has further sweetened the "Sweet HODL! Bonus" by adding stZEN!
The "Sweet HODL! Bonus" (HODL! for short) is a feature the ZEN Faucet that rewards the Horizen global community for participating in the ZEN ecosystem. With HODL!, users can earn extra rewards for staking as little as 0.025 ZEN in their verified wallet! Now we are adding the recently issued new token, stZEN, to the HODL!
Users can earn up to 3X extra rewards on top of their daily faucet rewards by just hodling stZEN in their verified Ethereum wallet.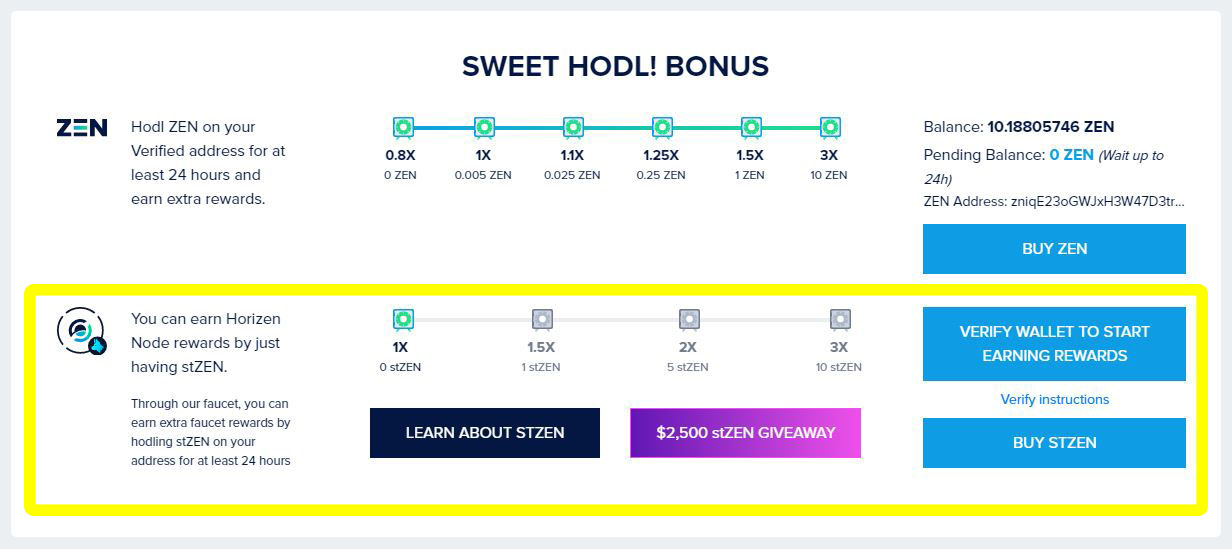 How to get the Sweet stZEN HODL! Bonus
STEP 1: Get stZEN from SushiSwap
There are 3 tiers of extra rewards depending on the amount of stZEN you hodl:
1 stZEN = 1.5X extra rewards
5 stZEN = 2X extra rewards
10 stZEN = 3X extra rewards (You can enter the $2,500 giveaway if you start hodling 10 stZEN before May 8th)
Follow this tutorial for step-by-step instructions
STEP2: Verify the Ethereum wallet where you keep your stZEN
You'll need to verify your address to earn your Sweet HODL! Bonus. Verifying your address takes just a few minutes or so. Follow this tutorial for step-by-step instructions
STEP 3: Enjoy your added rewards!
The Sweet HODL! Bonus is just one way to increase your Horizen faucet earnings. You can also refer friends, authenticate your social media, come back daily, and use Brave browser to earn ZEN faster. Check out the 'Extra Rewards' tab on our faucet to see how you can increase your earnings!
We appreciate community feedback and ideas! Send us your suggestions and feedback on Twitter or Discord.