ZenCash support was officially added to the Ledger Nano S cryptocurrency hardware wallet, one of the top-rated hardware wallets on the market. The Ledger Nano S currently supports over 25 coins, including Bitcoin, Ethereum, Litecoin, and now ZenCash.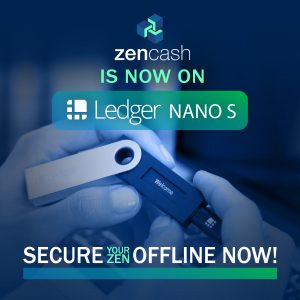 The Nano S also has a built-in display and buttons that let you easily interact with your device to confirm transactions, making it one of the most secure two-factor authentication devices on the market.
The benefit of having a hardware wallet as opposed to storing your ZenCash on a "hot" wallet is that your data will never exposed or accessible to anyone else. It is secure within the hardware wallet and is only accessible to you, using your PIN code. Your private keys are also never held by Ledger or a third party, making your wallet completely decentralized and in your control.
To download ZenCash to your Nano S, follow these instructions:
Plug your Nano S into your computer or device.

Input your PIN code to enter your Nano S.

Open the Ledger Manager Chrome app and navigate to the ZenCash app.

Download the ZenCash app to your Ledger.
The Ledger Nano S works like any other wallet you may have experience using. You will be able to generate T_Addresses to send and receive your ZenCash.
Secure your ZenCash on the Ledger Nano S hardware wallet and buy one today!