Many of you know there is something exciting and new coming to ZenCash. For those that don't…. ZenCash is expanding its brand, and we are aiming to unveil the new brand on August 22nd!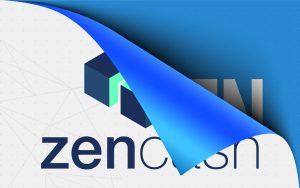 A little over a year ago, ZenCash began as the dreamchild of a few people committed to developing a cryptocurrency-based project focused on core privacy technology. Since then, Zen evolved into a powerful grassroots movement that is revolutionizing the crypto industry. Within less than a year, we achieved 80% of our initial white paper and became one of the largest and most decentralized networks in the space. Just two weeks ago, we flawlessly completed a massive, mandatory system upgrade and introduced a new node class, Super Nodes. This new addition to the Zen network will help us move towards becoming the platform we envisioned in the original white paper. These steps helped us make crucial progress in achieving our overall vision of building the most innovative and border-less privacy platform for anyone, anywhere around the world.
While we have rapidly and steadily grown as a project, we have remained steadfast in our commitment to always keep the voice of our community central in our evolution. What we have learned from you is the following:
Our current brand can no longer adequately represent the expansive nature of this project and the community behind it – we have simply outgrown our current brand! 
During our last biweekly live update, we announced the reveal date of our new brand – Aug. 22nd! Just like all other major news and developments, we will unveil our complete new look through our next biweekly live update on Youtube, because we want our community to be the first to know!
We Heard From You!

Our vision and determination brought together a passionate community that is constantly growing and contributing. We wouldn't have made it this far, this quickly without the boundless support provided by our incredible community. It was your contributions that have served as the driving force behind all of the incredible upcoming changes.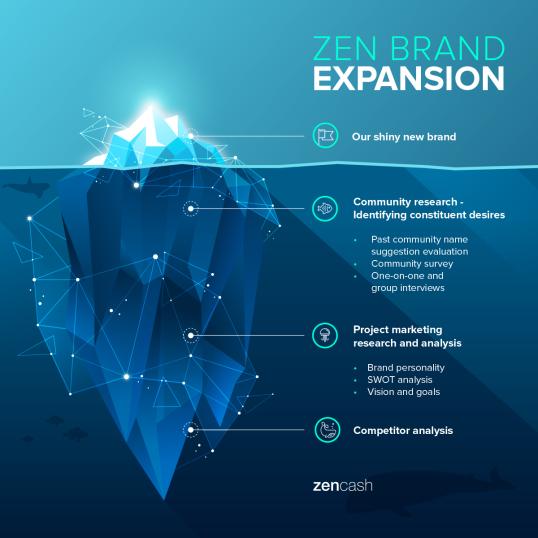 The process of finding our new brand goes much deeper than just changing our logo and name. It is a process of managing what people see and feel when they look at our outreach effort and when they think of our project. Our new and improved brand will be a guide and help the team message to focus on our purpose, value, and vision; it will allow both potential and existing users to resonate with our brand personality and communications more easily.   
As the very first and crucial step of the branding process, before thinking of new name options or any other changes, we conducted a comprehensive research that lasted three months.  The research involved an in-depth project marketing research and analysis, a dynamic community research, as well as a competitor analysis.
As part of the research, we reviewed a survey resulting in community feedback surrounding our strengths, weaknesses, community sentiment, and the future of ZenCash. We also conducted group and one-on-one interviews with the ZenCash team and individuals who represents different types of constituents within the ZenCash ecosystem. This research pool included node operators, miners, investors, government regulators, and various community members. This research and all the conversations helped us really understand ourselves as a project, our brand personality, and what we must do to fulfill our community's desires.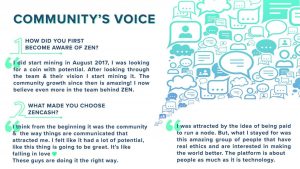 After evaluating the results from the research, we are proud to share that we are on the right path of working towards our vision with the support and trust of our community. Together, we are creating something truly special and different in the world. Both the ZenCash team and community recognize that we are much more than a cryptocurrency, we envision a comprehensive technological platform with a wide variety of use cases that allows people to operate publicly, privately or anonymously.
This brand expansion is about our community as much as it is the project. We are building an ecosystem where people can truly belong and our new brand is created based on what our community desires and will be the perfect representation of both the present as well as the future of our project.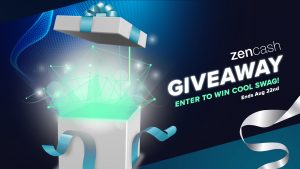 Brand Expansion Giveaway: Enter to Win New Swag!
This brand expansion is very exciting and we want more people to know about it! Help us spread the news, and you can have a chance to win swag with our new brand design! It's very easy to enter. Just click here and follow the instructions! There will only be ten winners, and the giveaway ends on 8/22, so act fast!