We are thrilled to announce the CryptScrow Codeathon, an exciting hackathon where developers and innovators can showcase their skills and revolutionize the world of escrow transactions. Join us as we bring together talented minds to build scalable escrow platforms, solve real-life escrow challenges, integrate with external services, and streamline bounty payouts with Ubiquity DAO. 
CryptScrow Codeathon Overview
With submissions starting May 31st at 12:00pm EST, the CryptScrow Codeathon is a unique opportunity for developers, designers, and blockchain enthusiasts to collaborate and create groundbreaking solutions in the realm of escrow transactions. Our codeathon offers a range of challenges and prize pools.

Challenges at a Glance
Automated Trades via Escrow Contracts – $4k Prize Pool:
Develop a system that facilitates automated trades between users without direct counterparty involvement. Create secure escrow smart contracts, match users based on desired assets, and provide a seamless user experience.
Decentralized Escrow Arbitration – $3k Prize Pool:
Design and implement a decentralized escrow arbitration system to resolve disputes during trades. Ensure fairness, transparency, and efficiency in dispute resolution through innovative approaches and user-friendly interfaces.
Building a Scalable Escrow Platform – $9k Prize Pool:
Build a comprehensive and scalable escrow platform leveraging provided or custom escrow smart contracts. Focus on platform architecture, user registration, transaction management, security, scalability, and documentation to empower users across various industries.
Increase Gas Efficiency on Ubiquity's Bounty Payments by Using EON – $1k Prize Pool:
Integrate Ubiquity DAO's UbiquiBot payout process with EON for cost-effective bounty payouts. Optimize gas efficiency, deploy the Permit2 contract, ensure compatibility with the Gnosis Safe, and enhance the user experience.
Enhance the Functionality of Ubiquity's UbiquiBot – $1.2k Prize Pool:
Improve the user experience of Ubiquity's UbiquiBot for contributors, partners, and managers. Simplify compensation claiming and management processes, automate tasks, and provide an intuitive UI/UX for seamless operations.
Guarantee the Diamond Storage Hasn't Been Tampered With – $800 Prize Pool:
Develop a solution to ensure the integrity of the diamond storage and prevent tampering. Address the highlighted issues related to continuous integration and testing, enhancing security and reliability.

Participation and Judging Criteria
Participants will be evaluated based on specific criteria relevant to each challenge. Functionalities, innovation, security, user experience, scalability, and documentation will be considered to determine the winners of each prize pool.
CryptScrow Codeathon Schedule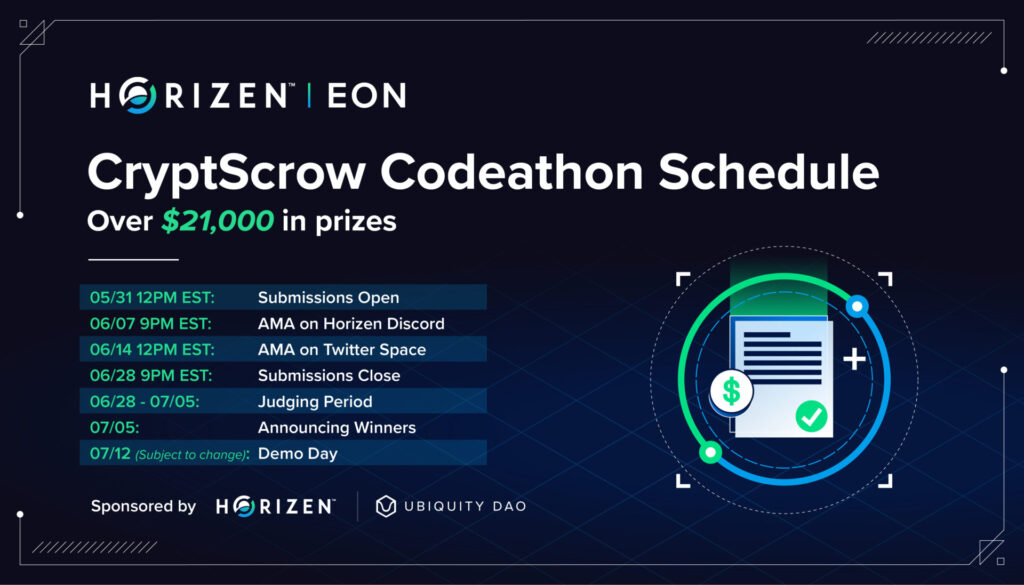 Join the CryptScrow Codeathon
To participate in the CryptScrow Codeathon, register on our official website and form teams or work individually. The hackathon provides an incredible opportunity to collaborate with like-minded individuals, network with industry professionals, and gain recognition for your skills and contributions.
Mark your calendars for the CryptScrow Codeathon, where we aim to redefine escrow transactions and build a brighter future. Together, let's unlock the potential of blockchain technology and make escrow transactions seamless, secure, and accessible to all.
Stay tuned for updates, detailed guidelines, and additional resources on our website. 
Get ready to showcase your talent, solve real-world challenges, and be part of the CryptScrow Codeathon revolution!
Be sure to stay up to date with us on our Twitter and join our Community on Discord! If you're interested in receiving future developer-focused updates, be sure to join our Developer Newsletter list here.