Horizen has recently integrated with Metal Pay, a US-based leading cryptocurrency payments app that makes buying and sending ZEN easy and fast. 
After announcing the partnership, Horizen BD Director Rowan Stone and Metal Pay Social Media Manager Logan Smith hosted a live AMA in the Metalpal Telegram community.   
The AMA helps both the Horizen and Metal Pay communities to better understand the partnership and the opportunities it will bring.  If you missed the live AMA, worry not, here is the transcript of all the questions and answers from the AMA.  
QWill Horizen be listed on Metal exchange?
Rowan: We would certainly like to see ZEN on Metal Exchange when it launches however that's for the MetalPay team to consider.

Logan: We'd love to see that, too! Our vision is for our exchange to have more cryptocurrencies than you can imagine. We're going to start with a really good core selection and build from there to ensure this exchange is delivered to our users as soon as possible.
QWhat is Horizen?
Rowan: Horizen is a community focused public blockchain with a native currency called ZEN. We're building a set of tools that will allow businesses and developers to easily launch bitcoin-like blockchains with custom logic, in a super scalable way. Rather than trying to cram all activity through a single chain, we use sidechains which enable the launch of independent blockchains for each product, service or application being created in our network. 
This is interesting for two reasons:
It allows blockchains to be designed specifically for the application at hand. Creating an app that requires huge transactional throughput? Use PoS rather than the Horizen mainchains PoW!

It allows applications to be written in the programming language that best suits the person creating them. If your business uses C#, write your app with that. If you usually use Java, create your app with that. 
All whilst taking advantage of the biggest node network in the industry and Horizen's liquid native currency, ZEN.
QWhat is Horizen's innovative anti 51% attack method? Which projects implemented your solution already?
Rowan: We devised a block penalty system which basically deters people from mining privately, withholding blocks and then later trying to fraudulently insert them in the chain using the longest chain rule to approve their double spend TX's. It has been picked up by a few different projects including Pirl who made an Ethash version which is now used by numerous Ethash coins: 
More info on our 51% solution can be found here with detailed info in the whitepaper. 
Q Will the exchange be available for the global audience immediately or will it be released region by region?
Logan: This is going to be a region-by-region task simply because of how different regulatory environments are. But we've knocked down a few hurdles on the back-end that should make this a fast process.
QIs Metal Pay expanding to other states and out of the US?
Logan: Definitely! We won't stop until we're everywhere and anywhere, because we truly believe that this is the best way to use money in general, whether that be cash or crypto.
The regulatory environments change on a state-by-state and country-by-country basis, but we're actively solving this and working on expanding access.
Q Why is the market value of ZEN lower than other privacy-focused cryptocurrencies? As I understand it, ZEN is more decentralized , more secure, offers much more utility than being only a currency, will offer privacy dApps, sidechains and so on. Even from the liquidity-side ZEN is doing great – Coinbase, Greyscale , Binance. So, what's the reason the market hasn't priced all of that in yet?
Rowan: This is a very complex question to answer and the short version is simple, markets aren't always rational. 
I suspect there are numerous different factors at play but ultimately Horizen is relatively new compared to other projects and therefore less people know about what Horizen is and what the team is building. That being said, we have a strong roadmap and we know how to execute it. I think the markets will slowly catch up once people start to realize how innovative our solution really is.
Q What are the benefits of using ZEN on the Metal Pay App
Logan: There are lots of benefits to using ZEN that I'll let Rowan speak to.
But having it in the Marketplace? That's a big deal. The Metal Pay Marketplace is by far the easiest way to buy and sell cryptocurrency – all from your phone. Plus, we allow users to send cryptocurrencies to their friends just by tapping on a contact – no messy wallet addresses needed.
Metal Pay just made a shockingly easy on-ramp to ZEN, no doubt about it.
QWhat are the benefits of ZEN 
Rowan:  ZEN's primary advantages:
Optional privacy

Fast transaction confirmation

Ability to 'stake' in nodes to earn income

Good availability across major exchanges

Great official wallet (Sphere by Horizen)

Support from custodians like Coinbase Custody for larger holders

Cold wallet support from CoolBitX, Ledger etc for retail holders

Super awesome team driving constant improvement

Soon to be the fuel for Horizen Sidechains! 
QWill Metal X be launched in all 50 states of the USA or will it be restricted to the current 38 states? 
Logan: Metal X will initially launch in 36 US states as well as Puerto Rico and the US Virgin Islands. We're confident that this availability will rapidly expand beyond that – we have some innovative solutions to navigate regulatory hurdles that hold exchanges back.
QDoes Horizen have strong PR and Marketing plans for the future or are you still focusing on the tech development side?
Rowan:  Our #1 focus will always be engineering as without amazing products, there's nothing for us to market. That being said, we have a strong team of marketing and growth professionals who are hyper focused on getting ZEN in front of as many new faces as physically possible!
You can see this on our most recent budget from our Quarterly Live Stream.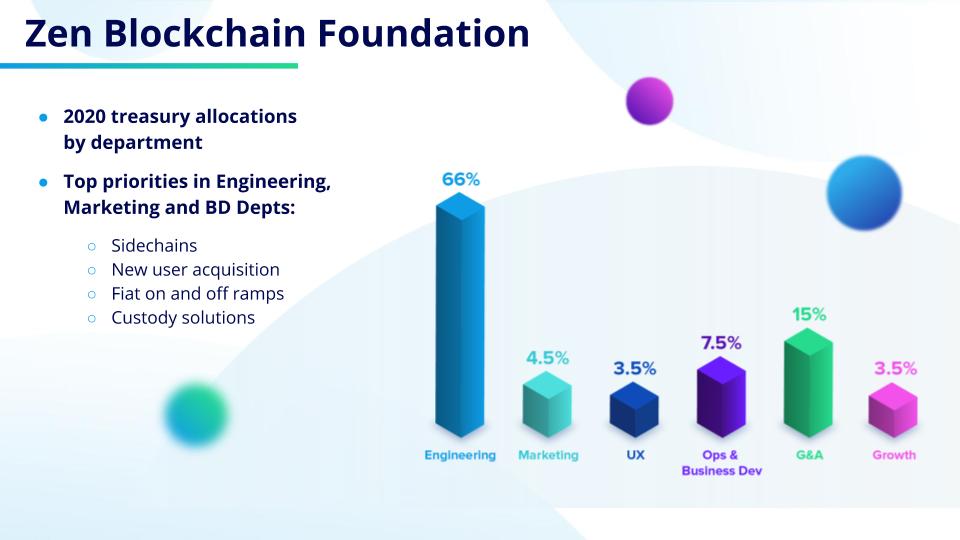 Q What is Metal X? How does Metal Pay Factor in?
Logan: Metal X and Metal Pay were designed to operate alongside each other.
Metal Pay is where anyone can be introduced to cryptocurrency. Buying and selling from your phone, sending crypto to friends to pay for lunch, etc. This is the easiest on-ramp to crypto, and MTL is highly functional and useful in this environment.
Metal X builds off of that, offering increased trading functionality and more advanced tools for serious crypto enthusiasts, as well as an intuitive design for people just getting started. 
You have to remember to look at both products together to begin to see what we're building here.
Q Is Horizen still close to IOHK and Hoskinson? If yes – What products are you working on together? Will the Ouroboros protocol run on sidechains?
Rowan:  Yes. We still work with IOHK. The latest output from that relationship is our Zendoo whitepaper which explains in great detail how the mainchain will communicate with sidechains using zero knowledge cryptography. We have an excellent in house team of software engineers, mathematicians and cryptographers however we like to ensure our most complex work is peer reviewed prior to pushing to the public domain.
To assist with the quick launch of Horizen sidechains, we will be creating a suite of reference designs. The first reference design uses a modified version of Cardano's Praus PoS protocol as its consensus mechanism.
Q Isn't the privacy feature (zk-SNARKs) for ZEN a little outdated? 
Rowan:  Outdated = battle tested and reliable.
But no, in all seriousness, zk-SNARK's are being constantly improved. They are anything but outdated. They are still cutting edge cryptography. We literally just released a new zk-SNARK library to help developers make use of them more easily as at present, they are still very difficult to implement effectively. Even for the best dev teams in the business!
Check out Ginger-Lib if you want to see that new repo.
Q Could Metal launch a dApp on Horizen sidechains in the future to offer their customers more protection and privacy features?
Logan: Technically, we could! Although we're building most of our dApps in-house with our team at Lynx. But you never know what the future might hold!
Rowan: Yes, they certainly could. If they wanted a blockchain-based system with inbuilt data privacy functionality that runs on a globally distributed network of nodes then building on Horizen would be a great option.
Q Are you still planning to bring Ouroboros and other protocols ( like EOS etc…) to Horizen sidechains? I heard a podcast from Shrem about it.
Rowan:  Are we planning to create replicas of EOS and ETH as Horizen sidechains, not in the immediate future, no. Is it possible, absolutely, yes!
Why would other projects bring their network over to Horizen? 
Maybe they have an issue with decentralisation that brings with it inherent security risks. Maybe they have a system where only a small subset of their community can forge blocks. Maybe they need privacy functionality that would be difficult to retrospectively add to their existing system. Maybe their existing system doesn't scale the way they need it to.
There are many reasons to do so however our focus at this time is on enabling, rather than doing. Once we have the system fully operational, we'll switch our focus to things like a sidechain to run ZEN denominated stable coins (zUSD, zEUR etc) as well as other more complex reference sidechain designs. 
Scalability matters in lots of different contexts. The network needs to be scalable but it's also important that our actions as a team are also scalable. We want to provide tools that make us the de facto solution for any person, business or entity that wants to launch a blockchain and to get there, we need to be laser focused on making our sidechain SDK as robust and usable as physically possible.
It's certainly possible and I'm sure at some point, people will do exactly that. But my point was that we're not actively working on bringing EOS to a Horizen sidechain. 
We are however building reference sidechain designs and it could make perfect sense for some of the designs to mimic existing solutions like Ethereum, Cardano, EOS etc, with the benefits of decentralised consensus and scalability that Horizen brings to the table.
Q What are Horizen's plans to get more attention/adaptation for growth?
Rowan:  We have a number of ongoing growth initiatives, the most notable of which is our gamified faucet – the aim here is to provide people with micro amounts of ZEN in exchange for learning about Horizen and taking tangible steps to becoming a part of our community. So far it has proven to be very effective with approximately 2 million visits per month.
The faucet (which we call our community hub) is just one of many ways of expanding our reach. Doing AMA's exactly like this one is another. As is creating completely free educational content like we do over at the Horizen Academy – simply put, cryptocurrencies are never going to become mainstream if organisations like ours don't take the time to focus on educating the masses as to what crypto is, how it works and why they should care about it.
Q What are Horizen's plans to get the attention of devs outside of the crypto space?
Rowan: We have a super cool project which we call Horizen Developer Environment (HDE for short) designed to do exactly that. 
We're aiming to make it ridiculously easy and fun for devs to jump into the Horizen ecosystem and make themselves useful. We have many ideas which we think will bring excitement and competition to the space. Keep an eye on our social channels for more info as this project progresses.