2020 is the Year of the Breakthrough, because this year we are releasing our greatest releases to date, getting recognized as a rated A project, and gaining massive  community growth.


In Q1, we completed many of the foundational requirements for the Beta release of Horizen Sidechains, our community grew by 36.72%, and we have seen a massive incline in community participation! We are thrilled to begin Q2 on a solid foot with a strong community behind us.



Highlights
As many of you know, we have multiple breakthrough releases coming this year and many of them are sidechain-related. Although this is a difficult and uncertain time due to COVID-19, we are dedicated to coming together as a team and a community to support each other. We remain strong and determined. 
During Q1, our team completed several major technological milestones necessary for the beta release of Horizen Sidechains including the release of our latest sidechain extended whitepaper, Zendoo and the new sk-SNARK library, Ginger-lib.
Horizen Sidechains will massively increase the usability and adoption of the Horizen ecosystem and create new opportunities for people to take part in the community through 
Development

Node hosting 

Testing/Feedback

and more
We look forward to community participation and appreciate everyone who has reached out to us with questions regarding the release on our social channels. 
Community 
This quarter we welcomed many new members to our community. We are excited to refresh the Horizen Community member spotlight blog to help everyone get to know more about some of our most active members! Many of these community members we feature are the ones who joined our Telegram and Discord channels to ask questions about our project and liked what they saw. So they stepped up to help others learn about our project. 
We love seeing this kind of activity and engagement in the community and having the opportunity to learn more about these wonderful people who help create our rich and thriving community.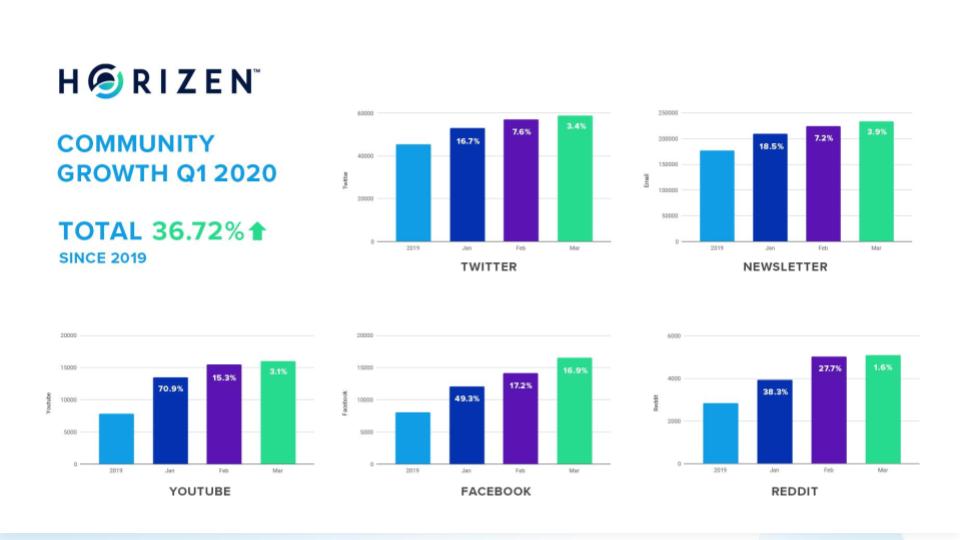 Engineering
The Horizen Engineering team spent the quarter setting nearly the entire foundation for Horizen Sidechains Beta. They also delivered two major new releases. Zendoo and the Ginger-lib.

Zendoo completely changes how sidechains have been designed to date. It is a universal construction for Bitcoin-like blockchain systems that allows the creation and communication with sidechains of different types without knowing their internal structure. Zendoo standardizes the method of communication with the Horizen mainchain. The whitepaper also provides a specific sidechain construction, called Latus, that leverages zk-SNARK techniques to establish decentralized and verifiable cross-chain transfers. 
Ginger-lib is a new open-sourced zk-SNARK library that can be used as a general-purpose toolkit that enables developers to build scalable privacy solutions into their applications while maintaining the speed and security of the network. Ginger-lib is a  contribution to the global zk-SNARK movement. Ginger-lib, a fork of ZEXE, is not focused on Decentralized Private Computation, but on being a generic library that can be leveraged for different use cases. It introduces several new cryptographic primitives and gadgets that can be used by developers based on their needs. 
The Ginger-lib is available now on Gitbub and Horizen Sidechains Beta is just around the corner. So stay tuned for announcements!
Our team was dedicated to the improvement and addition of a lot of great feedback from our community into our products. The feedback resulted in releases like:

ZEN 2.0.20

Sphere by Horizen 1.2.5-Beta

Node Tracker 1.4.1
Business Development
Our Business Development team worked hard to drive the adoption and usability of ZEN. This quarter, they announced an exciting new trading pair for ZEN. You can now get ZEN:KRW and ZEN:USDT trading pairs on ProBit. Our Korean users will benefit greatly from the new fiat trading pair! We also integrated with CoinEx to provide additional USDT and BTC trading pairs. 

During Q1 we integrated with a well-known wallet called Abra. This third-party wallet allows our users to buy, sell,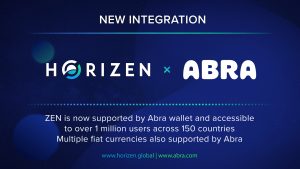 store, and invest in ZEN and other cryptocurrencies with over 150+ fiat options. Giving our community better access to ZEN worldwide. 
But, possibly the most exciting news was the announcement that Horizen is now listed on Coinbase Custody. Coinbase Custody offers clients access to institutional-grade storage making it easier for investors a safe option for storing their ZEN.

The team also laid down the foundations for new exciting integrations in Q2!
Marketing
We were excited to reveal our refocused  mission statement "To empower people and bring the world together by building a fair and inclusive ecosystem where everyone is rewarded for their contributions." Our mission truly describes what Horizen is all about and tells the world how we are going to achieve our ultimate goal of empowering people and bringing the world together.


The Marketing Team also announced several exciting new campaigns designed to promote community growth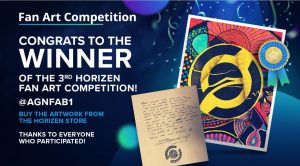 and participation.  Among these campaigns was the Horizen's 3rd Fan art competition. Community members submitted their own Horizen art designs for a chance to feature their art on the Horizen store! Our winner, AGNFAB, designed an amazing piece that is now available on our swag.
The team created a new way for our users to find great deals on node hosting services by introducing the node hosting page on our website. Our community members aren't the only ones who benefit from this either! Node hosting services get free marketing through our webpage and social accounts. 
We also made great new changes to the Horizen Faucet. The latest changes allow our users to sign up with social media accounts. This allows our users to sign up and begin using our faucet without a Gmail account! Not only that but verifying social media accounts on our faucet gains users increased bonuses! The marketing team also introduced the weekly faucet update blog to keep our community updated on changes.  

If you have any feedback on our recent updates, we hope you will reach out to the team on the marketing channel on Discord. 
Regional Updates
Our regional leads continued to share Horizen with their communities. They worked hard this quarter to enhance the useability of Horizen, build stronger relationships, and increase the visibility of Horizen!

We want to give a huge shoutout to Edalexx, a long time community member of Horizen. He helped our regional lead, Manon translate the Horizen Academy into French. Their hard work will make the Horizen Academy better for our French community! 

Guan Yin shared amazing news with us this quarter. He helped get Horizen reviewed by multiple large crypto media outlets like Chainnews. These channels spread the world about Horizen, not just locally, but worldwide. 
Angie also brought Horizen visibility project through digital interviews  with our partners and speaking to students at her the Tec De Monterrey school.

Vano has created a digital meetup series for Georgian Horizen fans! We love this effort and hope to do some virtual meetups in other languages as well!
We can't wait to see what they do next quarter!

Want to see more Q1 accomplishments? Check out the full list below.


Technology 
Ginger-lib

Code audit progress

Zendoo: Horizen Sidechain extended whitepaper

Sidechain beta progress

ZEN 2.0.20

Sphere by Horizen 1.2.4-Beta

Sphere by Horizen 1.2.5-Beta

Node Tracker 1.4.1

ZencashJS updates
New Team Members 
Alberto Benegiamo

Marco Olivero
New Exchange Listings
Probit Exchange with ZEN:KRW and ZEN:USDT trading pairs

CoinEx with ZEN:BTC and ZEN:USDT trading pairs
New Integrations

ZEN on Abra Wallet

ZEN on Xpay
Marketing and Growth
Faucet upgrades

Extra rewards for using Brave explorer 

Wallet address verification extra rewards

Updated UI design

Website improvements

Horizen.global pages updated

New Node Hosting page

Horizen store new arrivals

Academy udpates

Rolling out expert content

Explainer video – Explain Like I Am Five: What is Blockchain and Cryptocurrency 

@HorizenAcademy now on Twitter

Academy Lite on Medium

Refocused Horizen messaging

Held four community giveaways
Horizen Media Coverage
Horizen Events

Horizen at Kitamen Meru 

–  Meru, Selangor

Blockchain Industry Trend Forum

– China

Horizen Meetup

– Wa, Ghana

Horizen Meetup

– Damansara Uptown, Selangor

Crypto2020 Summit

– Digital Conference 

Horizen at Kitamen Meru

– Setia Alam, Selangor

Horizen Meetup

– Tamale, Ghana

Horizen Meetup

– Monterrey, Mexico
Watch the Q1 2020 Livestream or check out the slides below for additional project updates.
Horizen Q1 2020 Livestream