Horizen and Cripto Conserje Team Up to Battle the Refugee Crisis in Latin America and Help Communities in Need.
One of our greatest values as a company is building a better world for everyone. Horizen has recently partnered with Cripto Conserje, a Latin American group dedicated to helping people in need learn about and adopt cryptocurrencies. Together, we are bringing ZEN to these communities and providing the help they desperately need.
Horizen is one of the key partners of Cripto Conserje's Alpha Project. Alpha Project's goal is to increase cryptocurrency adoption in Latin America. By taking a parnter role in this project, We will be able to help battle the refugee crisis as well as push toward ZEN mass adoption in Latin America.
Helping Others Make Change
Our efforts recently began in Cucuta Colombia assisting Venezuelan refugees. Over 2.3 million people have fled from Venezuela over the last 4 years to escape staggering inflation, food and medicine shortages, and the return of deadly diseases. Many refugees only had Venezuelan currency and had difficulty exchanging their Venezuelan Bolivars for the Colombian Peso. Without pesos, many refugees were unable to purchase basic necessities like food, which led to higher rates of theft.
Horizen and Cripto Conserje are alleviating the difficulties these refugees are facing.
Together we are providing ZEN paper wallets and education to those in need, ensuring they have secure ways to access and control their money no matter where they are and what situation they are in. We are also onboarding 100 local merchants to begin accepting ZEN as payments.
Our teams have experienced great success with this program, we are already helping many people make a difference in their life. We are calling out to our global communities and partners to join us in our effort to help the refugee communities in Latin America.
The video below highlights our team as we teach refugees about cryptocurrency and how to use their paper wallets. Some of the individuals in the video prefer to remain anonymous because they fear reprisal from Secret Police forces in the locations they have relocated to.
If you would like to make a donation to support all the great work Cripto Conserje does, you can send your ZEN donation to Cripto Conserje via CoinTigo.
Cripto Conserje's CoinTigo number and ZEN address:
+573154171744
znU93hLvVAaUqnhKA4nfovja6zvY1b3QYbt
To learn more about how to transact ZEN via CoinTigo, please CLICK HERE
Over the next few weeks, we will continue to share our outreach videos as we travel through Latin America. Be sure to follow us on Twitter, Facebook, Youtube, and Reddit, so you don't miss out on this amazing experience.
About Cripto Conserje and Horizen Partnership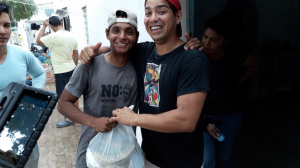 Cripto Conserje is a non-profit that drives adoption of crypto payments for merchants in Latin America through POS hardware, training, and customer support. The group is developing a framework for cryptocurrency merchant adoption entering different cities in LATAM.
Horizen is one of the key partners in Crypto Conserje's cryptocurrency mass adoption program. Cripto Conserje believes cryptocurrencies can provide economic stability to LATAM, particularly in places such as Venezuela where communities are suffering from severe shortages of food and medicine.
---
RESOURCES:
Horizen Website
Horizen Blog
Horizen Github
Horizen Forum
Horizen Twitter
Horizen Reddit
Horizen Roadmap
Horizen Block Explorer
Horizen Secure Nodes
Horizen Super Nodes
Horizen YouTube Channel
Horizen Telegram
Horizen Discord
Horizen on Bitcointalk
Horizen Facebook Page
Horizen Blog on Medium