Horizen and Cripto Conserje hosted a New Year's dinner on December 31st for Venezuelan Refugees in Cúcuta, Colombia, to celebrate the coming of the new year.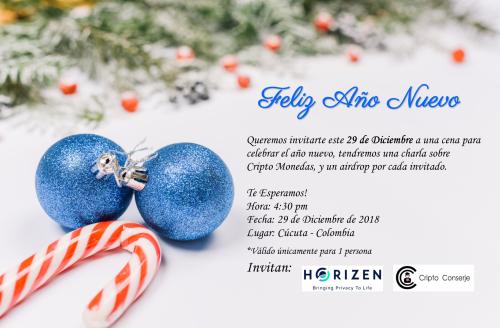 Horizen and Cripto Conserje have worked together closely over the last few months to help combat the Venezuelan refugee crisis by providing paper wallets and training on cryptocurrencies, operational security, and key management to refugees and local merchants.
We invited 50 individuals to share dinner, laughter, and stories as we rang in the new year. Attendees enjoyed a nice meal prepared by local restaurateur, Mrs. Lina. All the guests received Horizen paper wallets before dinner and were taught how to use them. Guests also received ZEN via airdrop to their Horizen paper wallets, Cointigo SMS wallets, and our Sphere by Horizen flagship application. The guests then purchased grocery kits put together by volunteers using their ZEN.
Mrs. Lina prepared over 50 hallacas, 130+ buñuelos, and 5 natillas in her restaurant. She employs about 4 Venezuelan people and for that day hired a Venezuelan woman named Sol, who loved the idea of the celebration, to attend the tables. There were more than 50 people because some brought children and other community members stopped by to sit in on the educational portion of the evening and meet their new community members. I am grateful to have been a part of this experience. It was amazing to see the community come together to celebrate!" – Horizen Regional Manager, Levis Caycedo.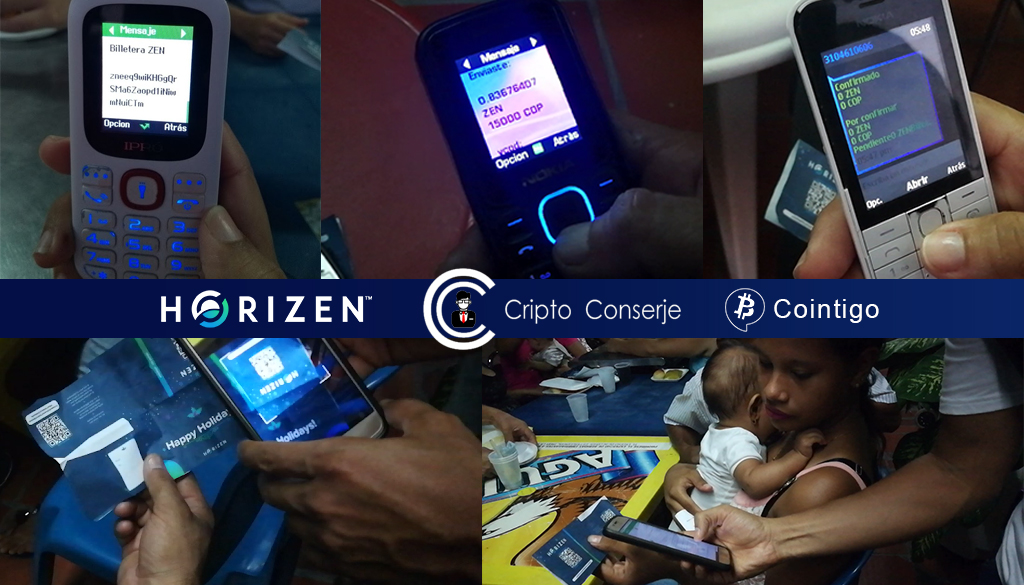 Being involved in the community and bringing people together is important to the Horizen Team. We were thrilled to see how happy the attendees were to get to know more people in the community.
Many of the refugees who attended the event came from Lara, Valencia, and Caracas, Venezuela. We had the pleasure of learning about the people through their stories. Many are using their skills to bring a piece of Venezuela into their new community and earn money to send to their loved ones back in Venezuela. The guests included a family that creates and sells beautiful carved wooden crafts and a woman who makes and sells fresh pastries and coffee.
This event was made possible by Horizen Regional Manager for Latin America, Levis Caycedo. Levis raised the funds to host this event through his own fundraising campaign. Our partners at Cripto Conserje and PAC also played a critical role in coordinating this event with Mrs. Lina and the local merchants. They worked closely with Levis and local volunteers to make this a successful evening, and we are thankful for their help with the event. We look forward to continuing our efforts to provide much-needed relief in 2019.
About Cripto Conserje
Cripto Conserje is a non-profit that drives adoption of crypto payments for merchants in Latin America through POS hardware, training, and customer support. The group is developing a framework for cryptocurrency merchant adoption entering different cities in LATAM. Cripto Conserje believes cryptocurrencies can provide economic stability to LATAM, particularly in places such as Venezuela where communities are suffering from severe shortages of food and medicine.
Horizen is one of the key partners in Crypto Conserje's cryptocurrency mass adoption program – Alpha Project. Alpha Project's goal is to increase cryptocurrency adoption in Latin America. By taking a partner role in this project, we will be able to help battle the refugee crisis as well as push toward ZEN mass adoption in Latin America.
---
RESOURCES:
Horizen Website
Horizen Blog
Horizen Github
Horizen Forum
Horizen Twitter
Horizen Reddit
Horizen Roadmap
Horizen Block Explorer
Horizen Secure Nodes
Horizen Super Nodes
Horizen YouTube Channel
Horizen Telegram
Horizen Discord
Horizen on Bitcointalk
Horizen Facebook Page