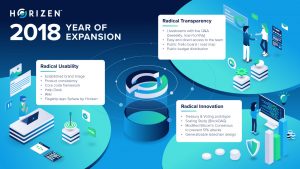 2018 was quite a wild ride for Horizen and the blockchain/cryptocurrency industry as a whole!  Our theme for 2018 was an expansion with a focus on radical usability, transparency, and innovation. All while sculpting our team into a full-stack professional organization.  We are building a distributed-network alternative to the public "internet" and we are inviting you to be a part of it!
The cryptocurrency market experienced a significant correction in 2018 but Horizen remains fully committed to shaping both technological and social innovations while bringing privacy to everyday users.
Horizen's Vision
Privacy is a fundamental human right
Individuals should own their digital footprints
Horizen's Mission
Create a secure and private blockchain ecosystem built on the best privacy technology

Creating the infrastructure that makes this blockchain possible

Enabling a rich application environment

Securing the blockchain from 51% attacks

Ensuring efficient transaction processing speeds

Designing an unfederated (fully decentralized) sidechain system
Another key part of our mission is empowering individuals to make decisions within the ecosystem. The treasury DAO that we have in prototype is our first major step in this direction
To bring the mission together, Horizen reorganized into seven professional divisions to efficiently and effectively work on our aggressive roadmap… Our aim is to prepare both our technology and the supporting organization for rapid scaling!
Part of our professionalization was "discovering" our brand in a way that reflects our vision and our technology transition from ZenCash, the currency, to Horizen, the platform.
One of the biggest challenges presented this year was overcoming a 51% attack. We are proud of our team and processes kicked in gear to contain the damage. While the experience was negative, our engineering team devised an innovation for all proof-of-work blockchains by dynamically modifying the bitcoin consensus mechanism to make it much more expensive to conduct future attacks. We are proud of our bitcoin consensus enhancement as stability of the blockchain industry will allow the entire ecosystem to continue growing.
Radical Innovation
We kicked-off 2018 announcing Horizen's partnership with IOHK to work on two important deliveries:
A programmatic DAO Treasury and Voting system prototype

Horizen was founded with decentralization as a cornerstone. A

DAO

Treasury and Voting system designed with economic game-theory will expand the Horizen ecosystem through an incentive-based voting system.

IOHK delivered a

working DAO prototype in Q2 2018.

During Horizen's evaluation of IOHK's prototype, we determined an on-chain Treasury and Voting system was not necessary and would clog the network.

Our R&D Director, Alberto Garoffolo, designed an innovative generalizable sidechain solution to host Horizen's

DAO

and other applications and services. Sidechains became a predecessor to

DAO

delivery.

With the sidechain concept, a new incentivized node class, Super Nodes, was introduced to further decentralize the network and host sidechains, services, and dApps.

A scaling study to evaluate next-generation blockchain solutions

Scaling is a massive issue in the blockchain industry. The result of IOHK's scaling study was a recommendation to move to a BlockDAG structure, which will require a complete rewrite of Horizen's code base.
Radical Usability
Brand standardization
Product consistency
Core code framework
Wiki
Flagship app → Sphere by Horizen
Horizen's focus on usability was highly evident in 2018 with the continuous improvement of community created products:
We also integrated with Ledger, Cool Wallets and Xeeda to provide users the ability to safely cold-store their ZEN.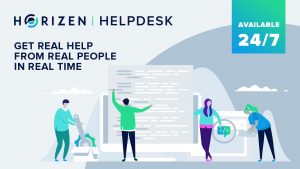 In 2018, we launched one of the first 24/7 support system in the blockchain industry that's manned by actual humans!
Our awesome team later expanded ZenHelp to include a Wiki to assist with frequently asked questions.  Our ZenHelp support system was crafted with our users in mind!
We professionalized our brand and focused on product consistency to allow our users to have a seamless, easy experience with Horizen's products. We proudly presented our first flagship product "Sphere by Horizen."

Radical Transparency
As a public blockchain project, we take transparency very seriously. We host recurring livestreams where project updates are shared with our community and team members actively engage with the community through live Q&A.
We've made a "working" Trello board available for community members to follow our progress and recently published our 2018 budget allocation alongside our 2019 forecasted expense allocations split by functional area.
Thank you for being part of the Horizen ecosystem and contributing to our mission to biring privacy to life.
2018 – Horizen by the Numbers:
Team: 15 to 35

Community growth: Jan 2018 (20,000 users) to Dec 2018 (103,000 users)

Telegram: 3,000 to 6,300 / 110% ↑
Discord: ~2,500 to ~9,800 / 292% ↑

Reddit: 4,300 to 1,400 (after transitioning from r/zensys to r/horizen)

Twitter: 12,342 to 25,000 / 103% ↑
Facebook: 1,503 to 3,859 / 157% ↑
Mailing list: 9,000 to 28,000 / 211% ↑

Blockfolio: 35,000 (no previous data)

Super Node

  2.7K (intro'd in Q3)

Secure Node

5.3K to  21K / 298% ↑

Software releases – 3 ZEND core releases

31 exchanges

21 integrations and partnerships

Number of countries visited:

Q1: 9 countries, 14 cities, 14 events

Q2: 18 countries, 29 cities, 37 events

Q3: 20 countries, 32 cities, 38 events

Q4: 11 countries,  23 cities, 32 events
---
Related articles: