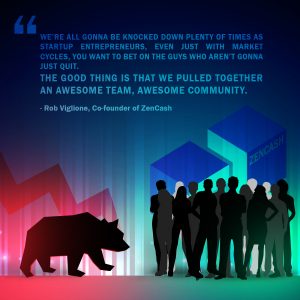 It's the end of the first quarter of 2018.  The markets are bleeding red, the crypto industry is in a panic, and Bitcoin is "dead" once again.  The noise can be tough when teams are working hard to deliver the promise of a peaceful revolution that has the potential to disrupt the world as we know it.  Borderless systems that enable a sort of start-up nation where people can opt-in to transact and communicate freely and peacefully.
Let's get to business.
Forget the noise, forget the red, and get working.  Times likes this are opportunities to exam what is working, what is not, to refine, and to thrive. My advice is to look at metrics to evaluate progress and success beyond the sticker price.
Teams. Projects. Deliveries.
Having the right team and talent pool is critical to take projects to actual deliveries. Being able to support the talent pool and continue growth is absolutely necessary in tough times. Luckily at ZenCash, our funding model enables us to continue growing despite market conditions.
Actions speak louder than words–relevant for more than dating.
Every 2 weeks, ZenCash holds "board meetings" or Biweekly Calls that are open to any stakeholder where users receive the latest information and are able to ask questions to the team. We do this because we believe in transparency and want our users' feedback.
While we have these reviews, it's good to consolidate our activities. I previously wrote about 2017 activities and 2018 projections in Thriving in a Rapid-Fire Industry— boy it feels that way right now!
2018 is the year of expansion for ZenCash. We have a lot of challenges ahead of us, but we are confident we'll work through them. Let's check out what we've done so far!
Usability   |   Transparency   |   Innovation
ZenCash Growth in 2018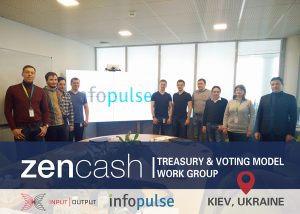 1. A programmatic DAO Treasury and Voting system
2. A scaling study to evaluate next generation blockchain solutions
Continued blockchain maintenance and  testing upstream improvements
Completed the design for Secure Node version 2
Continued improvements on wallets

Full client – Swing

Lite client – Arizen

Mobile – Android

Paper wallet

Web wallet

Began Secure Node payouts to operators
Continued refining Secure Node tracker system
Completed Ledger hardware wallet integration; in the Ledger queue
Began Trezor and other hardware wallet integration
Released community sourced logo
Released new website design!
Transitioned to zencash.com
ZenCash used in multiple ICOs as payment
Began development of multiOS Flagship wallets for desktop, mobile, web
Began design of Crypto Noob multi-coin mobile wallet
Beta test of the FIRST CRYPTO helpdesk with actual HUMANS
Exchange listing: OKEX! ZenCash available to China market
Expanded ZenCash team
Reorganization into 7 professional divisions

Engineering – most stacked division

Business Development – grow the organization

Research and Development – forward looking technology

Marketing – promotion and growth

Finance – maintaining the books, budgeting, and forecasting

Operations – keeps the business together

User Experience – users are a priority

Bitco ATMs in Colombia partnership
Began OpenBazaar integration
Purchase ZenCash with your credit card – Indacoin integration
Began in house research

ZenHide 

ZenGrid research – computation for rent

Began Multi-Tiered Node system 

All of this while our team was all over the world

World Crypto Economic Forum in San Francisco, USA

Anarcapulco in Acapulco, Mexico

Global Fintech & Blockchain Forum in Moscow, Russia

Crypto Asset Conference in Frankfurt, Germany

Blockchain Spring School Meetup in Mittweida, Germany

Winnipeg Cryptocurrency Meetup in Winnipeg, Canada

Guatemala Meetup in Guatemala City, Guatemala

Crypto Investor Show in London, UK
ZenCash Meetup in Monterrey, Mexico

Cambridge Meetup in Cambridge, USA

Front-range Cryptocurrency Meetup in Denver, Colorado

USC: Blockchain Explained in Columbia, USA

Network of Kenyans in Nairobi, Kenya

Multiple meetups in Seoul, Korea
As you can see, we have tons going on in parallel and look forward to continue delivering products in the quarters to come! If you'd like more detail, check out our high-level Roadmap or our public working Roadmap on Trello!
Disclaimer: no actual bears were harmed.