January 15th Update – The Winners Are Here!
Our three lucky winners will receive $100 in ZEN!
We want to thank everyone who took the time to test the Sphere by Horizen app! We received over 175 entries to our giveaway! This giveaway was a fun way for our community to interact with us and let us know what they thought about our product. We received a lot of fantastic feedback and even more wonderful support from our community. The feedback received was all very constructive and has been forwarded on to our dev team! So, be on the lookout. Your suggestions may come to Sphere by Horizen in the future. 🙂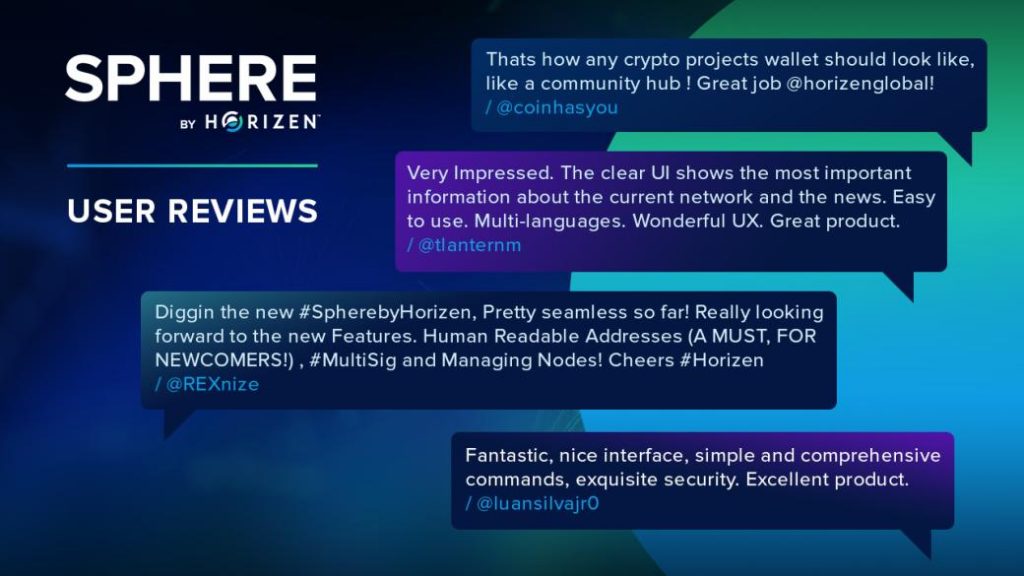 Now for the Moment You've All Been Waiting For – The Winners! 
Our three lucky winners are:
@CryptoHorizons
@krishtopa
@dlisovskiy
The Horizen Team will be in touch with you shortly so you can receive your prize!
To Celebrate the Release of Sphere by Horizen, We Are Giving Away $100 Worth of ZEN to Three Lucky Winners!
We love Sphere by Horizen and we hope you do too! To celebrate this exciting event we are giving away $100 of ZEN to three lucky participants of the Flagship App Giveaway.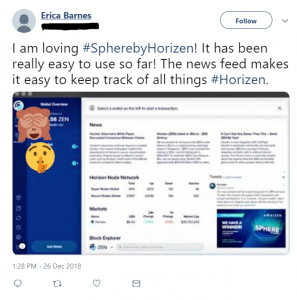 To join this promotion simply complete the following tasks from 12/27/2018 – 01/10/2019 (two weeks):
Download

Sphere by Horizen

Add any amount of ZEN to your account

Share a screenshot of your ZEN and tell us what you think about Sphere by Horizen

In order for us to track your entry, your message

must

include the following hashtags on Twitter:

#Horizen #SpherebyHorizen

Note: You may blur out or cover any information that you do not want public (including the full amount of ZEN you have), but the image must prove that you have ZEN in your Sphere by Horizen app.
The winners of this promotion will be selected on or before 01/18/2019 via automated selection.
We look forward to hearing what you think of our latest product. Good luck to you all!
About Sphere by Horizen
Our new product is the launching point for Horizen services. To start, the product supports both transparent and private transactions. It is, however,
not just a wallet.
This is a multifunctional app that also provides features like secure messaging. In addition, this app will continue to grow and add new functionalities in the near feature.
The initial (beta) release includes:
Wallet component for full client, lite client, web, paper

Secure messaging component
Future
Managing Horizen

Secure

/

Super Nodes

Multi-Currency Wallet

Human readable addresses

Advanced Wallet Features

User-Friendly MultiSig support