We are thrilled to announce that Horizen has joined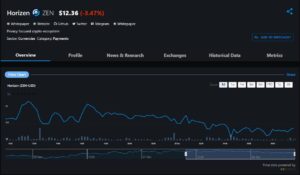 Messari Registry. This exciting initiative enhances our transparency even more as a project and helps build trust with our community and anyone looking to better understand the project. 
Messari Registry is an open-source disclosures database which aims to become a central repository for project information that can be freely accessed industry-wide. The effort is intended to be a collective action to push standards of basic disclosures that should be expected of projects with numerous global stakeholders.
Learn more about Horizen on Messari Registry now.
About Messari 
Messari brings transparency to the crypto economy. Their goal is to help investors, regulators, and the public make sense of this revolutionary new asset class and are building data tools that will drive informed decision making and investment. We believe that crypto will democratize access to information, break down data silos, and ultimately give everyone the tools to build wealth.
About Horizen 
Launched in 2017, Horizen is the most secure interoperable blockchain ecosystem supported by the largest and most decentralized node infrastructure in the industry. Horizen's sidechain platform focuses on scalable data privacy and enables businesses and developers to custom build their own public or private blockchains using its unique sidechain technology, Zendoo. Horizen's Sidechain SDK provides all necessary components for the easy and fast deployment of a fully customizable blockchain. For more information, visit horizen.io.