2020 was the year of breakthrough for Horizen. We transformed into a blockchain ecosystem that can bring unbounded possibilities for the real-world to benefit from blockchain technology.
During Q4, we went through our first halving and announced major partnerships with Celsius, Dragonchain, and Sikoba. We are ready to crush 2021 – The Year of BUIDL – with our amazing community behind us. 
Q4 Highlights
The 4th quarter of 2020 was full of exciting firsts for the project including exciting build partnership announcements and our very first halving!
Our very first halving occurred on December 1st at block #840000. This momentous occasion was celebrated by the community on a Zoom call with giveaways, airdrops, and interviews.
We want to thank our fantastic community members for putting together a fantastic event to celebrate the halving. Michael and Spencer planned the super fun virtual party which included interviews from Charles Hoskinson, Tatiana Moroz, and more! We also want to thank Younzo, and Sodiomayor. You can watch all of the interviews from the event on the community-managed Horizen Clips YouTube channel.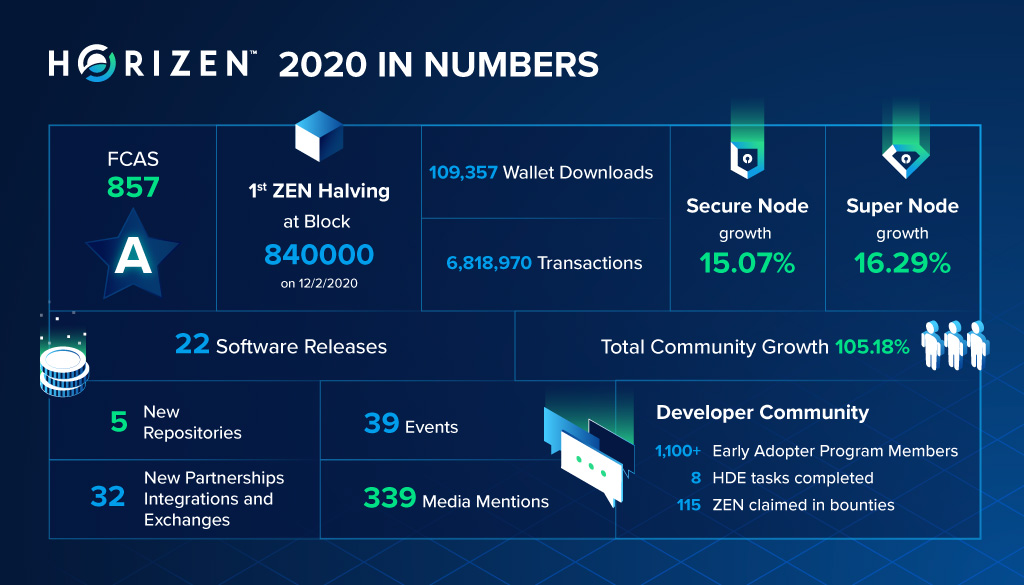 We also released announcements for our Zendoo partnerships. Projects including Celsius, Sikoba, Dragonchain, and LTO Network are actively building on Horizen and we couldn't be more excited to welcome them to the ecosystem.
2020 Review
Community Growth and Updates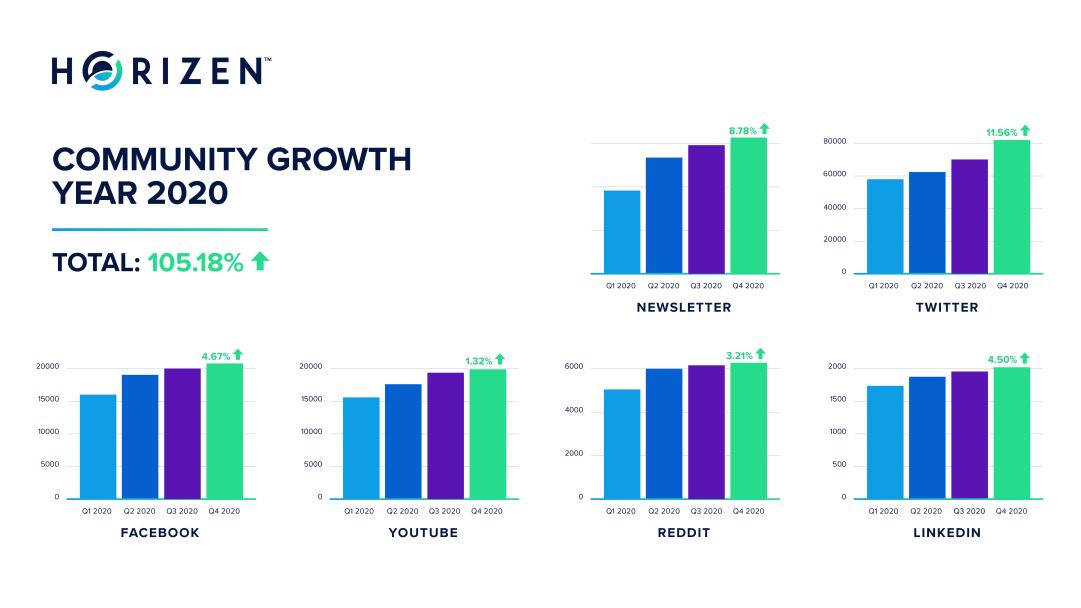 The community grew by 8.62% this quarter which makes a total growth of 105.18% in 2020! We are excited to welcome each of you and have enjoyed getting to know some of you on Discord and Telegram. We want to thank everyone who has helped the new members find resources, answered questions, and gave the new members to the community a warm welcome.
Several of the community members including Michael from Telegram and Manon have taken on active roles in the community by helping run Telegram channels and making their own Horizen video content on YouTube including the Horizen Halving basics community video, the Weekly Insider videos on YouTube, and community interviews with members like Xavier Garreau, Pontus, Younes and Domenico.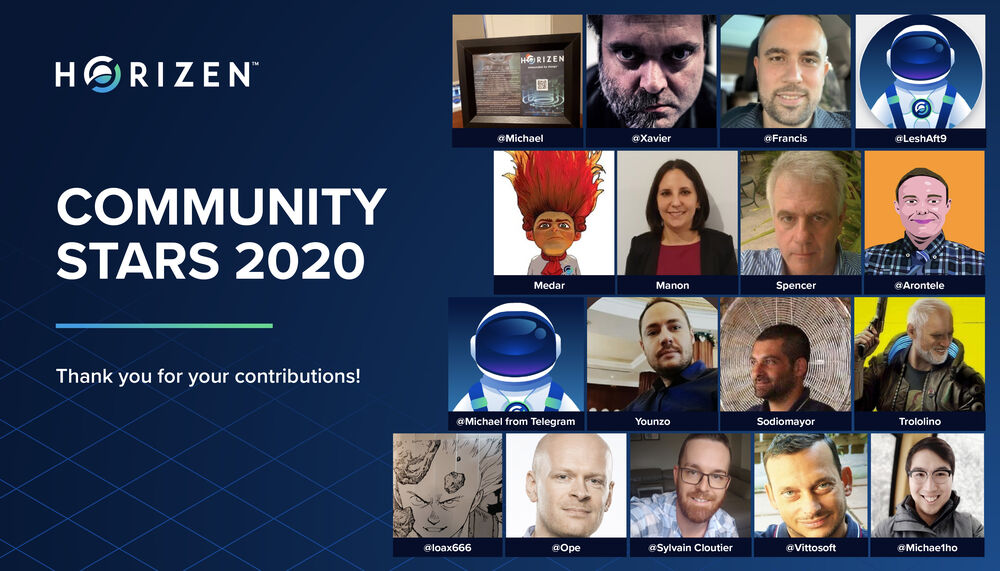 Breakthrough Technology
The team worked hard this year to bring us some of the biggest releases to date including Zendoo beta! Zendoo is a unique and revolutionary scaling solution that the team has worked on for two years. The release is a huge step forward for our project and for blockchain technology.
We are now focused on preparing Zendoo for mainnet! We are excited to take off to the moon in 2021 and the releases and upgrades to our ecosystem this year have helped us prepare for the launch.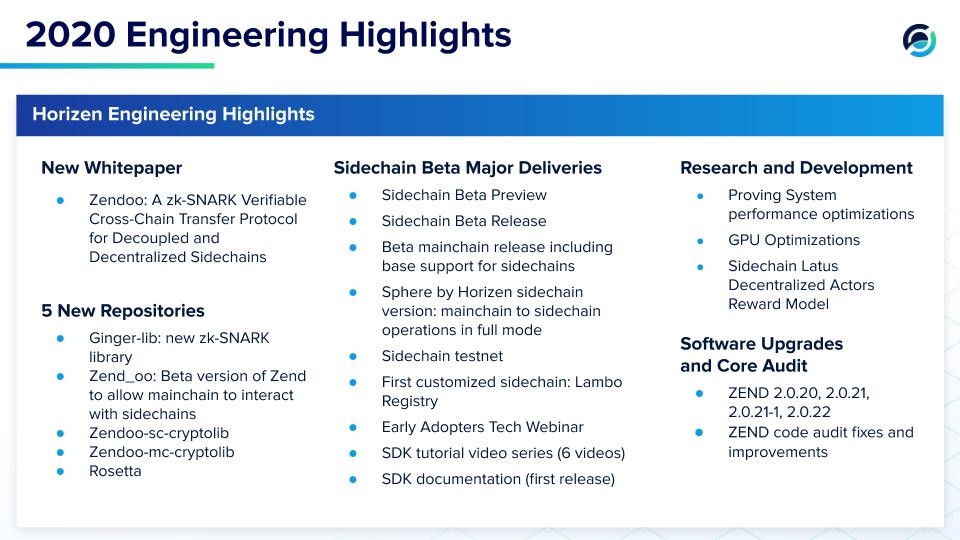 Other 2020 Updates and Releases
3 core software releases – 2.0.22, 2.0.21, 2.0.20
6 Sphere by Horizen Releases Sphere by Horizen Beta: 1.2.3, 1.2.4, 1.2.5, 1.2.6, 1.2.7, 1.2.8
9 Node Tracking System beta releases: 1.4.2, 1.5.0, 1.5.1, 1.5.2, 1.5.3, 1.5.4, 1.6.0, 1.6.1, 1.6.2
4 ZencashJS releases: 1.2.3, 1.2.4, 1.2.5, 1.2.6
5 new repositories: Ginger-lib: new zk-SNARK library, Zend_oo: Beta version of Zend to allow mainchain to interact with sidechains, Zendoo-sc-cryptolib, Zendoo-mc-cryptolib, Rosetta.
2 new whitepapers

Latus Decentralized Actors Reward Model paper

Zendoo

Dependency issue fix
Zendoo SDK Sparse Merkle Tree integration
Sidechain explorer

Halving
Proofs workshop
Circuit customization for custom transactions on Zendoo
Super Node Staking on Exchanges
Block Explorer upgrade
China Explorer
Breakthrough Partnerships
The business development team had major breakthroughs in partnerships. We announced design partnerships for businesses that want to build on Zendoo including Celsius, Sikoba, Dragonchain, and LTO Network in Q4. This year, the BD team facilitated 28 new exchange opportunities, fiat on/off ramps, and added other integrations that enhance project transparency even more, such as Flipside Crypto and Messari Registry.
Here is the list of the new integrations and partnerships just from Q4:
Companies building on the Horizen platform:

Celsius Network, Sikoba, Dragonchain, LTO Network

Perpectual Contract listings:

Binance Future, Gate.io, MXC, Cointiger

New exchange listings

Binance US, Gate.io, MXC, Cointiger, Bithumb, XT.com, StealthEX, CryptoCoin.pro, BKEX

New integration
Breakthrough Initiatives
The team released several new community initiatives that support developers and the growth of the Horizen ecosystem – the Horizen Developer Environment (HDE) and the Horizen Early Adopter Program (HEAP).
These initiatives create an easy and fun way to collaborate with other developers who are interested in blockchain technology and provide developers with resources and help to enhance their technical chops. Developers have used the HDE to complete 8 tasks worth a total of 115 ZEN! Over 1,100 developers enrolled in our Early Adopter program and receive early access to the Horizen's newest releases.
More great releases and partnerships in 2020 include:
Horizen and Major League Hacking educational webinar series
Horizen official website redesigns
Horizen community hub release and upgrades
2020 ZenNode Report
This year our ecosystem of nodes continued a healthy trend of growth. Our secure node ecosystem grew by 15% and super nodes grew by 16.29%!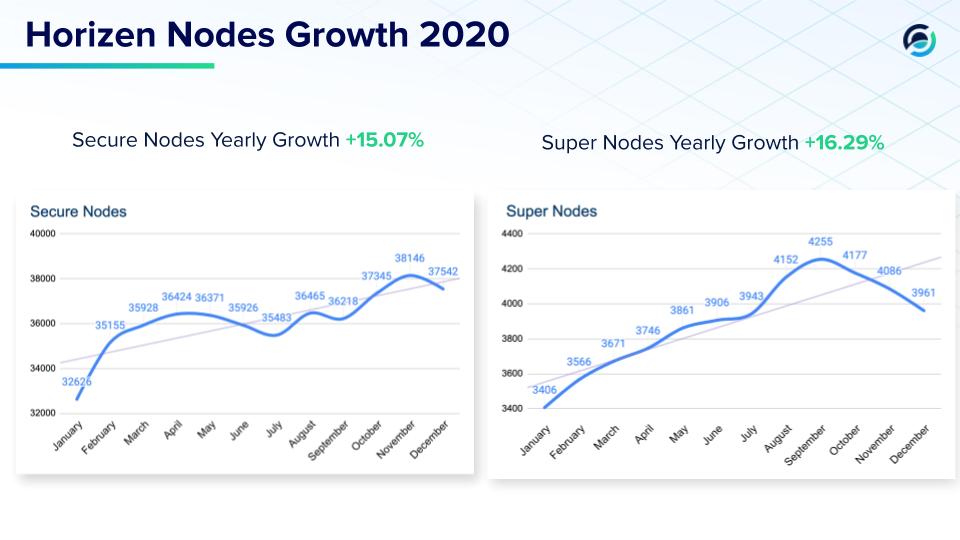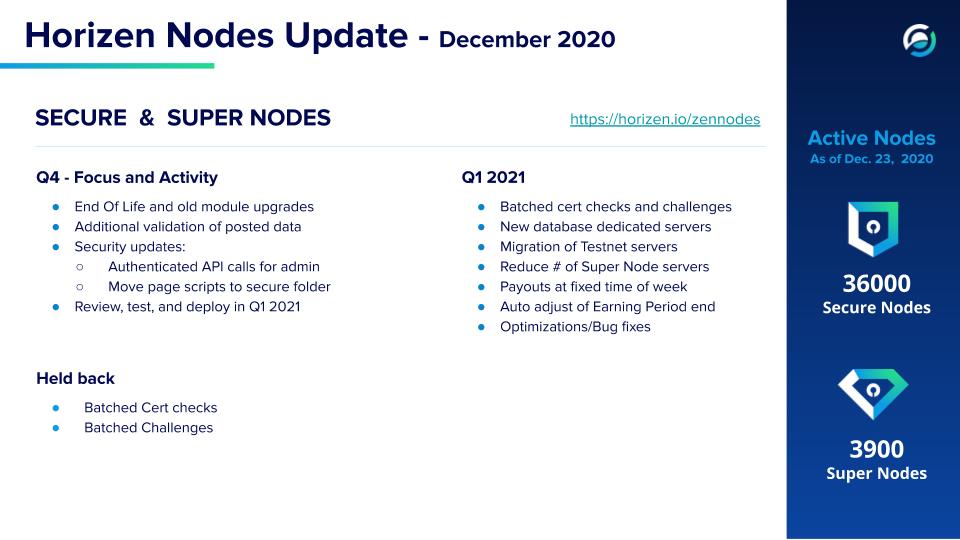 Q4 Media & Interviews
In 2020, we were mentioned in 339 articles and news placements. Including the Q4 articles:
Events
The team attended 39 events and conferences this year including the Q4 events, some of them are:
9 Horizen x Major League Hacking educational webinars
3 Local Hack Day Learn events with Major League Hacking
10 online presentations by Guan Yin
13 meetups attended in China
Horizen at Paris Blockchain Week Summit