2020 is the Year of Breakthrough because we are revolutionizing the blockchain space with some of our biggest releases to date.  
Our community continued to grow and flourish during Q2 and our FCAS rating is heading towards the coveted 'S' rating! We are glad to have such a great community along for this ride with us. 
It's only halfway through the year, but we already dropped some of the largest, most anticipated releases. This includes:
Together, these releases have positioned our project as a technology platform that can unlock the power of blockchain and empower businesses and people around the world.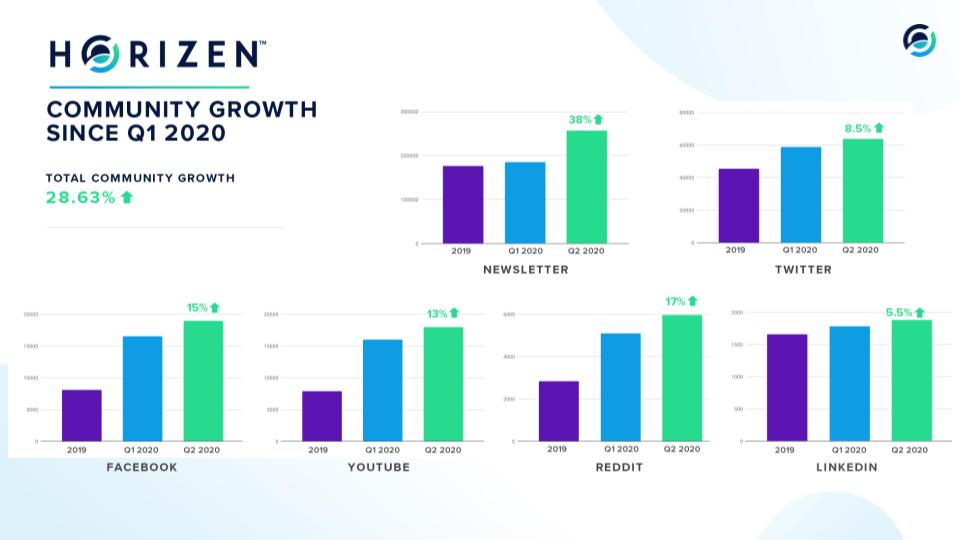 We noticed a large increase in new future Zenvangelists in the making on Discord and Telegram this quarter. We want to thank everyone who has taken the time to interact with us, help other community members, and shared our project with friends and family alike. These actions help our project grow! If you keep this up, we can go to the moon!
The Horizen Engineering team worked so hard this quarter that they temporarily broke GitHub with the amount of activity on our repositories! The Zendoo beta along with an SDK was released on testnet in June  it includes over 114,000 lines of original code and is one of the largest releases we have delivered so far.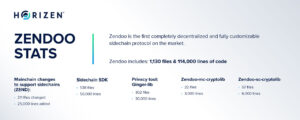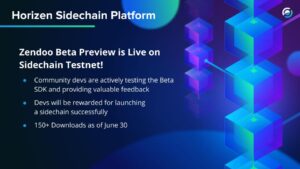 Sidechain platform: Zendoo Beta Live on Testnet
Zendoo Beta Preview is a significant milestone in the development of our sidechain platform, Zendoo.  Zendoo is the first completely decentralized sidechain protocol on the market, which extends the network from a cryptocurrency to a privacy-preserving platform that scales for commercial applications. The Zendoo powered sidechain platform enables businesses and developers to affordably create fully customizable blockchains mapped onto the Horizen public mainchain with the largest node network in the industry. The Zendoo Beta Preview is the ultimate playground for developers to try out this platform.
This shows more details about the progress of our sidechain development: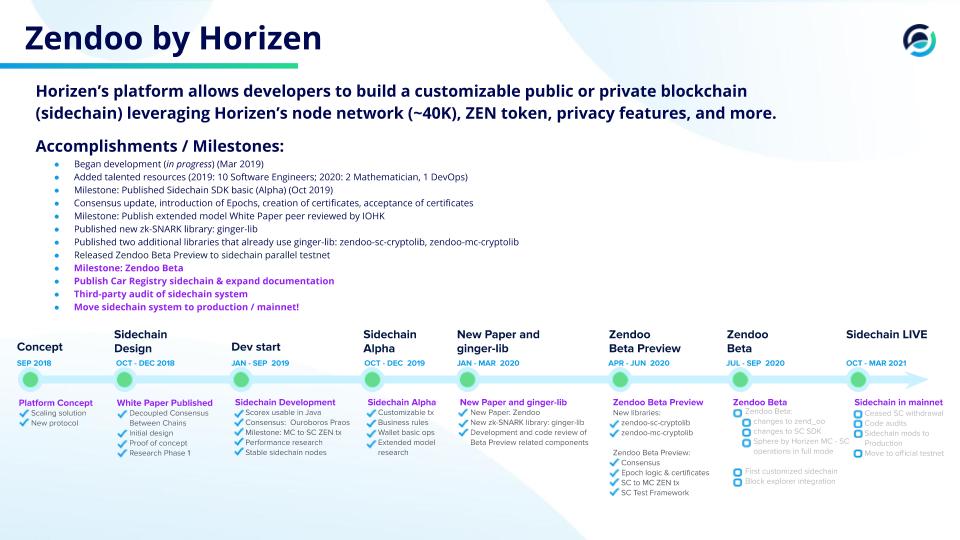 Horizen Early Adopter Program (HEAP)
Accompanying the Zendoo Beta Preview release, we launched an Early Adopter Program (HEAP) that offers global developers an opportunity to get early access to our pre-release products, including the newest Zendoo SDK. HEAP members play a vital role in helping shape the final outcome of the Horizen products. We had over 200 developers sign up for HEAP within the first week! HEAP members are currently invited to test out the Zendoo SDK, and the engineering team has already received valuable feedback from them. We are excited to get more testing results!
Horizen Developer Environment (HDE)
Another major launch that focuses on building and empowering the developer community is the Horizen Developer Environment (HDE).  HDE is a platform that incentivizes open-source contributions to the Horizen ecosystem and cultivates collaboration among developers. It simplifies the contribution process by gathering open GitHub issues and other tasks across repositories in one place and curates work to individuals or teams. We soft-launched HDE with 3 active tasks with a total of 200 ZEN in bounties. 
These two platforms provide community members the chance to help the Horizen team fine-tune Zendoo and other parts of the Horizen ecosystem while being rewarded for their contributions! 
Other major software releases included the upgrades to the ZEN Core software and flagship products: 
Updates to the node network. 

The release of the China dedicated server and explorer

Mainchain changes to support sidechains
New Team Members
Luigi Varriale – DevOps Engineer based in Italy
Slides below show more details about progress from our engineering division: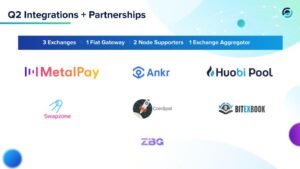 Our Business Development team crushed this quarter. ZEN was listed on three new exchanges, one new fiat gateway, two new node supporters, and one exchange aggregator! 
New Exchange Listings 
CoinSpot – Australian fiat on and off-ramp

ZBG – Global subsidiary of ZB.com

BITEXBOOK – Eastern European exchange

SwapZone – Exchange aggregator
New Integrations
Additionally, we received news that Coinbase is considering ZEN for listing on their marketplace. This reflects the maturity of our project and the adoption of our native cryptocurrency, ZEN.
Our growth team announced several new growth initiatives and milestones that we are really excited about. These include:
Pipeline Marketing

Horizen's integration with two new mobile games.

Reached 100,000 downloads of our flagship app – Sphere by Horizen. Thank you to everyone who chose our products, provided feedback, and offered suggestions to help us create a better user experience.

 
Pipeline 
Pipeline is a startup that will help Horizen drive awareness and growth by building a robust, incentivized community. The startup is funded by DCG and utilizes lead generation algorithms that will enable ZEN to grow its user base, incentivize specific on-chain activities, and provide marketing managers with powerful user metrics. 
FCAS Scores
The efforts and driven on-chain activities created by the team was visibly seen in our FCAS score this quarter. We rose 37 points this quarter to 855! This growth is not seen in many projects. Horizen remains among the top 10 projects by FCAS rating and is heading towards the coveted 'S' rating. 
Integrations with Games
One of the most exciting and unique announcements this quarter was the integration of Horizen into mobile gaming. We will be integrated into two games that are coming soon to Apple Store and Play Store soon. BloxJump is a fun and easy platformer that will pay you ZEN as you go. 
House of Crypto allows users to choose between "houses" to battle for. Horizen is one of the first three available in the game. The winning houses will earn crypto for being victorious in battle! 
Marketing
The Marketing team worked to create more user-friendly and engaging ways to be part of the Horizen community this quarter with new website improvements, engagement efforts, and more. 
Websites and Communication Improvements
We released the new Horizen website layout this quarter. The new design is user-centric and helps our community find our largest updates easily. Be sure to check it out and let us know what you think. 
Additionally, we have refined our brand identity. This includes refreshed product logos, a more cohesive and consistent brand family, and stronger brand identity. This will help our project stand out even more. 
Community Engagement and Giveaways
We focused on expanding our community through fun competitions and giveaways like the #HowToStayZEN and ZENniversary2020 competitions. For our 3rd anniversary, our community sent us their best wishes, and the most creative ones moved on to our Top 10! The community then voted on their favorites. We appreciate everyone celebrating this major milestone with us. Congratulations again to our winners. 
Store Expansion and New Arrivals
The team also announced an exciting new initiative for the Horizen swag store. We will be expanding our store by including designs from our partners, community members, and general crypto-related brands. 
Horizen General Security Guidelines released 

The Horizen Security Guidelines help newcomers and ZenVeterans alike keep their ZEN safe.

It outlines common scams and provides links to our social profiles and GitHub repositories.

This helps our community protect themselves by avoiding links from scammers. 
Events
Porcfest 2020 – New Hampshire, USA

New Digital Economy Trend Summit – China

Huawei Cloud Blockchain Forum – China

New Blockchain Academy Crypto Community Meetup – China

Token Insight Miner Summit – China

BiXiaoBai Crypto Community Leader Meetup – China

New Height New Journey Digital Mining Conference – China
Horizen Media Coverage and Interviews
Regional Updates
The Horizen Regional Team was able to try a few new things this quarter. In addition to running the regional Horizen news channels, they also helped out our BD and Marketing teams. They also took part in several remote AMAs and events!