2020 is the Year of Breakthrough because we are revolutionizing the blockchain space with some of our biggest releases to date.  
During Q3, our team released Zendoo Beta, the most important release we have ever had! Our community is abuzz with excitement, our development community continues to grow. We are charging into Q4 full steam ahead with our amazing community behind us. 
Highlights 
During Q3, we released Zendoo Beta. This release is a culmination of years worth of work and effort by our development team, and we appreciate our community's support and feedback during this time. We also released: 
Lambo Registry – The first dapp on Zendoo created as an example dapp!

The Horizen Zendoo Webinar to take developers step by step through building their own customized dapps on Zendoo. 

New domain –

Horizen.io

!
Community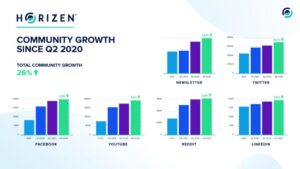 This quarter, our community grew by 26% across some of our major social platforms. We are excited to welcome each of you and have enjoyed getting to know some of you on Discord and Telegram. We love comparing our BloxJump scores too (shout out to our friends who have made it over level 100)!
We also began featuring insights and feedback from our community developers. Our first three-part series about creating a Zendoo node and sidechain was created by Xavier Garreau and is a great technical read for anybody interested in building their own blockchains and dapps.
Engineering 
The engineering team delivered the biggest breakthrough in the history of the project to-date,  Zendoo Beta.  They also produced a knowledge base to help our community developers build their own custom dapps.
Lambo Registry
The team designed and created Lambo Registry, the first demo dapp built using the Zendoo SDK. This demo app showcases the customization functionality of Zendoo. The purpose of this app is to demonstrate the boundless possibilities of our SDK and enable developers to build based on whatever their expertise is.
Zendoo Webinar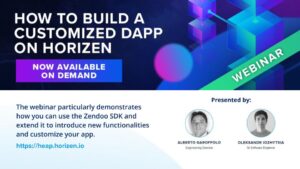 The engineering team hosted a live webinar in September on the topic of "How to build a customized dapp". The webinar takes you step by step through the process of building your own custom dapps on Zendoo. The recording of the webinar is currently available to watch on-demand or download. 

Other Engineering Releases  
Zendoo improvements

Proving System performance optimization

Evaluation of GPU use to increment prover's performances

Sidechain Latus Decentralized Actors Reward Model study

Super Node Staking on Exchange

Sphere by Horizen with Zendoo sidechain features on testnet

Zendoo sidechain explorer

Tokenization sidechain

Zend code audit fixes
New Team Members
Tuan Pham

Hoang Nguyen 

Volodymyr Babaiev
Business Development
Our business development team worked to create great new partnerships this quarter, although some partnerships are still under wraps, they still announced some really exciting new listings and integrations. One of the most exciting is our new partnership with Major League Hacking, a project that helps us empower new developers. 
New Exchange Listings
New Integrations
Genesis Custody – A new institutional custody platform
Growth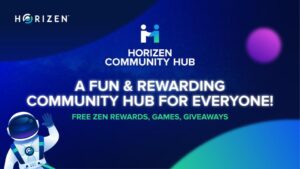 This quarter, our growth team really hit it out of the ballpark with the features to our Community Hub, like the addictive game BloxJump and the Level Up Referral Rewards.
BloxJump
Bloxjump is a fun faucet game that is available on Android, iOS, and the community hub. It's the first of many games that we plan to bring to the faucet. So, stay tuned to see what our growth team does next!
Level Up Rewards
Our new referral program allows you to earn an unlimited amount of extra rewards from your referrals AND your referees' referrals!  
Marketing
Our marketing team continued to refine and improve communications to better connect with the community and make our communications more effective with different types of audiences. 
Communication and Website Improvements
Our domain moved to Horizen.io this quarter. This was one of the final pieces in our rebranding journey. We also created a new dropdown menu, which makes it easier for our community to find exactly what they are looking for on our website. 
We also released a brand new blog and news website. The Horizen Newsroom gathers all of the Horizen-related news across the web and puts it in one easily accessible place. 
Developer Outreach and Support
Marketing worked with our engineering team to reach out and welcome our community developers through: 
Workshops with Major League Hacking

Creation of the

Zendoo technical tutorial series

New one-stop page for all things a developer will need for Zendoo! Including educational resources, documentation, downloads, and more. 

Community developer insights videos featuring

Xavier Garreau

and

Pontus
Store – New Arrivals
We added several great new designs to the Horizen store, including a new design from our favorite community artist, AGNFAB. We are welcoming new designers all the time. So, be sure to check out our store. 
Events 
Because many events are remote right now, we have been able to add several of the presentations from our events this quarter to our YouTube channel. 
Cointelegraph Blockchain Week

Guan at Smart China Expo

The Crypto Gathering
Interviews, AMAs, and Media Coverage 
WhiteBit AMA on Telegram

Nodeasy AMA on Telegram

Interview with SecurityInfoWatch
Regional Updates
The Horizen Regional Team was busy this quarter. In addition to running the regional Horizen news channels, they also helped out our BD and Marketing teams and attended several AMAs and events! 
Quarterly Live Update Slides