The launch of the Horizen DAO marks the beginning of a new era of participatory governance for the Horizen community.
Horizen is an open-source, public protocol with a broad and diverse ecosystem that includes developers, miners, node operators, and $ZEN holders across multiple blockchain networks. The launch of the Horizen DAO makes it easier for Horizen community members to get involved in governance and make their voices heard in the direction of the project.
About Horizen DAO
DAO stands for "Decentralized Autonomous Organization," which has emerged as the standard for decentralized governance in the blockchain space and beyond.
Horizen has always been a community-driven project and has long recognized that a strong social layer is crucial for maintaining integrity across the ecosystem. This approach is directed by the guiding values of:
Transparency
Accountability
Security
Community involvement
Continuous improvement
Social responsibility
Read more about the Horizen guiding values on the Horizen governance page.
Proposal Phases and Voting Process
The Horizen DAO further decentralizes decision-making for technical, non-technical, and other substantive improvements to the system.
Protocol Improvement Proposals (IPs) are an established mechanism used to select and implement new features and core protocol changes in many blockchain projects. In Horizen's case, this IP process is the key tool for the Horizen DAO's community-led governance. With Horizen's native token, $ZEN, serving as the governance token for both the Horizen mainchain and the EON sidechain, IPs for each are called, respectively, ZenIPs and EONIPs.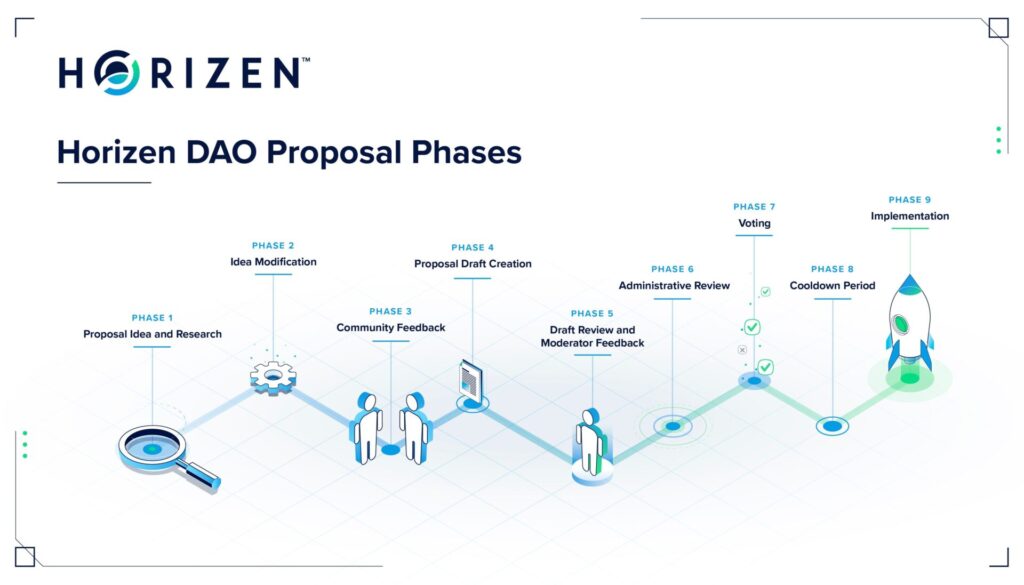 $ZEN holders are the ultimate decision-makers for the future of Horizen and exercise governance over the network's evolution through participating in the Horizen DAO. Any $ZEN holder can vote on improvement proposals, and those who hold (or who have been delegated) the requisite amount of $ZEN may put forth proposals to the community. To facilitate effective community governance, users will also be able to delegate voting power to individuals they view as effective stewards of the Horizen ecosystem guiding values.
Detailed information about Horizen DAO, including the improvement proposal phases, voting process, Constitution, and more, can be found on the Horizen Governance page. So check out the site and get involved to help shape the future of Horizen–we're glad you're along for the journey!
Join the Discussion