ZenCash users need GUI wallets to send private transactions and private messages using Shielded Transactions (also known as z_transactions). There is now an official ZenCash version of the Swing wallet for Linux, and Windows!
The Swing wallet supports the full features of ZenCash, including private transactions and messaging.
The Windows version is available for download, and includes a .exe file that can just be clicked on and run. No separate binaries need to be installed and run, it is a complete package.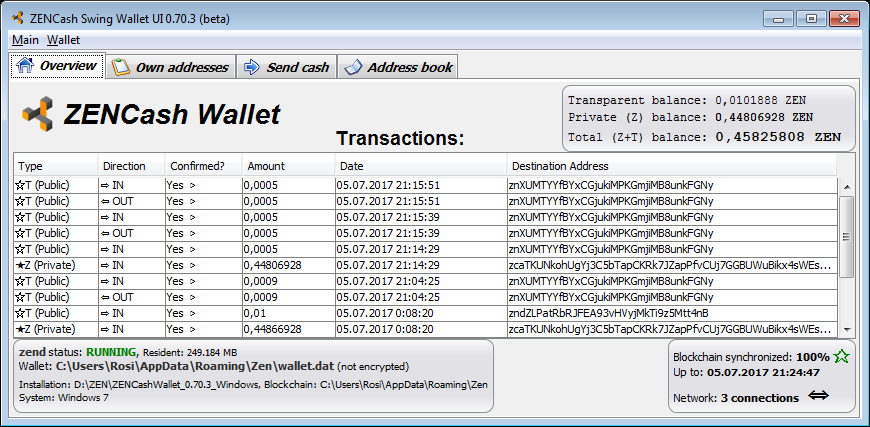 Windows Swing Wallet for ZenCash
For Linux the Swing wallet is run as a java -jar file.
The Linux version can be run on Mac also. Instructions coming soon.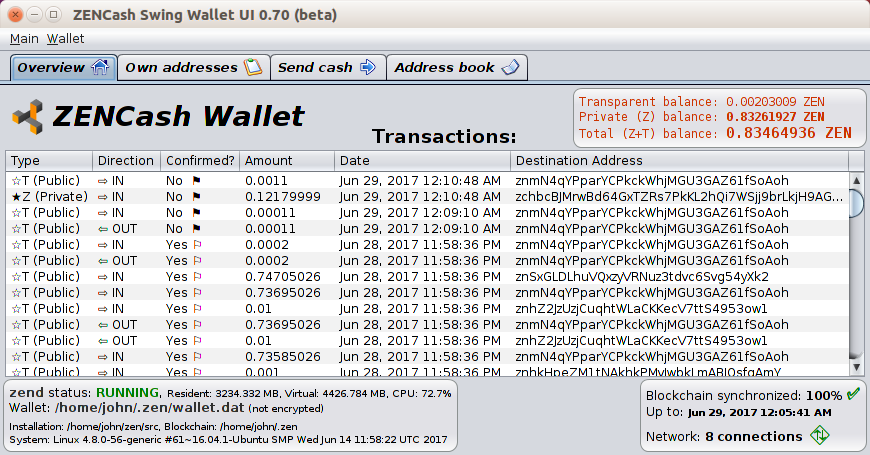 Reference:
ZenCash Website – https://www.horizen.io/
ZenCash Blog – https://blog.horizen.io
ZenCash Github – https://github.com/HorizenOfficial
ZenCash Forum – https://www.reddit.com/r/Horizen/
ZenCash Slack – https://www.horizen.io/invite/discord
ZenCash Twitter – @HorizenGlobal
ZenCash Telegram – https://t.me/horizencommunity
ZenCash on Bitcointalk – https://bitcointalk.org/index.php?topic=2047435.0
ZenCash YouTube Channel – https://www.youtube.com/horizen
ZenCash Facebook Page – https://www.facebook.com/horizenglobal
ZenCash Blog on Medium – https://medium.com/horizen
Buy or Sell ZenCash
ZenCash on CoinMarketCap – https://coinmarketcap.com/currencies/horizen/
ZenCash on Bittrex – https://bittrex.com/Market/Index?MarketName=BTC-ZEN
ZenCash on CryptoDAO