THE NUMBER OF SUBMISSIONS HAS REACHED ITS MAXIMUM, 

THIS SURVEY IS

CLOSED

AND WE HAVE

WINNERS

!
WOW We received so many submissions from the community in less than 24 hours since the release of this survey. Thank you everyone so much for participating and providing your valuable feedback!
We would like to share some of the responses from the community.
Q
What does ZenCash do?
A
ZenCash is much more than a cryptocurrency, I see it becoming as a platform for multiple decentralised services. Currently, beyond the exchange of monetary value, ZenCash can be used for encrypted communication, sending of zero-knowledge shielded transactions (which btw can contain messages) and we will soon be more with ZenHide (traffic masquerading) and ZenPub (distributed publication/storage of docs via global IPFS). It will also be interesting to see developments in terms of treasury / DAO, and eventual adoption of Dapps and/or smart contracts.
QWhat made you decide to choose ZenCash?
A
The community, lack of next-gen-hype and drama, just a solid team working on a great project.
Q How have you personally benefited most from ZenCash?
A
Profit from 6 nodes + donations from the community for my help and documentation on them help to realized my dream – to make a laser vision correction
Q What does ZenCash do best?
A
Compared to other competitors at least in the equihash space, ZenCash has both vision and execution aligned. ZenCash has credibility and successfully engages with actors in the crypto space to push the project forward. I've to say I'm happy with how things go not only on the development side but also with communication. All is very professional and very appreciated. The helpdesk is also quite a unique thing in this space.
Q What do you think ZenCash can do better?
A
Keep promoting the product slowly but steadily, in step with development
Q How would you describe ZenCash to friends and colleagues?
A
I'm not the man of words. I would tell them that you are one of the best team in the world I've ever met, and get up Discord, look at it, and, of course, read the whitepaper. 🙂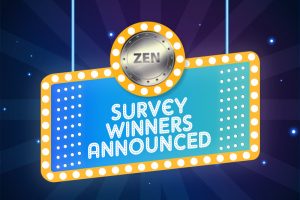 As part of the survey, we included a giveaway of 2 ZEN to 20 lucky participants randomly selected. Congratulations to the following 20 participants! We have notified the winners via email and sent 2 ZEN to the address provided.
Community Survey Giveaway Transaction Confirmations
| | |
| --- | --- |
| 1 | bcbbcd54873ba0e7cc0a1985b2b1f80bf4e4bc4bcfe77851cee85a8ae4cb887a |
| 2 | bcbbcd54873ba0e7cc0a1985b2b1f80bf4e4bc4bcfe77851cee85a8ae4cb887a |
| 3 | 64227d9398f10a8becb8680476f51a2219af296e39b1890ddf65ffd1253968de |
| 4 | be61deb09d87a8a17b7deed605e49f9b980c968c503975e8f95fa8b7e2fb4b6d |
| 5 | 0673cdc8cc3d0c38a509b796bbe21eccb16f7003c25cf35ae3d6978a815555f4 |
| 6 | ba69830a995f22badd2550ae325f7a01b41cb47c3ab5a6dc2f6a18316188241c |
| 7 | 6eccba52f966214e16d84ccb40da0357af5376e30e2e1481115cf377e218742e |
| 8 | 7a56baa824c0827aefb253fbf08d80197e9a66d939caaff069b6f88d0b7b9645 |
| 9 | bb0092b323c0ab41043c9cb576018ad8424638763f98cf0dcb5ebf88f7a9b8b8 |
| 10 | 38098520d47dc92d2c4ae7ec7c557829db690a3904a584d1d6a9dee8a90c7d9b |
| 11 | 6383b8002368c15a4192a34fb53682399ad71681852c910f5ba32f953f136a4f |
| 12 | 8bf36b45043afa27163e087fd973bd6a79234c73901a90b37f12538edf5bd469 |
| 13 | c8c62ad8fd06871ee2c058758a940d1169d4f3bf5c13b272bf7bdc2d5df5cf06 |
| 14 | 4aff35b4a5d6fb4299cd4353f18c44c796c5aecbc15f1c6290eacfda5a9a65b1 |
| 15 | d927df7b5d8adf90205cd18a692fc862a01b922a915e59a9e8bd75e9ee14d8c3 |
| 16 | 9591a1cf0d2731f32ac467c9f4fc7b770510e2a1151f6aa7d3d0bffa8fca6f3c |
| 17 | 3edc0ffa4845cc1b257f644b0597ee28a43719aed55642b1d4f275393aef4f05 |
| 18 | be55318030599986815fcb81367b36fbd010d44124839125279d739a76cc03e6 |
| 19 | 104b66f074aed3f0159e23458c717132992b7cb9c6c0b04dc2b11117f10f505f |
| 20 | d0fbdfb5e2fb78dc051007b8361574cb3fa3987f5500c58c45c8028fddd863cb |
We truly appreciate our community members that took the time and effort to participate in our survey. This survey will help us understand our growing community. Thank you for your participation and see you at our next fun community event! 🙂