ZenIP 42204 proposes the removal of shielded transactions with transparent inputs from the Horizen mainchain, which will prevent shielded transaction (T addresses to Z addresses) support at the consensus level.
ZenIP 42204's purpose is to ensure Horizen does privacy technology the right and sustainable way to drive ecosystem growth and minimize risks. It proposes a solution to eliminate technical debt and avoid regulatory threats that can prevent the greater Horizen community from fully and freely participating in our ecosystem.
ZenIPs are for the community to approve or decline. We asked the Horizen community what they think of ZenIP 42204 via a public survey, 426 community members participated in the survey. Here are the results:
When asked if they are in agreement with ZenIP 42204, 75.3% of survey takers are favorable, 12.7% are neutral, and 11.9% are not favorable.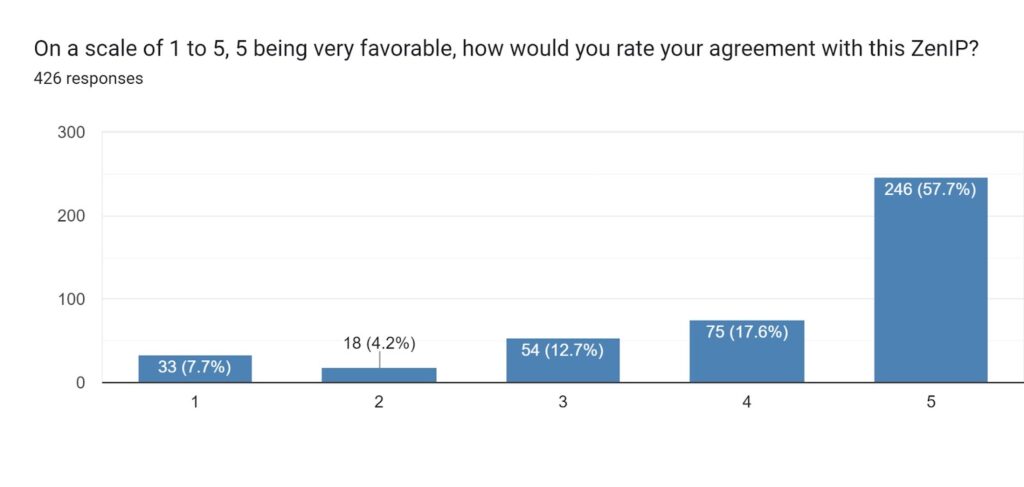 When asked if they think whether or not ZenIP 42204 is positive for the future of Horizen, 77.4% of survey takers rated positive, 13.8% rated neutral, and 8.9% rated negative.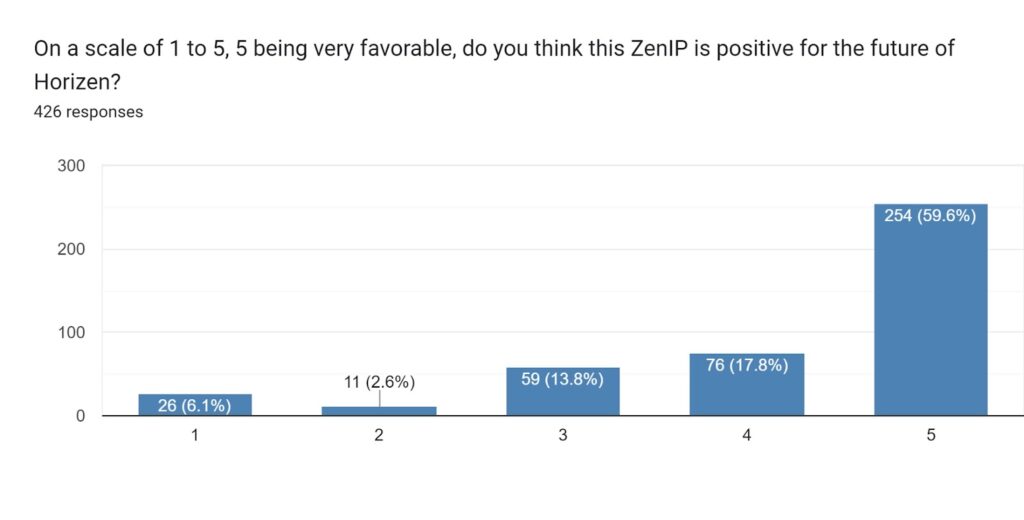 Both Chinese and Korean communities also conducted a vote on ZenIP 42204. 
Chinese community – 66 people participated in the voting: 92% Yes, 7% No

Korean community – 288 people participated in the voting: 87.8% Yes, 11.1% No, 0.01% Withdrew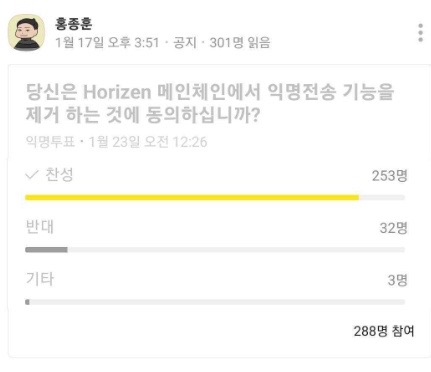 Here are some of the comments we received from the survey:
"In such a brittle environment as we find ourselves in, I believe this is the correct decision and course of action to avoid unnecessary oversight or worse in terms of regulation which is clearly needed, even welcomed to ensure the is no impropriety in the crypto markets, especially given the feature seldomly used."
"Although ZenIP's need for transparency is crucial in attracting and ensuring confidence in some investors, I think it should be taken with caution. This is due to the fact that transactional confidentiality will be favourable in the near future, as other crypto projects may not offer it. Leaving those that do with high market competitive advantage."
"It's the right thing to do even though privacy is one of the main features I like about Horizen. I will most likely make some investments in other privacy centric projects such as zcash and ironfish. Part of me thinks that Horizen should keep its privacy features in the face of regulators and possible actions but I know that will suffocate growth. It's too bad a shielded sidechain cannot be developed prior to the switch but I know resources are focused on the EVM. There will be enough demand for sidechains and all the products that EVM brings to make this project flourish in the future even with the proliferation of other platforms doing the same thing. This change will set up Horizen to become accessible to more users and potential users going forward, as well as many more competitors, I'd like to see how you differentiate. You have a fantastic team and more integrity than almost any other project I can think of."
"We need to limit the risk of being completely blacklisted by government regulators."
"Get rid of the anonymity on the mainnet and move as fast as you can to the side chain to focus on expanding your ecosystem."
"Too late to throw up the privacy position, 'cause Layer1 market is already possessed by competitors. Keep privacy position is best at the moment"
"Good direction! This will make the project more resilient, scalable and flexible. Future proof is the key!!!"
"Tough call, but agree scrutiny is trending up, not down. Shielded/privacy functionality is key for side chains, but I don't see any reason why mainchain needs to be anything other than a basic settlement layer acting as the source of truth."
What's Next?
Thank you everyone who joined the discussion and voiced your opinions on this important matter. As the majority of votes and feedback we have received are in agreement with ZenIP 42204, we will be moving forward with this proposal and plan the changes into a future ZEND software release. We will continue to keep the community informed when the new software release containing the ZenIP 42204 changes are coming.
Our next episode of the Horizen podcast "Beyond the Horizen" will discuss ZenIP 42204 with our co-founder Rob Viglione and Jordan Calinoff, Horizen Lab's VP of Strategy. Please stay tuned.
In his recent blog, Rob shares his thoughts on ZenIP 42204 and how this change can grow the ecosystem further in 2023. Read his full blog on Medium. 
"I hope people who want ZEN to be a privacy coin can see Horizen as more than a privacy coin, and want it to be more, understand that we're continuing to invest massively in privacy and privacy is the heart of our strategy to decentralize the world." – Rob Viglione, Co-founder of Horizen
Be sure to follow us on Twitter and Discord for the latest updates on this topic.
More about ZenIP 42204: