Horizen EON is excited to announce its integration with VetMe, a cutting-edge OTC platform in the blockchain space. This integration is aimed at bringing VetMe's OTC trading features into the Horizen EON ecosystem, setting a new standard for flexibility and efficiency in blockchain trading.
VetMe: Revolutionizing OTC Crypto Trading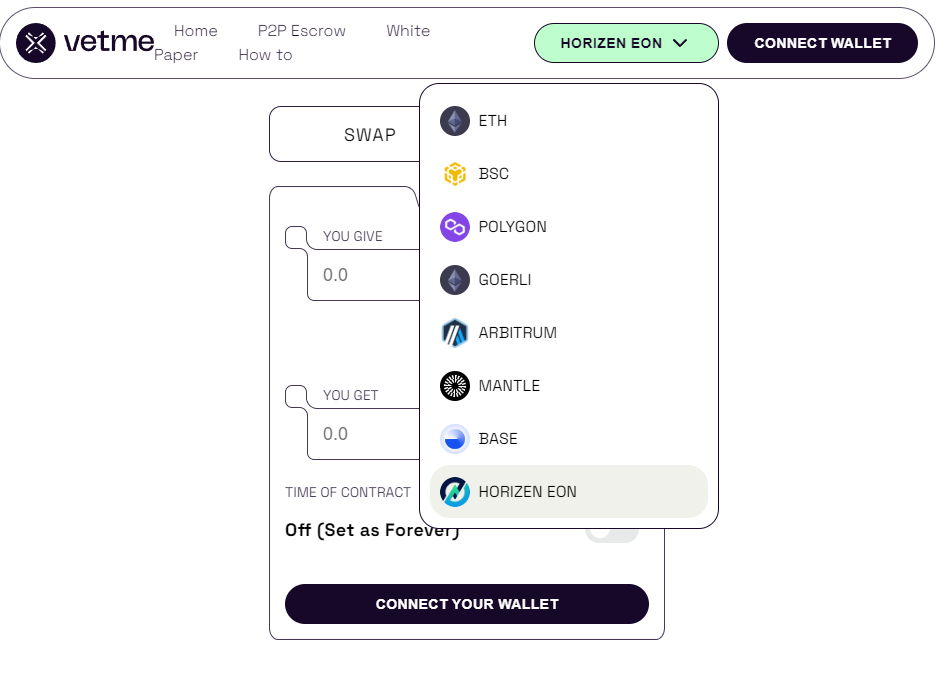 VetMe, known for its innovation in the blockchain sector, offers OTC trading options, providing maximum flexibility for its users. This feature allows traders to swap tokens without impacting market prices, giving them greater control over their trades. The integration of VetMe's OTC trading feature into Horizen EON represents a significant advancement in decentralized finance (DeFi)​​​​.
The concept of an OTC Dex is noteworthy, as it enables direct peer-to-peer transactions, providing a decentralized and efficient trading experience. VetMe leverages web3 technology to create a user-friendly and secure OTC Dex platform, ensuring fast and seamless transactions.
Enhancing Secure Transactions with VetMe's Escrow and AI-Powered KYC Services
VetMe's escrow service acts as a trusted intermediary, reducing risks associated with fraud and miscommunication. Their AI-powered KYC process enhances security and accuracy in identity verification, benefiting the Horizen EON.
About VetMe
VetMe is a dynamic player in the blockchain industry, offering solutions like OTC trading, escrow services, and AI-powered vetting and KYC processes. Traded on the Ethereum network, VetMe is committed to the future of secure and efficient trading. For more information, visit VetMe' official website.
About Horizen EON
Horizen EON is a fully EVM-compatible smart contracting platform and the first of many smart contract sidechains in the Horizen ecosystem. It allows developers to efficiently build and deploy decentralized applications (dapps) on Horizen, while fully benefiting from the Ethereum ecosystem. EON is built with scale and user experiences in mind, on Horizen's powerful horizontally scaling protocol, Zendoo.
For more information, visit https://eon.horizen.io