The Horizen DAO is open for voting, and on 11/20/2023 at 00:00am UTC, the Horizen community can start voting on ZenIP 42206, to decide whether or not the Horizen Secure Node rewards should be redirected to Horizen EON forger nodes.
About ZenIP 42206 – The First DAO Proposal
ZenIP 42206 proposes redirecting the portion of the Horizen mainchain block reward currently paid to Secure Nodes to an EON Forger Subsidy Fund.
The purpose is to drive the success of the Horizen EON network by increasing the security and decentralization of the network.
To learn more about ZenIP 42206 and the rationale behind the proposal, please read this blog: ZenIP 42206 Explained: Redirect Horizen Secure Node Rewards Into Horizen EON
ZenIP 42206 is the first community proposal to be voted on by the Horizen community via the Horizen DAO. Through the Horizen DAO, every member of the Horizen community can have a say in the project's direction. Check out our documentation if you want to know more about how the Horizen governance works.
The ZenIP 42206 Voting Process and Timeline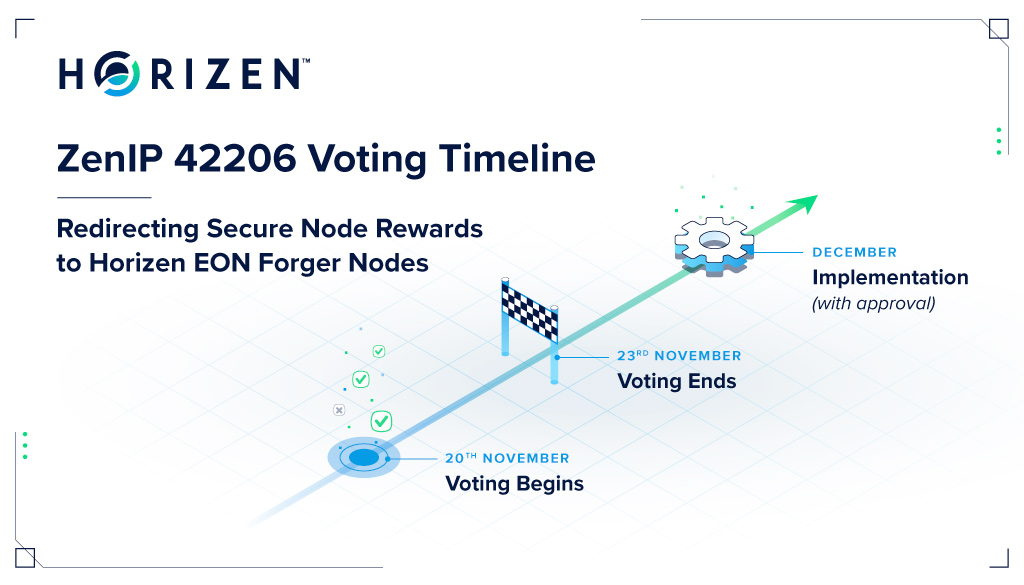 The Horizen DAO voting is done on Horizen EON, an EVM-compatible sidechain on Horizen. The Horizen DAO uses Snapshot and Discourse for governance.
When Will the Voting Start?
The voting period for any given proposal will have a specified start and end date and will last 72 hours.
Voting for ZenIP 42206 will start on November 20th,2023 at 00:00AM UTC (November 19th 7:00PM ET), and end on November 23rd, 2023 at 00:00AM UTC (November 22nd, 2023 at 7:00PM ET).
Who is Eligible to Vote?
Any $ZEN holder can vote on improvement proposals, and those who hold (or who have been delegated) the requisite amount of $ZEN may put forth proposals to the community.

Voting power is determined by the amount of $ZEN you hold on the Horizen mainchain and on the Horizen EON chain. Therefore, the more $ZEN you hold, the more voting power you have. 
How to Vote?
Before voting, be sure to have read everything about ZenIP 42206 from the following resources:
Instructions
Go to the Horizen DAO Governance page on the Horizen EON web app to get started.
Connect your web3 wallet (ex. MetaMask). Please follow this guide if you need help.
Link your Horizen mainchain $ZEN address to Horizen EON. In order to vote with your mainchain $ZEN, you need to have $ZEN on a Sphere mainchain address and link that address to your MetaMask Horizen EON chain address. You only need to link your Sphere wallet once. You can use the same wallet for future voting rounds.
Please see this guide for step-by-step instructions on linking Horizen Mainchain and Horizen EON $ZEN Addresses to aggregate your voting power.
Make sure you have sufficient ZEN in your MetaMask address for the gas fee. Follow this tutorial to learn how to transfer ZEN from Horizen mainchain to your Horizen EON address on MetaMask
Once your mainchain ZEN address is connected to Horizen EON, and you have sufficient ZEN in your MetaMask for gas fee, it's time to vote using Snapshot!
Join the Horizen Foundation space on Snapshot if you haven't done so, turn on the notification so you will get the updates 
Go to the voting page of ZenIP-42206 EON Forger Subsidy Fund on Snapshot and cast your vote!
If you need assistance, please reach out to us on the Horizen Discord, and be sure to join the Horizen DAO discussion on Discourse!
Useful Links