The newest release of Sphere by Horizen (v1.1.0) is available to download today!
The launch of Sphere by Horizen was the first step in bringing user-friendly and powerful features that allow all Horizen stakeholders to take control of their privacy and finances.
Over time, we see this multifunctional app as the one-stop-shop for most Horizen services. In order to achieve our vision and incorporate community feedback and requests, Horizen's UX team has scheduled quarterly upgrades to make necessary improvements to the app.
IMPORTANT: Current users must create new accounts and restore their wallet seeds due to the significant improvements made to data handling in this release. An upgrade mechanism will be included in the next major release to remove this requirement on the user. 
Note: When recovering a seedphrase into full mode, the current daemon may take a long time to append all the keys, depending upon system performance and transaction history.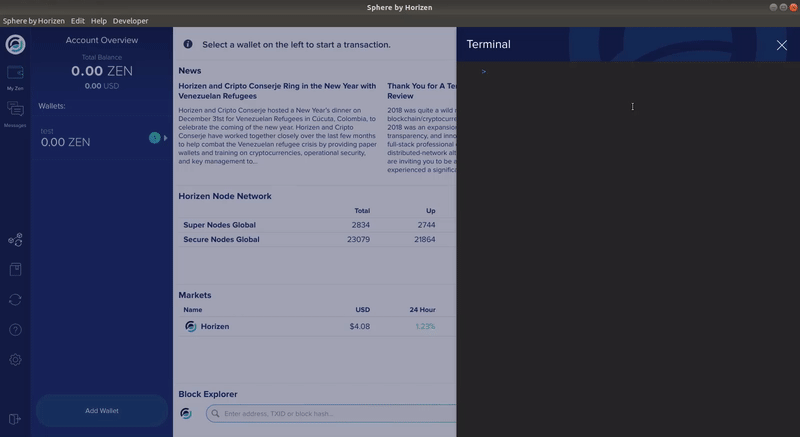 Newly added features to Sphere by Horizen:
Support restoring mnemonic seeds with multiple accounts (e.g. Ledger wallet seeds)

Terminal restricted to zen-cli commands to enable advanced wallet usage

Ability to reindex and reindex-chainstate the local node
Updates to Sphere by Horizen included:
Upgraded the bundled zend to ZEN 2.0.17

Fixes to the issue where the application crashed when dealing with large transaction data sets

A rework to data refresh logic to reduce resource consumption and reliance on explorer API calls

General performance improvements

Fixes to an issue connecting local nodes

RPC credentials are now randomized each time the application starts

Fixes to issues with transaction history not displaying as intended

Fixes to issues with some accounts being corrupted upon encryption
Your suggestions and experiences are very important to us, so if you haven't already, please let us know your thoughts on Sphere by Horizen and the improvements you'd like to see via Discord or Telegram. Be sure to follow us on Twitter and Facebook to stay up to date on the latest Horizen updates. 
Useful Links:
Sphere by Horizen v1.1.0 download link
Sphere by Horizen User Manual
How to restore existing wallets