In Q3, we focused on preparing and releasing Zendoo to our public testnet and continued growing our team in anticipation of the mainnet launch. 
Highlights
This quarter, Horizen was listed on Coinbase and Coinbase Pro, and we announced several exciting partnerships with other leading blockchain projects including Celsius, Dash, and Morpheus.Network! We launched zkAudit, our first blockchain on Zendoo. We migrated Zendoo to the public testnet which is a production-like environment before deployment to mainnet  We also received our first ever Zen Improvement Proposal (ZenIP). ZenIPs are our approach to more transparent, collaborative, and stable governance.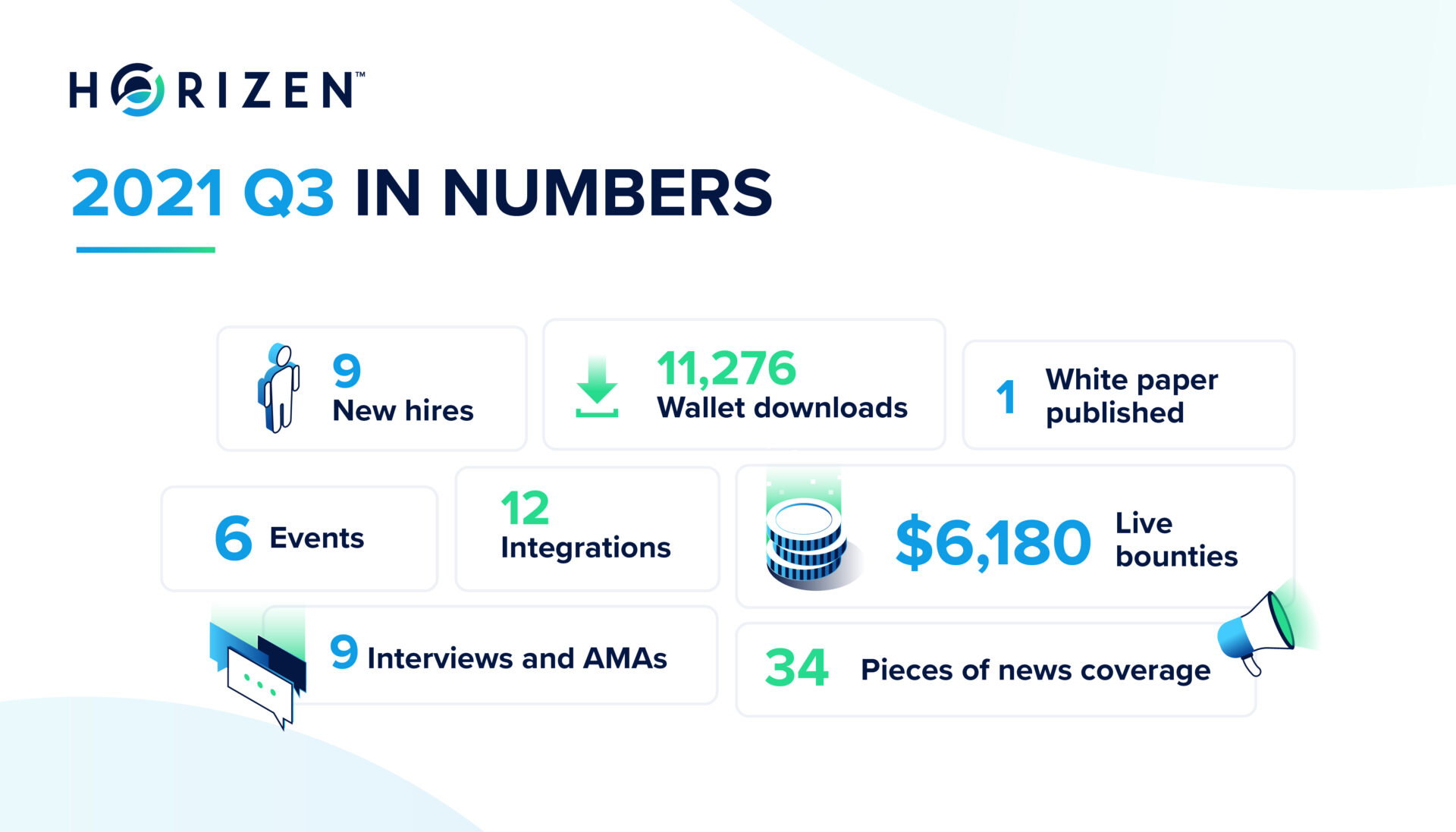 Engineering
Zendoo Updates
Our Engineering team completed the code for Zendoo during Q3 and is preparing for mainnet launch!   We completed two code reviews with 3rd party auditing firms to ensure the security of our code. Both reports found no critical risks and some lower-risk bugs that have since been fixed. Zendoo is now live on the final tesnet and will be released to the public in mid-October. The team is now updating documentation for Zendoo in preparation for the upcoming mainnet release!
Research and Papers
The team also released a technical white paper that describes Darlin, a recursive zk-SNARK that we created to handle the computation of block and epoch proofs in a Latus sidechain on Zendoo. The white paper has received attention from cryptographers including Pratyush Mishra of Arkworks and Daira Hopwood of ZCash. 
Blockchain Use Case
We released zkAudit, the first and only fully decentralized and privacy-enable audit blockchain that doesn't require any third-party validators. zkAudit is built on Horizen by leveraging Zendoo with zero-knowledge proofs, which enables transparency with privacy. The result is a much more efficient, more transparent, and more secure auditing process.
Business Development
The Horizen Business Development team established several key partnerships this quarter, including our partnerships with leading crypto projects such as Celsius, Dash, and Morpheus.Network. These partnerships aim to solve real-world problems with blockchain technology while building meaningful use cases on Horizen.  
Partnership with Celsius Network – Blockchain solution for inefficiency and lack of transparency in auditing process 
Celsius utilizes zkAudit to give their users a transparent third-party audit of their community assets, proving the value in real-time without disclosing customer information.
Partnership with Dash – Driving real-world adoption of cryptocurrency and Dash community growth
Dash partnered with Horizen to create the industry's first-ever "reward marketing amplifier blockchain application," a tool that rewards users in $DASH for performing tasks aimed at growing real-world adoption of cryptocurrency.
Parntership with Morpehus.Network – Bringing efficiency, data integrity, and privacy to the global supply chain industry.
Through this partnership, Horizen and Morpheus.Network will instantiate a blockchain using Horizen's scalability protocol, Zendoo, to act as a blockchain component for Morpheus.Network's supply chain platform. The benefit of the choice is a lower operating cost for the Morpheus.Network platform and that businesses will record each step in the supply chain process on a public, permissionless, and decentralized blockchain.
Listing on Coinbase and Coinbase Pro
ZEN is now listed on Coinbase and Coinbase Pro! The listing makes ZEN more accessible to our global community. ZEN is now available on close to 50 exchanges globally.
These are just a few of the great partnerships and integrations that they helped put together this quarter. There are more exciting announcements coming from them soon!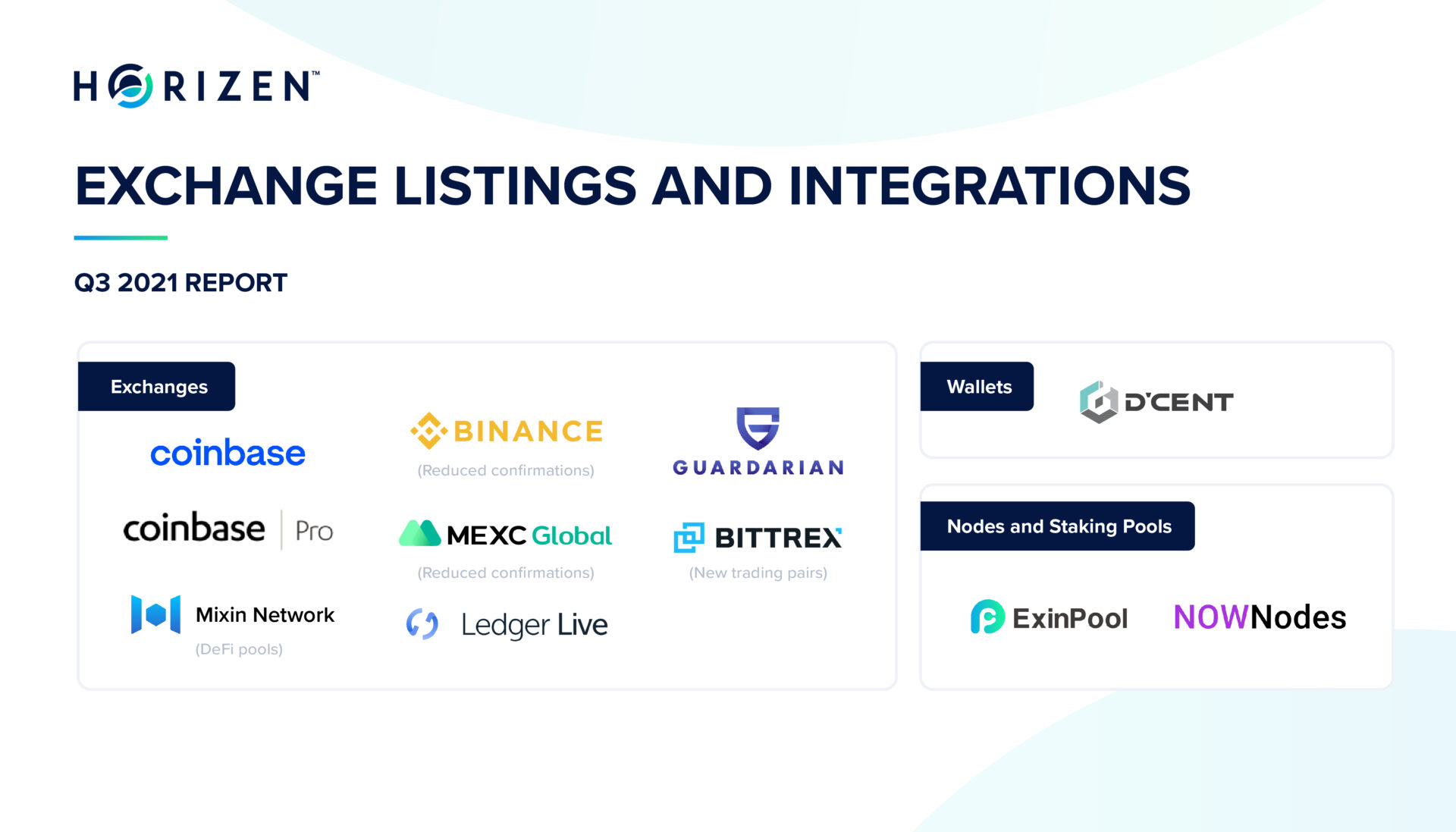 Marketing and Community Growth
This quarter, we saw steady community growth across all boards. We also created new tasks on the HDE that promote content creation, localized content, and activity within the community. HDE currently has 11 active tasks with a total of $6,130USD in bounties. 
The Horizen Ambassador Program has started taking off this quarter! Our community completed over 10,000 daily tasks on our Discord. These tasks are fun simple ways to earn a little ZEN for doing easy tasks. We also onboarded new members to our ambassador program, including long-time community members Xavier Garreau, who is known for creating developer tutorial content for Zendoo, and Muhammad Yakubu, who runs meetups in his community to educate them about Horizen and cryptocurrency! Our ambassadors are now working on the available tasks in HDE and providing feedback to continue improving the program! Check out our ambassador program page to learn more about becoming a Zenvangelist!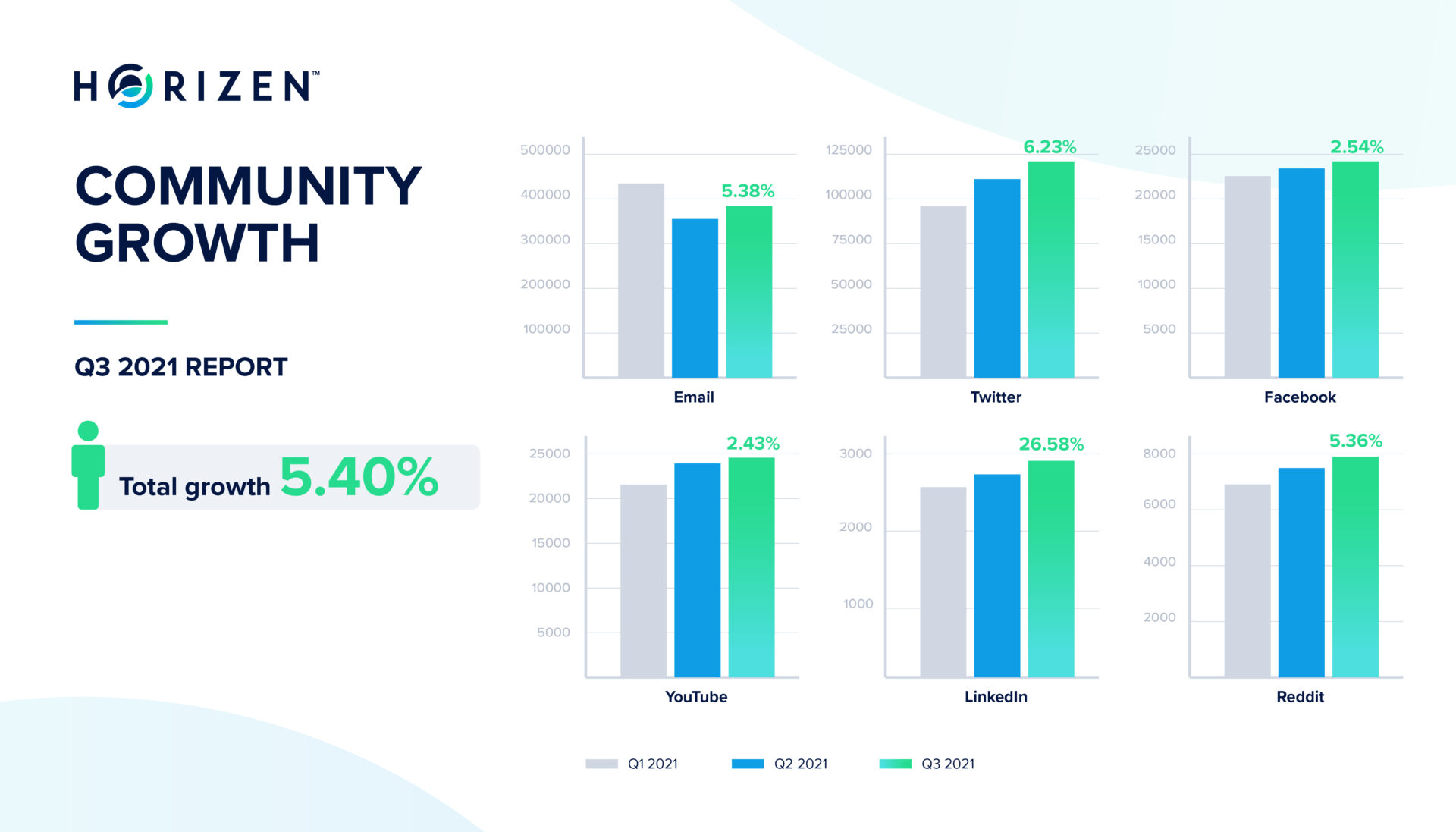 ZenNodes
In Q3, our secure nodes grew by 2.92% and our super node network changed by -0.17%. These changes reflect how our node network is stable over time and also continues to grow.
Check out our guides and information on nodes to learn more about starting your own nodes or node hosting.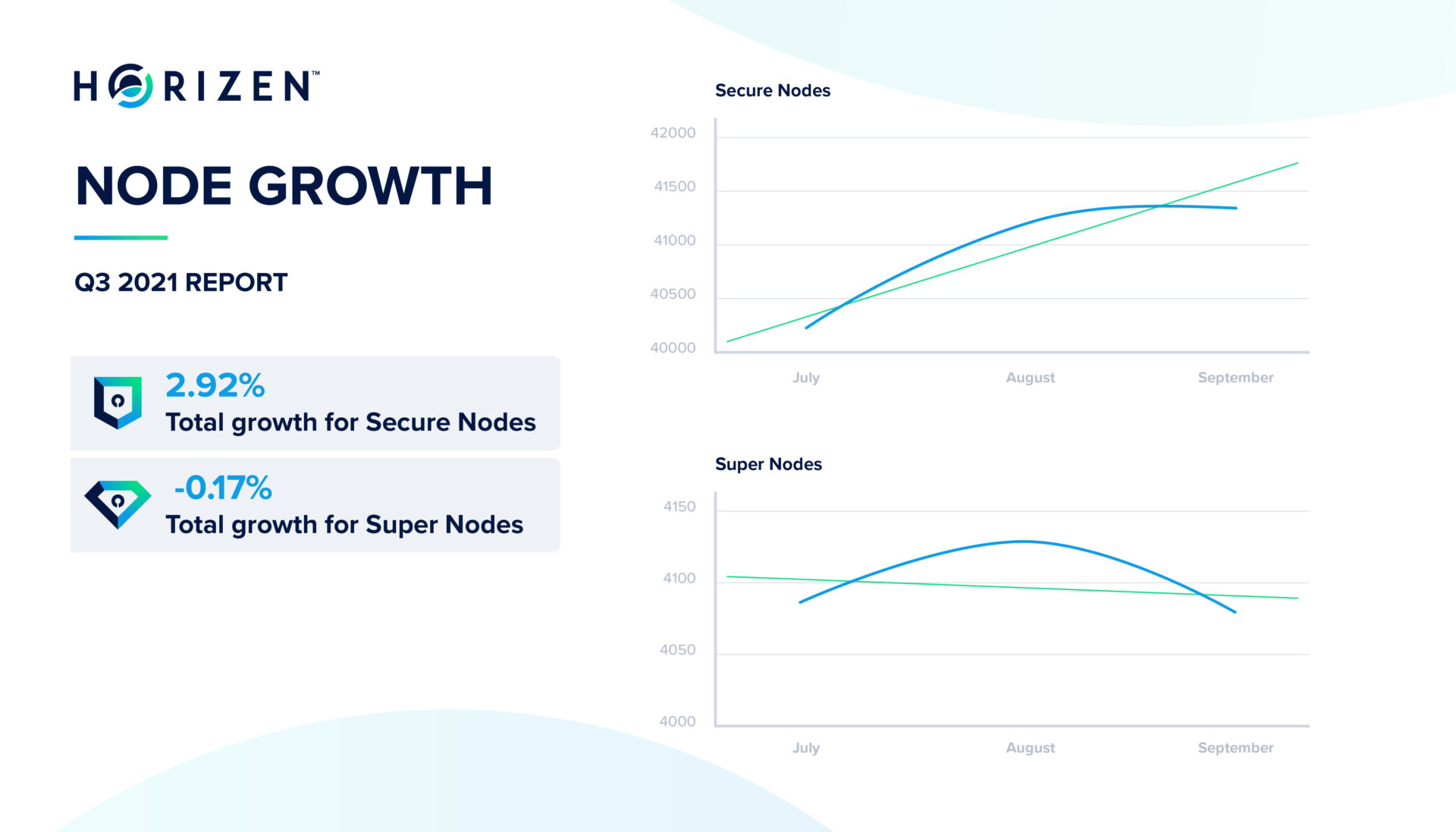 Q3 Accomplishments
Technology
Completed two Independent 3rd-party code reviews

Published the Darlin Whitepaper which describes a recursive zk-SNARK that we created to handle the computation of block and epoch proofs in a Latus sidechain on Zendoo.

Completed Zendoo compatibility with a number of ecosystem tools
Migrated Zendoo to internal testnet 
Migrated Zendoo to public testnet
New Team Members
Eric Lee – Head of Finance

Louis Caponi – Sr. Frontend Engineer

Yuriko Inaba – Full Stack Engineer

Davide Iraci – Sr. Software Engineer

Luca Giussani – Software Engineer

Oleksandr Iozhytsia – Sr. Software Engineer

Chase Zhang – BD Manager

Joyce Hanson – Content Writer

Toju Ometoruwa – Content Specialist
AMAs and Interviews
Horizen and Celsius live AMA
Media Coverage
Events
Horizen at Mainnet

2021 in NYC

Horizen Network Rooftop Party in NYC