TokenMint will make tokenization streamlined and accessible to everyone.
TokenMint is a platform that allows anyone to easily and quickly create a token with custom tokenomics. No programming knowledge is needed for creating a token using TokenMint.  
Important Note: TokenMint is currently in Alpha version with limited functionalities, but our team is working hard on delivering a wider range of features and making the platform more secure, more flexible, and even easier to use.  
NOTE: Only use Test ZEN (TZEN) and Test Zenny (TZNY) on the testnet environment. Do not send ZEN to testnet  (Testnet Cobalt wallet or Testnet Sphere wallet). Sending ZEN from mainnet to a testnet address can result in a loss of funds. 
Token Generator
TokenMint's token generator is one of the three key tools of the TokenMint platform:
The token generator is a web app that allows an easy way for anyone to create their own limited or unlimited token.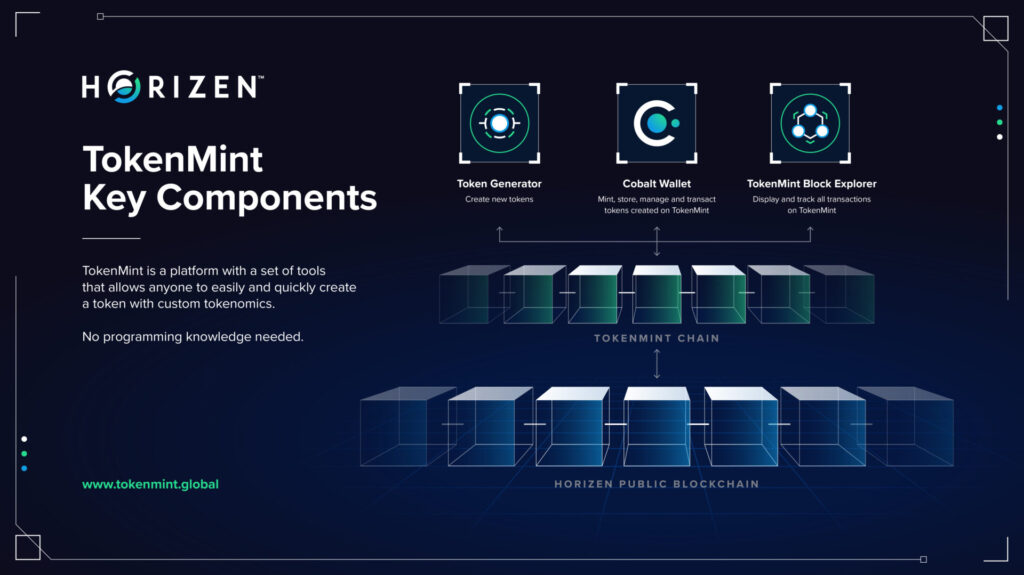 How to Use Token Generator to Create a Token
To begin the process of creating a token, you MUST:
install the latest version of Cobalt wallet or you will not be able to use the token generator
have TZEN in your Cobalt Wallet or you will not be able to connect your wallet to the TokenMint website. 
The TokenMint token generator is very easy to use.  Simply head to the TokenMint website and follow these easy steps: 
STEP 1. Launch the token generator from the TokenMint website by clicking either "Live on Testnet" or the "Launch Your Token" button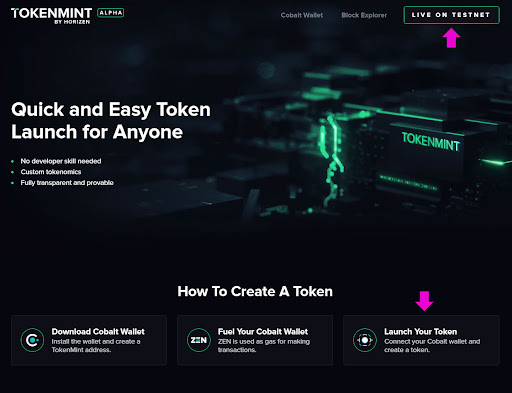 If you have previously installed a Cobalt wallet, make sure you remove it from your web browser. To access your existing wallet previously created in your old Cobalt wallet, you can import it using the wallet seed phrase of your existing wallet. This will allow you to access the funds you stored in your existing wallet. If you need help with installing and using the Cobalt wallet, please follow this guide.
You must have sufficient Test ZEN in your Cobalt wallet to pay for network fees. If you need help with getting some free Test ZEN to your Cobalt wallet, please follow this guide.
STEP 3. Once your wallet is connected, click the "Create a token" box and simply follow the steps shown on the app to create your token.

STEP 4. After you create your token, you will be able to see your token in your Cobalt wallet and the TokenMint block explorer.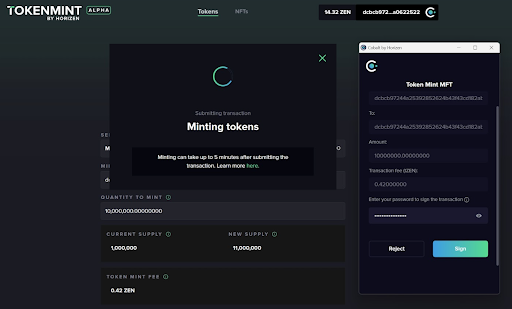 For a complete step-by-step tutorial, please watch this video. 
For questions, support, and lively chats, join our #🌿︱tokenmint-chat on our Discord