We have recently announced the plans to add Super Nodes to the ZenCash network by the end of 2018. By doing this, and in combination with making improvements to the existing ZenCash secure node network, we are setting ourselves up to be much more than a cryptocurrency.
ZenCash's Secure Node system is a unique network of nodes that keep the ZenCash blockchain decentralized and running. Within just three months of launching their secure node system, ZenCash's network has reached over 9000+ nodes, already rivaling Bitcoin in node count. But we are just getting started! We are constantly researching how to upgrade and improve our network.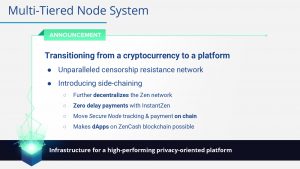 ZenCash Super Nodes will be even more powerful than Secure Nodes. 
They will be tasked with managing key network and system functions, including hosting multiple services on sidechains, tracking and measuring Secure Node uptime, and queuing the node payment schedule for miners. 
Super Nodes will advance the decentralization of the ZenCash network and ensure the utility not only of ZenCash as a currency, but also the future services that will be layered in the infrastructure.
These Super Nodes will bring network, economic, and technical improvements across the network.
Network Improvements
Super Nodes will bring two major improvements.
The first is that tracking and payments will be brought on-chain, or within protocol. This is a major change from the current system, where such functions are executed on external server clusters.

Second, sidechaining will be introduced, which elevates the ZenCash system from a pure cryptocurrency to a platform on which an unbounded set of services can be built.
Technical Improvements
Some of the technical improvements are within the new super node class itself (a higher ZEN stake, computation, and storage requirements. This change will also migrate logic from off-chain server clusters to sidechains that are run on the new Super Node network, which will make it possible for ZenCash to support multiple platforms. Another improvement will be with the decentralization of the node tracking system. The node statuses will be relayed by its connected peer nodes, while all the secure node messages will be received through the core protocol.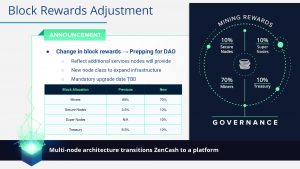 Economic Improvements
The new super node network will also be affected economically. Node operators will now receive 20% of the block rewards, which is an increase from the 3.5% previously. This 20% will be evenly split between secure nodes and super nodes. Treasury will receive 10% of block rewards, which is an increase from 8.5% previously, and miners will receive 70% of block rewards, which is a change from 88% previously.
Sidechains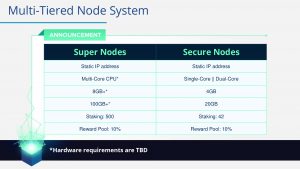 The Super Node class supports sidechains. This is a major improvement to the system that moves the project well beyond a simple cryptocurrency. Not only will ZenCash be able to support other platforms over sidechains, but we will also be able to leverage the sidechains to integrate third party technologies. In order to support this functionality, super nodes must follow higher criteria:
At least 500 ZEN in a t-address for staking

Multiple CPU cores

8GB of RAM or more

100GB of storage or more

96% node uptime per day
Our target Super Node and Secure Node counts are between 2000-2,500 Super Nodes and 20,000-25,000 Secure Nodes, respectively.
Once launched, Super Node operators will also be required to maintain higher criteria to remain operational and in exchange will receive higher rewards.  
Releasing of the new White Paper
Software Manager, Pier Stabilini; ZenCash Co-Founder and Team Lead, Rob Viglione; and Senior Software Architect, Alberto Garoffolo released the new white paper this week explaining the technology behind this new class of nodes.
The new white paper details Secure Nodes, Super Nodes, and sidechains, and outlines new system requirements and payout adjustments.
Full implementation of this application system with Super Nodes is expected to be launched in Q4 of 2018 with a prototype available for testing at the end of Q3.
To watch ZenCash's initial Super Node announcement, check out the video from April 4 below.  Please make sure to join us every other Wednesday at 5PM UTC on our bi-weekly Youtube livestream for more updates!
NEW: Read the white paper!