The CryptoConference.Com C3 event  was held in Berlin at the Station from the 5th to 6th of April 2018. Two of our team members had the time to join. Technical expertise was represented by Woky, a capable Arizen wallet developer, and the business development division by Jonas, the new country representative for Austria and Switzerland. If you missed this announcement feel free to check the biweekly from 21.3. again 😉
Jonas had a panel seat, although it was arranged last minute and a profile picture was missing on the slide. The first impression of the stage is quite professional: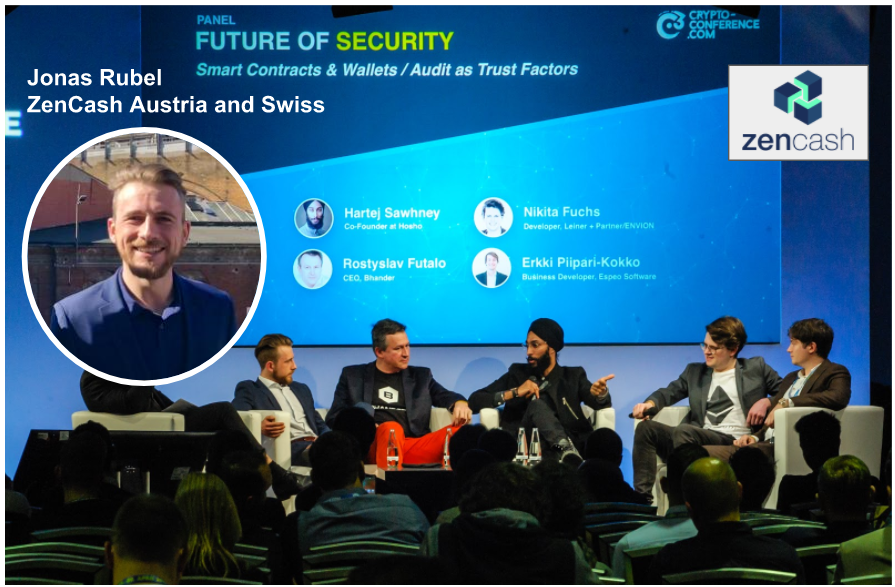 The Panel topic addressed "The future of security: smart contracts and wallets". A strong point was made to differentiate between security and safety. Security regarding the protocol rules and differences of transparency. Safety concerning the usability of cryptocurrencies, because no person wants forfeit or stolen funds. This is exactly why ZenCash has started the cooperation with Xeeda.
The conference team was somewhat struggling with the panel organization, since some of the speakers did not show up, therefore I don't want to hold this against them. The registration procedure was not too efficient either, therefore the opening speaker got his accreditation only minutes before the opening keynote. Although this might sound quite negative, I (Jonas) want to say that other than the aforementioned friction the conference went really smooth, the media support was quite impressive with large screens set up for people sitting in the back of the conference room showing professionally recorded video and good audio.
The most promising keynote was held by Miko Matsumura who talked about the need for a decentralized monetary system and the degradation of the traditional monetary system after the financial crisis of 2008. He is also the founder of evercoin, an exchange where you can get ZEN. Hartey Sawhney highlighted the need for security within projects and Alena Vranova talked about her journey leading towards her becoming the former CEO of Trezor.
In the exhibition hall you could find a wide range of projects, from a community to help mainstream adoption, to a project selling real estate in northern Italy for crypto coins. Changelly had a booth demonstrating their exchange, a low budget hardware wallet with two prototypes was presented and a company building two-way crypto-ATMs with exchange integration to support a variety of currencies and coins was also on the field.
In conclusion the C3 event was an overall success. Woky and Jonas met great people, had interesting conversations about where the future might take us and I am (Jonas) positive the organisation team will iron out the small hiccups until the second edition of the format. It might even be worth getting a booth the next time, since there was little presence of privacy cryptocurrencies.