Get started on your TokenMint journey with our brand new alpha phase web wallet,
Cobalt!
Cobalt is a web extension wallet that is one of the three key components of TokenMint, Horizen's tokenization platform. Cobalt is live on mainnet. In the alpha phase, Cobalt can send and receive tokens created on TokenMint and ZEN from Sphere by Horizen.
Getting started with Cobalt
Add the Cobalt wallet extension to

Brave or Chrome

browser 

Create an account

Choose a password for your wallet 

Confirm your password 

Click on "I have read and agree to the Terms of Use"

Click on "Create"
Important:
Make sure the password is equal to or longer than 16 characters

No common passwords are accepted, i.e., password, 12345, etc.

Password cannot be saved to a keychain, so be sure to make a note of it for future use.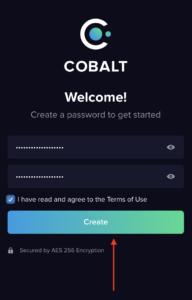 Creating a New Wallet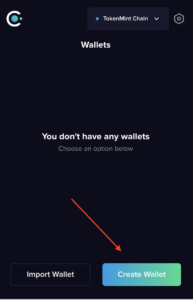 The default chain is: "TokenMint by Horizen"

Add a name to the wallet i.e.,: "Wallet123"

Click Next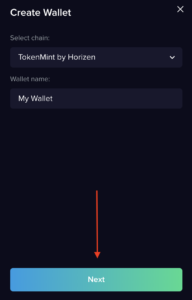 Generating Your Wallet's Seed Phrase
Important: 
The seed phrase is a series of words generated specifically and uniquely for your wallet. This seed phrase is the only way to recover your wallet if you ever lose access to it. We strongly recommend users write down their seed phrase and store it in various safe places. 
Do not take pictures of your seed phrase

Do not save it in files such as notepads, third-party-owned documents, etc.

Write down your seed phrase

Click Next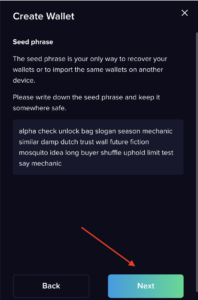 Confirm your seed phrase by clicking on the words in the exact order they were listed when you created your seed phrase. 

Click Confirm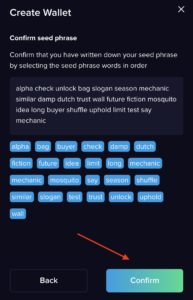 Import an Existing Wallet
Follow the steps below if you:
Downloaded a new Cobalt version and want to import your existing wallet to your new Cobalt 

Installed a new Cobalt in a new device and want to import your existing wallet to your new Cobalt
Create a password to get started with the new Cobalt

Click Import wallet

Enter the seed phrase of your existing wallet

You should see your existing wallet in your new Cobalt  
Sending A Transaction On Cobalt
Note: To send a transaction on Cobalt, you must have ZEN. However, you CANNOT send ZEN to another Cobalt wallet address at this time. 
Currently, ZEN can only be obtained by sending ZEN from Sphere by Horizen to your Cobalt wallet address.
Send ZEN to a Cobalt Wallet
When sending ZEN from your Sphere wallet to a Cobalt Wallet, you are actually sending a transaction to a sidechain. 
Before you begin the send transaction, make sure that you have the Cobalt wallet's address to send ZEN and the password to confirm the transaction.
Perform the following steps:
1. In your Sphere Wallet, click on the wallet you wish to send ZEN from.
2. Select the appropriate address by clicking on the info icon to copy it.

There are two icons: one to Receive and the other to Send.

3. Click the Send icon. (Red Up Arrow) The Send page appears.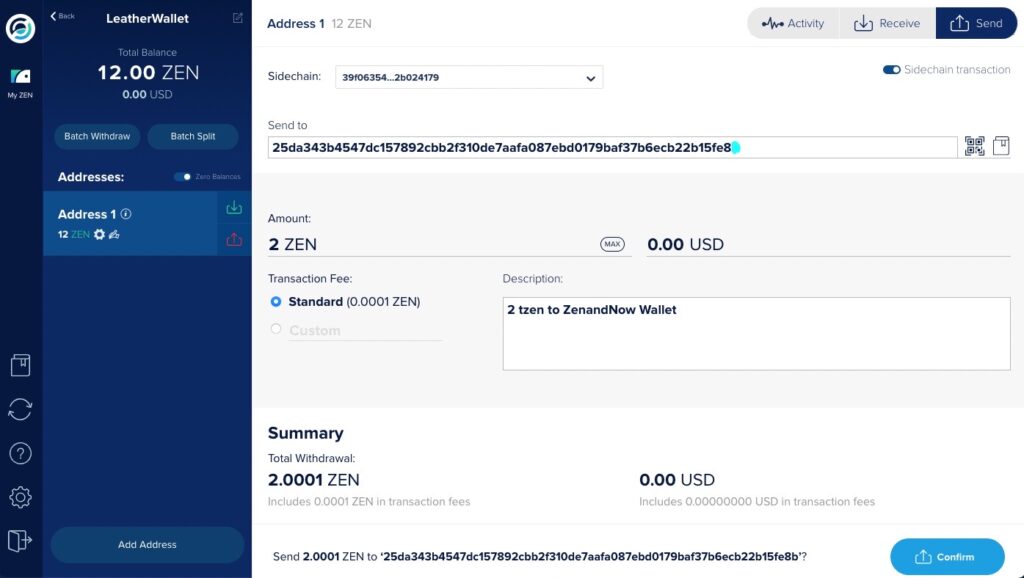 4. Make sure that the Sidechain transaction toggle is enabled, which displays the Sidechain field.
5. In the Sidechain field, use the drop-down menu to select the appropriate sidechain.
6. In the Send to field, paste the Cobalt wallet's address.
7. In the Amount field, enter the amount of ZEN you want to send.
8. In the Transaction Fee pane, the Standard radio button is enabled by default. Click Custom if you want to specify a custom fee.
9. Optionally, in the Description field, enter a brief statement about this transaction.
10. Click Confirm. The Enter wallet password to confirm field appears.

Note: If you enter the wrong password, an error message will appear.
11. Enter your Sphere wallet password. The Send page displays a success notification.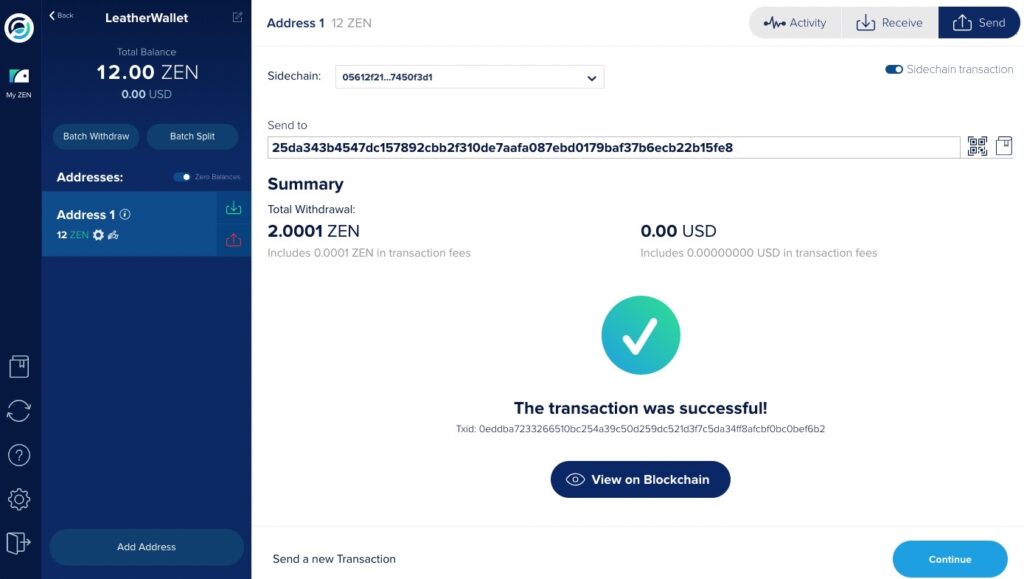 12. Click View on Blockchain to verify that the transaction is successful. The Block Explorer webpage will appear.
13. Click the Search button on the top of the page using the search criteria of address, transaction, or blocks if your transaction is not displayed.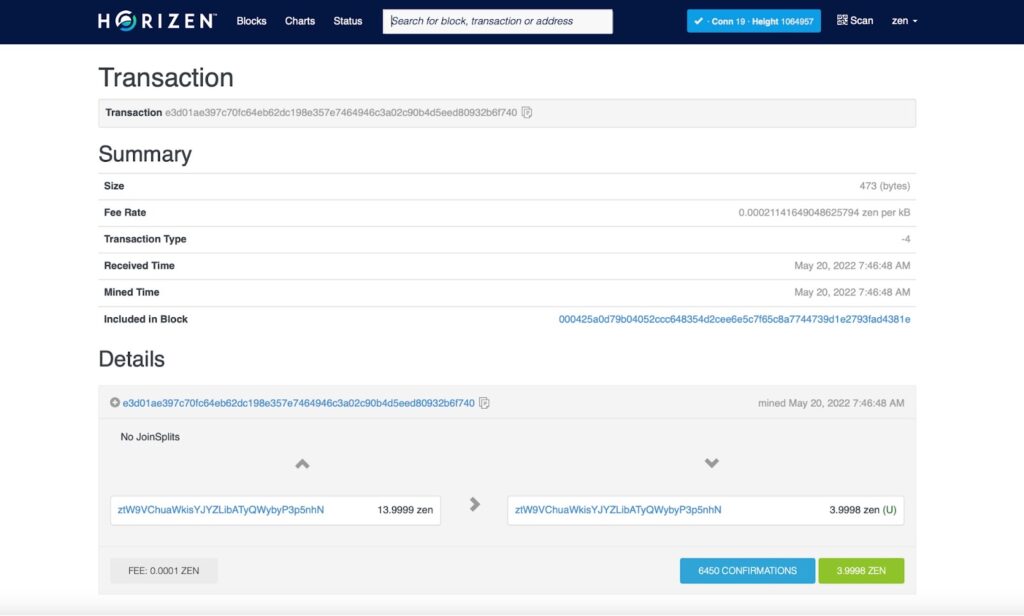 14. Check the Cobalt wallet for the newly received transaction. You should see a transaction of received ZEN from the Horizen mainchain.
Select the desired token in your wallet balance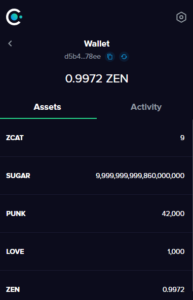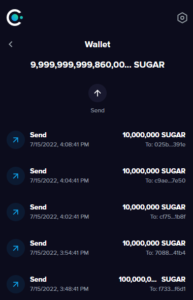 In the transaction screen, fill out the necessary details, including wallet address and amount. Then enter your password

All transactions in Cobalt require you to enter your password 

Press Submit once the details are completed
Then close out of the transaction screen

You can then view your transaction on the Activities tab of your Cobalt wallet
Assets and Activity tabs
Assets Tab
View the list of the different assets/ tokens in your wallet and the balance for each one of them.
Activity Tab
View the activity of your different tokens, such as tokens sent, received, and pending transactions on your wallet.
Stay up to date on the latest Cobalt and Horizen news by following us on Twitter and Discord!