Each Monday, the Horizen team has a public team call to ensure that our community stays up to date on the latest project insights and updates.


September 26 2022 Updates
Engineering / Product Updates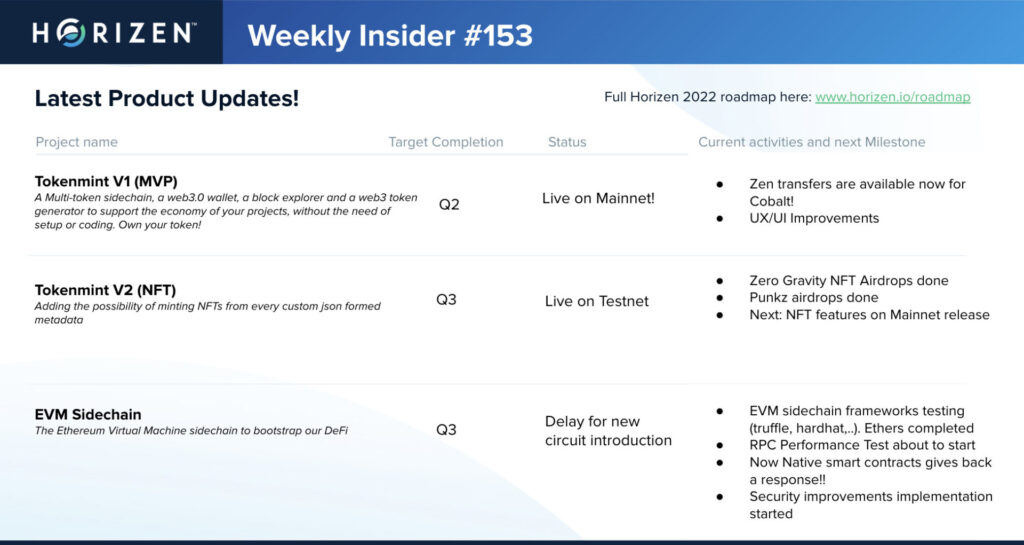 Engineering
Progress Report
V2 of our TokenMint Platform (NFT) is coming! This version will add D-POS and the possibility of minting NFTs. The development of the basic support for NFTs is near completion, with the team preparing to deploy to testnet. The team is finalizing NFT feature testing in testnet-dev. Zero Gravity NFT airdrops are in progress. Up next are NFT features on the mainnet release.
The EVM Sidechain (EVM M1), the Ethereum Virtual Machine sidechain, has a target completion date of Q3. We are currently delaying for the new circuit introduction. The EVM sidechain has been deployed in a shared environment for internal testing of smart contracts! We're also currently defining the set of dapps coming on day one. The EVM sidechain testing against the most common frameworks (Truffle, Hard Hat, etc.) is complete. RPC performance test is about to start. Now native smart contracts give back a response, and security improvement implementation has started. 
Zendoo
The main focus of last week was conducting code reviews and the related changes for some final pull requests of possible improvements to be included in the next version. A planned software deprecation is happening on the 21st of October.
We are finalizing all the improvements included in the release. The final testing phases are ongoing. This week we are starting the first round of notifications to all the partners, miners, node operators, and exchanges to keep them informed. We will have a total of 3 rounds to ensure everyone updates to the new software in time. 
The full list of features and changes will be available in the change log file on GitHub and a blog post will be published this week. 
Apart from these, all these are related to Zendoo, and last week we continued working on the changes related to supporting the additional key rotation mechanism.
SDK
In regards to Blaze, the 0.4.2 version is out, and it brought various improvements. Today we are releasing version 0.4.3, which brings an additional fix to the base network layer. In addition, we're now ready to start testing all the features, including the upcoming version that is named 0.5.0. Among those, we're going to include the forger list opening process, which we talked about some time ago, the fork manager functionality, and more. We will also include some other improvements to the component due to the code audit we recently carried out and the highlights reported by the 3rd party provider. We have been working on the TPS stress test, and the execution of the 1st round is completed. We are extending the test with the more complex scenarios, nodes, etc., to replicate a real scenario. 
EVM Sidechain
We are working on the deliverable for milestone two and the fee management mechanism. The changes requested after the code review have been completed. The orphan transaction management changes have been completed after requested by the code review. 
For the EVM sidechain, the entire team is working on completing the work that was required to deliver the internal release called milestone two with the original scope closed. And we have proceeded with testing the performance of the sidechain in general. We kicked assessing the EVM sidechain itself from the transaction per second perspective. 
To get an idea of the performance in a real-world scenario, we have proceeded with an environment that will give us an idea of the potential critical aspects. This highlighted some weaknesses that we were able to fix because we had a considerable amount of traffic that is not seen on other networks or at least in some particular locations. 
So it was good also to assess it for these particular corner cases or heavy traffic peaks.
We intend to enable native smart contracts that are not written, for example, in Solidity, that come out-of-the-box with the sidechain. For example, we have the backward transfer functionality and the forging stake that were managed in this way, and we fixed that. We completed the work required to show also the response from them. It was available already for a normal smart contract. It needed an additional piece of work to let it also work with native smart contracts. Thus we have managed to test it with Truffle successfully.
TokenMint
We're performing testing on the NFT generator on testnet. We're also going to be releasing TokenMint with an update of our SDK version 0.4.3. This is required to keep things aligned and having the proper updates that SDK 0.4.3 addresses with TokenMint on mainnet.
The team will be working on that in the following days, and TokenMint has ongoing audits. This is something that we've all also paid attention to very closely. So we make sure that our systems and the different stack is being audited, audited constantly. We will have more updates and news regarding NFT functionality to mainnet soon, but please be aware that we will have more news coming. 
To add a very quick and exciting update, we just had a session, internal for now, about our Punkz tokens and a game integration with PipeFlare, our partner, and we went through a round of testing with this game integration which was very exciting and I know there's going to be some exciting news coming up from the team, so expect that to be ready soon.
BD Updates
So from the latest integrations, we are happy to welcome BitMart to our community and hope to finalize several more integrations that are in the works. And soon, I will be sharing news with you all. As Alberto mentioned, we started the first round of notifications regarding the new Zendoo version, we are giving everyone, including our partners, ample time ahead of the update to prepare and support everyone and have them on board for the new version. 
Leadership Updates
Rob
Our teams are crunching on all fronts and doing great stuff. ZenCon0 was amazing and a huge success. It was awesome to see our entire team, extended team, and community, all of the people who came from all over the world. Such a great event, and the Ops team did such a good job putting everything together. Shoutout to our friend Barry Silbert in response to one of Balaji's tweets, where it mentioned two of the biggest innovations in the industry were Ethereum and Zcash and that there needs to be a blend of both, and Barry said that was Horizen. That is where we are trying to be, with zero-knowledge proofs, and everyone knows the story about us as we grow, especially when we finalize the EVM. 
On the delivery front, we had a really successful demo of the PipeFlare game on TokenMint. This is the first non-crypto application running on our system. I will say, though, this is like Angie said, this is the first or will be the first significant stress test of TokenMint in production. So even for that, I'm really pumped. I'm pumped to see how the system can handle a substantial increase in network traffic. So we're looking forward to it. You can tell we've been doing this rollout with TokenMint very, call it conservative and deliberate, for a sidechain in production, and we have a lot going on, so we've held off on promoting the chain because one, the EVM's coming, right? And then two, to get the max value of all of these different chains that we'll have in the Horizen ecosystem, we really need that sidechain to sidechain protocol to go live and be integrated into them. And we've been, you know, sitting on this strategically and just kind of maturing it into conservative fashion because we don't know exactly what the ecosystem will look like a year or two years from now in the sense that we are delivering EVM. We have a hunch that a lot of the activity will happen on that smart contracting platform. 
What I will say is I'm getting even more excited with TokenMint. When you see things like Kong Hero going live and I had this feeling that TokenMint may actually end up surprising everyone. So point #2 that I want to make is just revisiting the EVM project you heard an update from Victor and you guys have been hearing us over the last several weeks minus the interlude for ZenCon0, just with updates there. We did have a hiccup on the project. Just getting over that hiccup and by hiccup and just getting over it explicitly, what I mean is that we're going to have something like a three-month slip on it. We've been communicating this. I think though whenever you have any kind of slip or something going not according to plan, it's really important to communicate and then over-communicate and then over-communicate again, right? So that's what we're doing here and I just want to share with you guys the latest even though things aren't really finalized in terms of the delivery date, it's looking like an order of magnitude, three-month slip. 
What happened is that as we were going to testnet with what we were working on, we realized that we needed or should upgrade the certifier circuit, right? So we need #1 the highest security that we can get on the system because we expect a lot of TVL to be on there, and we expect a lot of usage. So we need to ensure that what we go live with is production quality. And in this sense, we need just flexibility to rotate the keys in case a key gets compromised. We need to be able to swap it out for another one. We need to make sure that as things change, the system itself is upgradeable, upgradeable in a number of different ways. And as an example, if we want to change consensus, if or when for sure we want to layer in the sidechain to sidechain protocol into these sidechains, we want to make sure we don't have to scrap the chain and relaunch a new one. All of these considerations went into a kind of an emergency deep dive the team did, and it turns out our friends at IOHK already worked on a circuit that ends up suiting our needs perfectly. The team's already been working on it and scoped it out and really racing forward on getting that circuit completed. But what it means, though, is everything slips to the right, so this is very much a worthwhile upgrade to the system, and I don't take slips like this lightly. This is a really big deal for us, and it's not something that we're going to brush over. We're going to be communicating with you guys explicitly on every bit of change that goes into this, but it's worth it. 
We're going to do it because what we were racing into production with previously just doesn't meet our needs in terms of security, flexibility, and upgradeability. We want to make sure that from the user experience, everything from you trusting the system to put real money on like TVL actually gets locked into it. Or if we need to upgrade it to be more performance competitive, longer run, which we definitely need to do, this is the better solution and it's tough to have this 3-month delay, but it's worth it and we're going to make sure that we get actual project plans out to you guys and we track that weekly like we always do. So anyway, on a positive note, this gives us another three months to really plan our day one launch strategy properly and the team's doing a ton of great work there, Spencer and the strategy crew to make sure that we actually get a successful day one launch in terms of the right DAPP mix, the right partners out there, maybe the right bridges, the right marketplaces, all of the things in the day one launch to be successful, now we have more time to do and the team already set the stage to have a successful day one launch. So this just increases the odds even more. 
Q & A 
Q: When is Horizen going to release a new roadmap?
A:  Rob is traveling to Milan next week to meet with the team to rethink our strategy, we are on the path to delivering what we planned this year. We do a big meeting with the leads and managers and discuss the end of the year, we are going to do a lot of prep work before this meeting. We will have this meeting in November to put together the roadmap for next year. The community should weigh in on what they think we should be doing. We want to launch lots of sidechains, we think EVM as a sidechain itself is going to be a value prop in itself, we know we need interoperability. What is the value prop for Horizen? A lot has changed over the last five years. This is the opportunity grab for us – a lot is changing year over year and we need to adapt. In the next few months, you should see official communication from this team on this. 
Q: Are you starting to plan the next ZenCon already? Will it be in Milan next year?
A: We are planning on it. We have no concrete plans yet. The team is taking some time to recover. A lot of media will be coming out shortly for everyone to see how cool it was. For the location, it would be cool to rotate the location, so we'll see how it goes. 
Q: How is Horizen and Horizen Labs financial condition given the bear market?
A:  Much better than we thought it would be. We had financial success at the beginning of the year, to help propel the company. The public treasury took a beating with the overall crypto market and the ZEN price going down, but until that recovers a lot of funding probably won't come out of that treasury. Horizen Labs is committed to supporting Horizen long-term, and Horizen Labs is sitting on quite a bit of capital, with the treasury having funds coming in. We need to be conservative as an ecosystem and we should be constantly revisiting our strategy and spending resources in the best way possible and working on the right things. Everything is much better than we could've ever imagined. 
Q: Do you plan to release all videos from the mainstage at ZenCon0?
A: We will be releasing those videos soon, follow us and check out our social channels for this. 
Be sure to join us next week on Twitter Spaces, for additional updates from our team. 
Listen to Weekly Insider #153 now on Youtube, Spotify, or iTunes.
Be sure to join our Discord to hear the latest updates each Monday at 11:30 AM EST/ 3:30 PM UTC!