December 12 2022 Updates
Engineering / Product Updates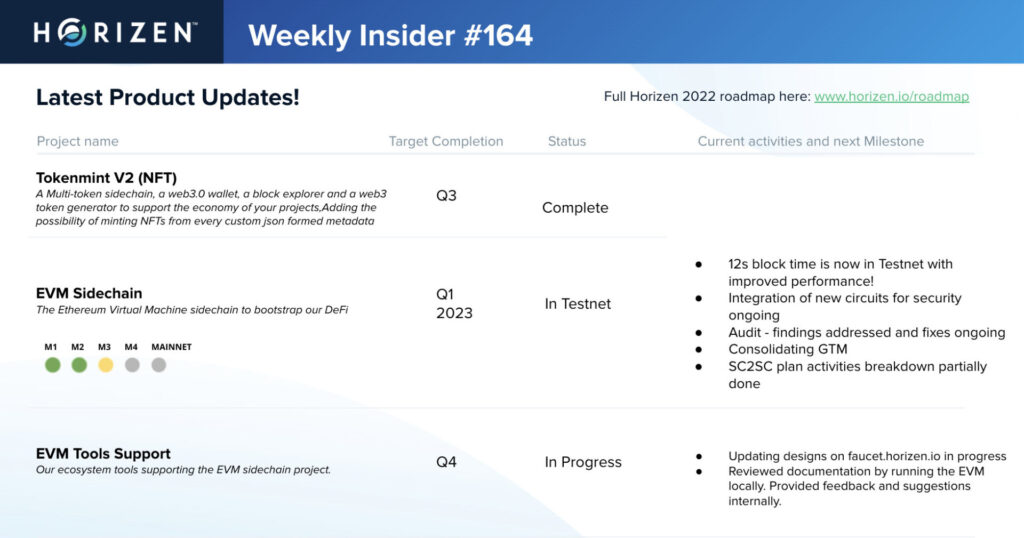 Engineering
The EVM sidechain (EVM M1) has a target completion date of Q1 2023. The EVM sidechain framework testing is complete with compatible Etherjs, Hardhat, Truffle, and Web3js. The implementation of new circuits for security is ongoing. Regarding performance improvement, we have merged optimizations to forging and mempool. The audit is ongoing, with no relevant findings to date, while we are consolidating GTM. There is a new sidechain with 12 second block time in Testnet. The sidechain-to-sidechain plan activities breakdown is partially done. 
The EVM ecosystem tools supporting the EVM sidechain project are in progress, with a target completion date of Q4. The sidechain faucet is complete and is available at faucet.horizen.io, which allows users to claim testnet ZEN from Cobalt. The EVM website & designs are in progress. The EVM documentation workflow is complete, and reviews are in progress. The EVM MVP docs are in the internal test domain and are under review while we continue the development of EVM compatibility in Cobalt. We are also updating designs on faucet.horizen.io. Our documentation has been reviewed by running the EVM locally. We are reviewing feedback and suggestions internally. 
Product Update 
Victor
From the documentation perspective, the team is finishing updating our existing documentation. The SDK documentation also took over the new circuit for security. From the testing perspective, we are continuously testing the candidate release 0.6.0, which is essential for EVM because it is covering the most spoken features of security of this month, which are the key rotation and unceasing sidechain so that after the testing is over, we will have just a dry run on EVM as well because this is at the moment tested on the SDK, not on the EVM. We will be good to go with those features also live in testnet.
We will also start covering the system's stability in the scenario in which we have an increasingly larger number of forgers, so by adding more and more forgers to see how the 4th generation will change or grow and how the same will affect finality as well. To understand what is best or how far we can push the performance of this of our sidechain in general from the block time perspective. We now have tested successfully with 12 seconds of our sidechain in test net. We want to stress these sidechains a bit more or keep the testing going by increasing the number of forgers. From the development perspective, we are continuously giving priority to the requests coming from our partners that are early testers of EVM, so we recently worked also one of the RPC meetings that are called ETH syncing which is just telling to the request or if the sidechain node has finished syncing up to the tip, so the best block and we are more or less ready to merge this in our testnet.
Speaking of merges, we are merging the latest changes of the SDK given the progress of the EVM with the older SDK so that we know, so that we will have at the end just one version called the SDK account and officially or at least internally at the moment, and this is proceeding fast. The team has also introduced the basic authentication for our API methods and RPC, in general, for the node. From the interoperability perspective, we have some great news for the sidechain-to-sidechain that went through a period in which it was deeply analyzed by three teams, the crypto team, the sidechains team, and the mainchain team. The bottom line is that for the selected strategy that we've decided to go through, the mainchain won't require further changes, and the existing circuit of key rotation will not require any further modification. Also, this solution doesn't introduce additional risk on the EVM timeline. 
Angie
I'm going to be providing some updates from the tools team side. First of all, I want to say that this is the last weekly insider. If you remember me, I've been around for quite a while, and I used to host this right after Rob used to host the Weekly Insider first. So now to see this coming to an end, which of course means that something new and exciting is coming, the podcast, but super glad and excited to see what's next and just wanted to share that it's been an honor to be either listening to the updates, seeing the progress, updating other folks, and knowing what's going on with the project, it's been amazing over the years.
Here are some quick updates from our side regarding the sidechain faucet – we added a new status endpoint that returns the faucet version and the amount of testnet ZEN distributed per each one of the claims done in the faucet. We're also updating the signs on the faucet, which are in progress and will be reviewed later this week.
Regarding EVM support from the tool's side, we had quite great progress on the documentation side in the sense that some of our team members or external members to the actual development of the EVM development have already started following the guides and the documents available, which gives us a lot of great feedback for us to start implementing changes and making sure that our documentation is very smooth and straightforward to follow for our different audiences. We're working on that feedback, implementing those changes, and making a very straightforward process for folks to follow once we launch the EVM to testnet and beyond. Thank you, everyone, for that great feedback and suggestions, we're also going to be adding some more content to that, so it's an evolving document. This will be published internally and then available for external audiences.
We also continue the development of Cobalt, our web wallet with the EVM, which concerns the token transfer transactions that are being reviewed, and importing ERC 20 tokens is in progress. So all of this development is in progress and under review, so really, really excited for that so we can have Cobalt compatible with our EVM as we've said in the past few weeks.
Last but not least, the exploration of Block scout with smart contract data indexing is progressing. This is to enhance our block explorer capabilities for EVM transactions. Cobalt version 2.4.0 was released last week, so it updates automatically in your browsers, but if not, go to extension settings, and you should see the latest version available there. 
Marketing Updates
Erica
I'll just be giving a short marketing update for everybody. So we will be sharing a Christmas decoration contest co-hosted with Punkz token, so you should see that shortly. And then we do just want to remind everybody that the holidays are coming up, so you may experience a little bit of lag if you open a ticket with us on discord because the team will be off for the holidays, such as Christmas, New Year's, as well as the last week of December for what we call a Zen week to allow the team to kind of recuperate and prepare for this new year. We also want to remind you that this is the final episode of the weekly insider. However, you'll still be able to get lots of great updates through the new Horizen podcast as well as social media, so you won't feel much of a loss by way of transparency with our project. You'll just have to look for those updates, usually on Twitter or our monthly podcast.
Leadership Updates
Rob
Thank you to everyone for joining for this very last episode. I can hear the nostalgia kicking in, especially with Angie chiming in with her comments. Guys, this project has come a long way since we launched ZenCash in May of 2017, but we've always been about transparency, which is what this entire process has been about with these Weekly Insiders. Every week we want you guys to hear from the team, we want you guys to be there with us, and the original motivation was that we wanted these to be open team calls for you guys. Now admittedly, these aren't exactly like team stand-ups. It's more like us presenting to you guys, but the point was to make sure that you know exactly what's going on, you hear from all the different teams working on the project across the world, and that's exactly what we've done. So starting with the presentation slides for you guys and Ralph doing these video whiteboard sessions that you know had their huge super fans and were super insightful on what we're doing behind the scenes explaining the big why. We've made decisions just as a community and project over the years. Then it turned into this, as Angie mentioned, with her taking the helm, then the other team supporting, then Erica doing this recently, and then migrating even to Twitter spaces. It's been a wild ride, guys, but I have to say it's provided a fantastic last three years since we've been doing these weekly insiders. It has provided a fantastic record of this project that anyone in the world forever will be able to go and reference. Go to our YouTube channel and see all of them listed right there. We have the podcast channels, and then Erica, Lucy, and the team have been putting together weekly transcripts as well. So not only do you have the audio and audio content, but you also have transcript content that's been put out there with our blog, so just a ton of information, but you know, even if and when you do things well and I think the way that we've been executing on these inside ours has been very well, things can still get stale, they could get mechanical. We just keep repeating the same things over and over, and sometimes it's good to switch things up, which is what we're going to do, and we'll see how things go. But I'm excited to, one, free up the team's time to just focus on executing and delivering, but then also shift this into a different information diet for you guys. So we're still going to be providing a ton of content and a ton of insight into what's going on in this project, but we're going to be doing it in a different format, and the format with the podcast, I think is just going to be super cool. So yes, we have been doing a podcast already, since we've been packaging these weekly insiders as weekly podcasts for you guys. But this is going to be a legit podcast series. It's going to have a lot of exciting content and different people from even outside of the project that is just prominent within Web 3, crypto. Then of course our team members, you're going to hear from team members, community members, different companies that are participating in this ecosystem. It's going to be really cool. The topics will vary, but they will always be relevant. We'll still have regular content and updates, roadmap deliveries, and all that important stuff for you guys to keep tabs on what's going on and hold us, the community accountable. We're going to move on, so I'm excited. Everyone's done a fantastic job. I think we're closing this out on a high success note of delivering three years of fantastic content for you guys, and I wish I could take credit. Still, the team really, over the last three years, has just done a fantastic job of providing you guys awareness and updates on what's going on as a project.
As we switch things up, I'm really pumped for 2023, it says our last weekly insider and, therefore, also the last one of the year 2022, we're ending the year with a lot of successes, and we have, I think, an incredible amount of successes lined up for 2023, so beyond the weekly insider going to a podcast, which is super cool, we have a lot of other things going on. Obviously, the EVM has been front and center of our attention for the second half of this year and going into 2023. This is a big deal, the big shebang that we're going to be building and finally having a smart contract platform, Ethereum compatible on Horizen is for us a massive accomplishment.
The fact that it's already operating on a private testnet is just huge, and I love getting weekly updates from our own smart contracts team. They're now deploying stuff from dapps and protocols on our own EVM, now you guys don't have a lot of insight into that yet since it's still in a private test net as we mature this and get it ready for public testnet release, which we're going to be doing early next year, but it's just really cool to finally be able to see smart contracts being deployed in a Horizen environment. 
Also, DAO is coming. We've alluded to this recently, and it's been our stated goal since this community project kicked off in 2017. We're ready. I think we're all ready. We're ready as a community, we're ready as a project, and we're ready with our technology, especially when this EVM goes live. So that's something that I've been saying for some time now. Ever since we set our sights on this EVM project, I wanted to link this to a DAO delivery. Not only are we delivering a smart contracting platform, but now that gives us access to just the big agglomeration of stuff going on in the Ethereum and EVM-related world over the last several years, including DAO technology, we're going to take advantage of this. What I want to do is release a community DAO, whether on day one with EVM or shortly after that. This is a big goal of ours, a big milestone for us as a community to get this out there finally. And then there's a whole bunch of chatter, mainly internal for now, but we're going to get more external for you guys on planning that different people around the world, the community, different teams, are opining on a concept for Horizon 2.0, so this is super cool, I have to say, and I'm not going to give you guys any details. That's usually the best way to handle it is to say that something super cool, it's imminent, at least in terms of kicking off public planning for it. Still, some ideas that have been floating around on how we evolve this ecosystem and the technology and everything behind it is just awesome. And I'm really pumped to get this community conversation going sooner than later, and definitely early into 2023. We're going to make this Horizen 2.0 messaging more tangible so that we can come up with a design that we can build.
Anyway, so digressing things that have run their course is always time to celebrate in my opinion, and there's a lot of work that's been going into delivering this weekly content to you guys, and I think it's just been a big success. I'm really happy to close this out and just give again a huge congratulations to the team that's been doing this for years now and to the community that's actually been paying attention to what's going on and following this project on a weekly basis, monthly, whenever, at least that content is always available and you can always reference it, it is our history now as a project. 
Q & A 
Q:  What will be the topic for the 1st Horizen podcast?
A: Erica – I can't give you all of the details yet. However, the main focus is going to be the greater Horizen 2.0 ecosystem vision. We will be welcoming some very great guests to be able to explain what that new vision is, both from a generic standpoint as well as maybe a little bit more technical on that, but I'm really excited to be able to present the first episode of this podcast to you all, and I think that you'll really enjoy it.
Q: What are your thoughts or opinions on Gary Gensler calling out ZEN as a security?
A: Rob – I really can't answer it. I mean really because I'm not knowledgeable enough,  I'm not a lawyer with experience in the regulatory sphere. Obviously, I have opinions, but my opinions are an uninformed member of the community really, so I wish I could have a deeper perspective on it, but it is a really good question and you know I think as a project we've been community driven from the start and hopefully, that weighs in appropriately in any kinds of decisions or analysis like that.
Q: Will there be any new documentation or walkthroughs for the new EVM?
A: Angie – That's correct. There will be a dedicated website that we're building right now. As I was mentioning, we have been reviewing this internally and we just had this very first MVP version of it, which is the very basic information on the steps to follow to run our EVM. The important part about this is not the amount of content in itself, but just really paying attention to how easy it is for developers and for people that want to get engaged to follow the documentation itself. 
That is something we're going to be paying a lot of attention to, which is really critical for us. There will be documentation, there will be a dedicated website and it's going to be also directed to different audiences, whether that's developers, enterprises, or just people that want to interact with our EVM. In regard to walkthroughs, I would say maybe we can work together with the marketing team about some videos or content or items that are not so technical, but in a way to explain straightforwardly. 
Erica – Marketing is hoping to put together some walkthroughs together with the product team to make sure that we have a wide array of content that speaks to different audiences and enables as many people to build on this as possible. We're also hoping to release some ambassador tasks and general ecosystem community tasks for people to create their own content and walkthroughs as well, so you should look forward to all sorts of different content around the EVM. 
Q: Are there any updates on the differences between your EVM and others?
A: Rob – Let me just say, two things jump to mind. One is the fact that it's an EVM means that it is supposed to be entirely Ethereum compatible, and that's what we're aiming for. So we're aiming for all of the tools and user experiences that you would expect in an Ethereum environment to be able to be had in our EVM. So that's binding constraint number one that we worked with on actually building this thing. #2 is the reality that it's a sidechain, so it's not Ethereum itself. It's not a stimulant blockchain that can just purely mimic Ethereum, it's a sidechain, which means it needs to be integrated into our system with Zendoo and then the operating, in conjunction with the main blockchain with Zendoo, right, so that's the difference. And it's a difference that has a material impact on the fact that it's not completely decentralized like Ethereum is, and this is just the reality that we need to be very clear about, we're launching this with PGD,  pretty good decentralization concept that we had of having a set number of independent nodes or certifier nodes that are operating on this thing because it's not a completely decentralized blockchain like Ethereum. So that would be it from my perspective on high-level strategy from the user experience that should be identical or near identical, I'm not aware of any specific differences but don't quote me on that but from just the macro perspective we should be understanding that this is a sidechain on our network and it's not a standalone blockchain in itself and that it is completely decentralized. But going towards increasing decentralization on these things is always our goal.
Q: What would Rob like to see as a new episode of the podcast?
A: Rob – I would love to see Serena actually come on and talk about our revamped ZK strategy. So, it's still a work in progress, so for a future episode, but Serena was tagged to the ZK team as a product manager and it's just really cool for the first time in years that we've been operating to have our product manager working with our ZK cryptographers and engineers to come up with just a really cool multifaceted strategy that goes beyond just what we've been doing with ZK, beyond like a shielded pool on the mainchain, or Zendoo. So I'm personally curious to hear that episode myself and that's why I say it. 
Listen to Weekly Insider #164 now on Youtube, Spotify, or iTunes.