We've wrapped up 2022. In Q1, we added six new integrations and pairs and welcomed 15 new team members. Our community continued to grow, with a 3.8% follower increase on Twitter and a 12.4% post engagement increase. We also saw significant growth on our website.
In Q1, we launched the Horizen Tokenization platform on the testnet and rolled out ZEN 3.1.0. We made significant progress on our zkAudit, SDK, and EVM compatibility prototype.
Further, we forged several new partnerships in Q1 and gained extensive exposure in the media. 
Q1 Highlights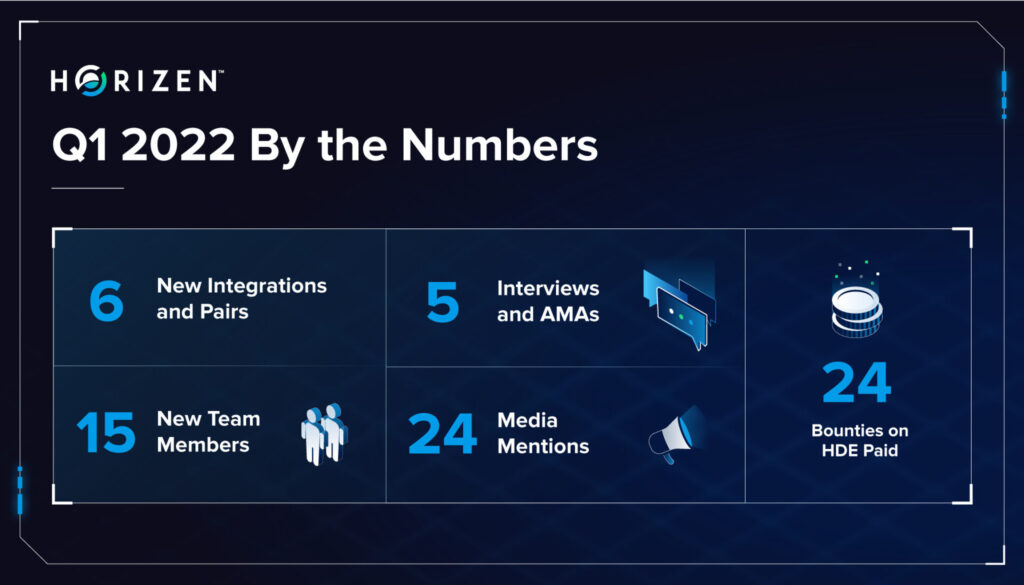 Community Growth and Updates
The community has always been central to what we do here at Horizen. In Q1, we saw continued growth and engagement from our community across all channels, with total audience growth of 3.4% and a 9.9% engagement increase across all platforms. Our Twitter following had the largest following increase with 3.8% new followers and a 12.4% post engagement increase. 
We also saw an increase in traffic to the Horizen Academy. Overall organic traffic grew by 28%, which helped educate our decision on updating the information on our educational platform. So this quarter, we redoubled our efforts to create new, informative content for our Academy to better serve our growing community of users. The new Academy will include more crypto general education content and refresh the Horizen-focused articles. 
We also welcomed several new members to the ambassador program. As Q3 progresses, we look forward to welcoming more members to the program and finding new ways our ambassadors can contribute to our project!
Our Technology
We made progress on our technology front in Q1. Our tokenization platform is nearing launch. Our platform will also come with the release of our web wallet! We look forward to sharing more information with everyone as we come closer to the release. We also made significant progress on our zkAudit, SDK, and EVM compatibility prototype.
With Celsius implementing zkAudit in 2021, we are furthering the development of the protocol to streamline audits for companies of all sizes. We've also enabled SDK compatibility with a new proving system design and development.
We also released ZEN 3.1.0. This release modified the custom field serialization in sidechain creation transactions and more. 
Our Partnerships
This quarter, we forged several new partnerships that will help us expand our reach and grow our community. 
Kriptomat.io is a fiat onramp and multi-coin exchange. By providing ZEN-fiat pairs, we make it easier for users to purchase Horizen with fiat currency. Bifinity is another fiat onramp/PoS provider that will help us reach new users. Voyager is the largest retail crypto application, and we are excited to make it easier to use ZEN as a means of payment. 
We have also partnered with Binance Liquid Swap to add ZEN:USDT and ZEN:BNB liquidity pools, and with Okcoin and Bitget to provide USD and USDT spot pairs, respectively.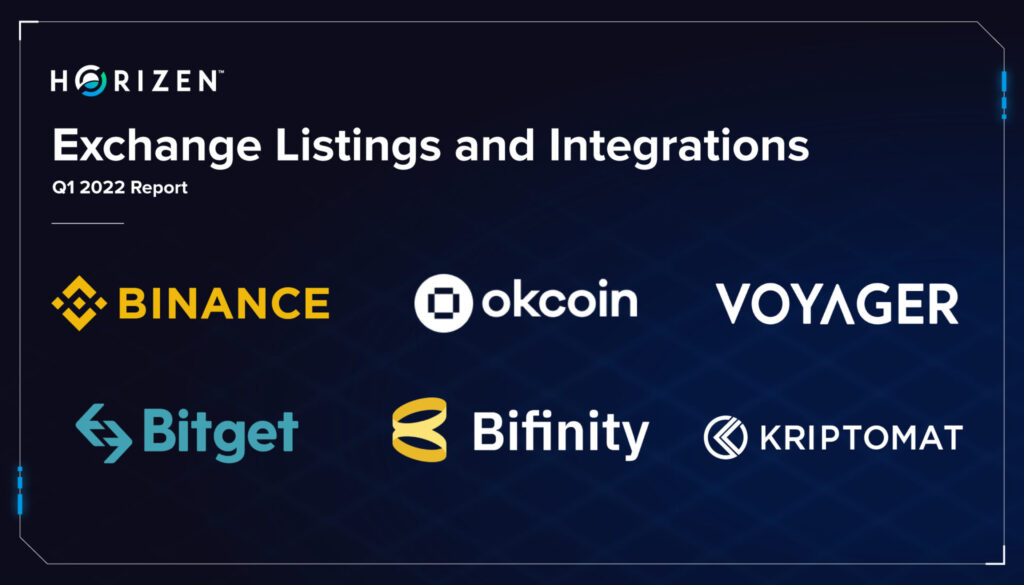 Horizen Node Growth
Horizen Q1 node network grew +2% from 2021 (yearly average) for secure nodes and +17% for super nodes.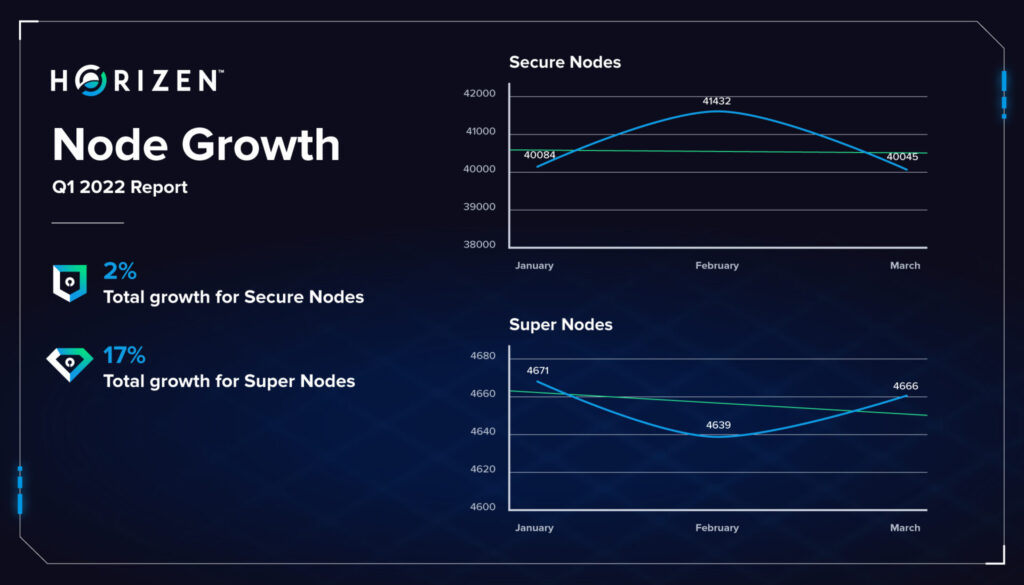 Horizen in the Media
We had a busy quarter in the media, with 24 total mentions across major publications. Our CEO Rob Viglione was interviewed by MEXC Pioneer. We were also featured in Business Insider, Marketwatch, Yahoo Finance, and major crypto publications like Dappradar and Beincrypto.
Interviews and AMA Highlights
Media Coverage Highlights
Looking Forward to Q2
We are looking forward to an exciting Q2! We will be focusing on our tokenization efforts and preparing for the launch of our Zenny token. Our web wallet will also be launched in Q2, and we are excited to provide a seamless user experience for our community. Lastly, we will be continuing our work on EVM compatibility and ramping up our Ambassador Program activities to continue growing our community.