Q3 2023 was full of growth and exciting milestones for the Horizen ecosystem! The Horizen DAO went live and the core team launched the Alpha version of Horizen's EVM sidechain, EON on mainnet. This alpha launch has activated increased developer activity and  BD partnerships – watch out for more news in the coming weeks!
We look forward to another fruitful and productive quarter!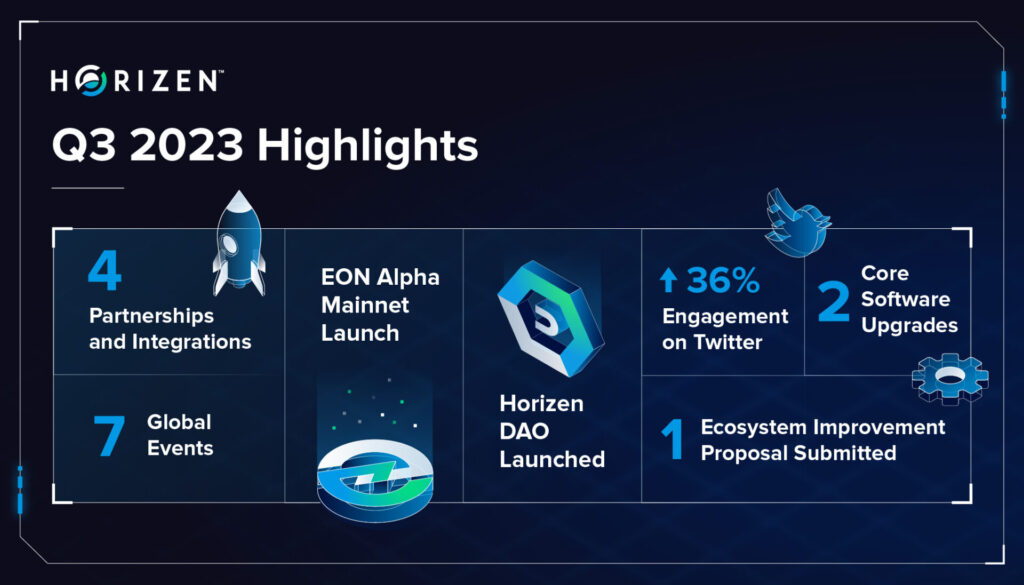 Launch of the Horizen DAO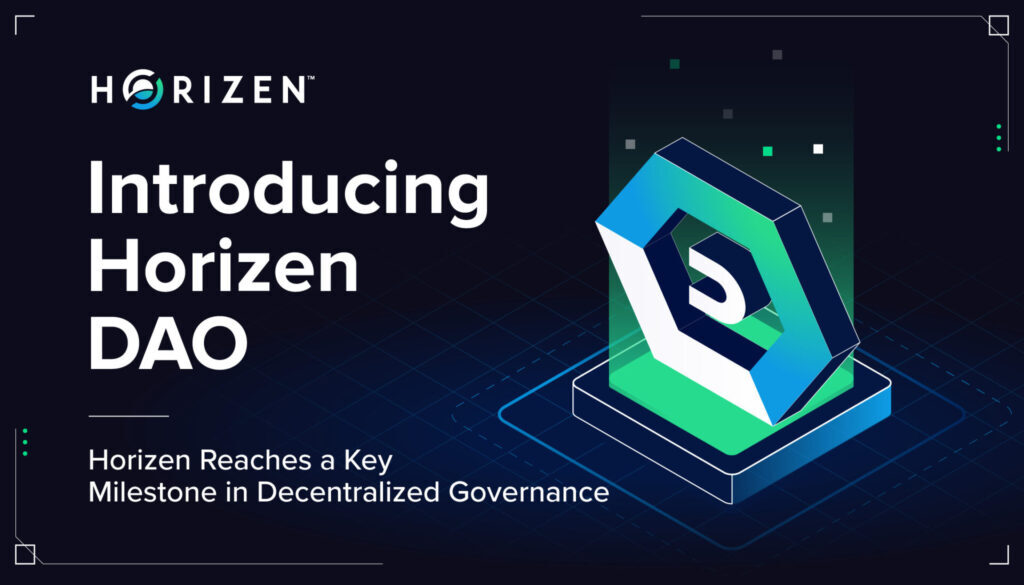 Last month, the Horizen DAO officially launched, marking the beginning of a new era of participatory governance for the Horizen community! 
Horizen is an open-source, public protocol with a broad and diverse ecosystem that includes developers, miners, node operators, and $ZEN holders across multiple blockchain networks. The launch of the Horizen DAO makes it easier for Horizen community members to get involved in governance and make their voices heard in the direction of the project. 
Detailed information about Horizen DAO, including the improvement proposal phases, voting process, Constitution, and more, can be found on the Horizen Governance page. So check out the site and get involved to help shape the future of Horizen–we're glad you're along for the journey!

Learn more about the Horizen DAO launch in our blog post.
Horizen EON Alpha Launch 
On August 1st, Horizen EON Alpha was activated on mainnet, marking the beginning of the on-boarding phase for launch partners & early builders. 
All Horizen EON documentation can be found in our documentation hub, featuring content around different network environments, developing and deploying smart contracts, staking, service providers, and tutorials.
The core team has also worked to release a new software upgrade that adds a new voting power contract for the Horizen DAO governance, improved the node synchronization speed, and enhanced security  features.
Horizen EON Q3 Partnerships and Integrations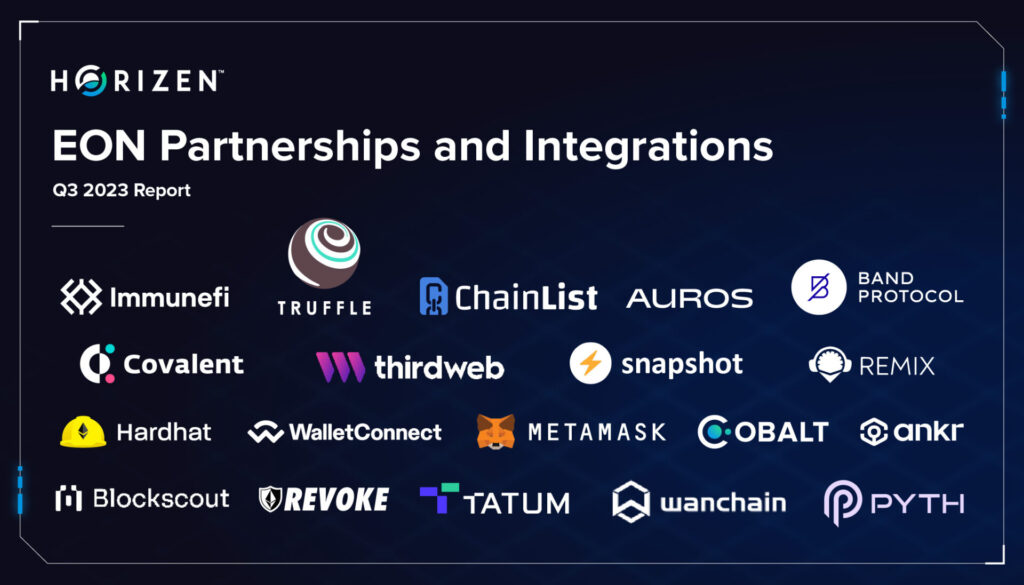 Wanchain Expanding Cross-Chain Interoperability for EON
Wanchain is an R&D-focused blockchain interoperability project whose mission is to drive blockchain adoption through interoperability by building fully decentralized bridges that connect the world's many siloed blockchain networks.
This collaboration will enhance Horizen EON's potential by adding it to the roster of chains that users can bridge their funds to using Wanchain.
Tatum Enabling Blockchain Application Development And Integrations On EON
This collaboration aims to make it much easier for developers to build using Horizen ecosystem by integrating Tatum's easy-to-use blockchain development tools and framework. By leveraging Tatum, Horizen EON will offer developers the ability to seamlessly integrate blockchain functionalities into their applications, coded in JavaScript.
Pyth Network Amplifying Decentralized Oracle Services For EON
Pyth Network is a specialized oracle solution, to provide decentralized oracle services for EON. This collaboration will bring accurate and trusted on-chain market data to EON, empowering developers to enhance their smart contract capabilities and expand the possibilities for DeFi, gaming, and NFT applications.
Horizen EON Welcomes NTT DATA, Joining The Network As A Certificate Signer Node To Support The Growth And Security Of The EON Network
Last month, a leading IT service provider and global innovation partner, NTT DATA, is deploying a Horizen EON blockchain Certificate Signer Node on the NTT DATA infrastructure, which will contribute proactively to the credibility, security, and robustness of the Horizen EON network. 
The Horizen EON chain will have a total of 47 certificate signer nodes. These signer nodes provide credibility to the transactions on the EON chain and ensure decentralization. They are responsible for signing backward transfer requests allowing the flow of ZEN from the EON chain to the Horizen mainchain.
Learn more about this announcement here. 
Q3 Core Software Releases
EON 1.0.0 is used for GOBI Testnet nodes and EON Mainnet nodes. Deployment guides can be found at

EON Documentation

.
Node Software Upgrade ZEN 4.1.0
Learn more about ZEN 4.1.0 in our blog post. 
ZenIP 42206 – Redirecting Secure Node Rewards into Horizen EON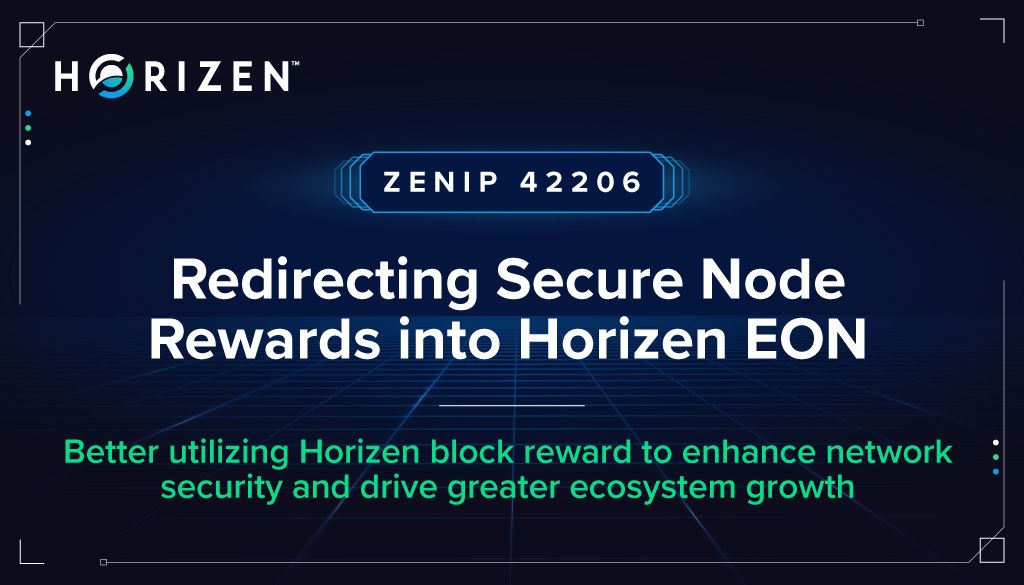 Horizen's Community Council has recently submitted ZenIP 42206, which proposes a redirect of the portion of the Horizen mainchain block reward currently paid to Secure Nodes to an EON Forger Subsidy Fund. The purpose is to drive the success of the Horizen EON network by increasing the security and decentralization of the network. 
Zendoo has increased the requirements of mainchain nodes so that the Secure Node minimum requirements are no longer sufficient to provide any benefit to the Horizen chain. Furthermore, with the removal of the shielded pools on the mainchain, the need for Secure Nodes is diminished. The subpar performance and the lack of usage of Secure Nodes pose a burden to the chain.
ZenIPs are for the community to approve or decline. Please join the conversation and make this decision with us. Learn more about ZenIP 42206 and let us know what you think by submitting the community survey:
Community Survey on ZenIP 42206
Community Voting Proposals
During Q3, the Horizen ecosystem saw a few different community voting proposals ongoing. Featuring a proposal for Rabby Wallet to support the EON chain, Tally, a leading DAO tool to join the EON chain, and a request for Phantom Wallet to integrate with EON. 
We also saw a proposal to deploy Synapse on Horizen EON, this deployment aims to establish connectivity between the Horizen Ecosystem and a wide range of popular Layer 1 and Layer 2 chains connected to the Synapse Bridge. 
Node Growth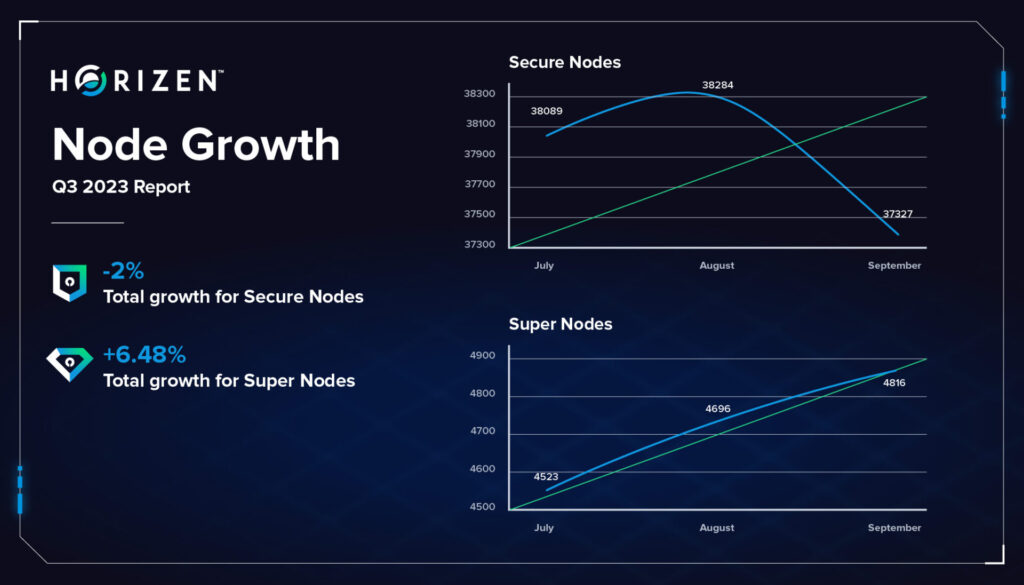 Beyond the Horizen Podcast Updates
During Q3, we continued our Beyond the Horizen Podcast Series, a monthly show all about the Horizen ecosystem and Web3 movement, with three new episodes: 
Media and Events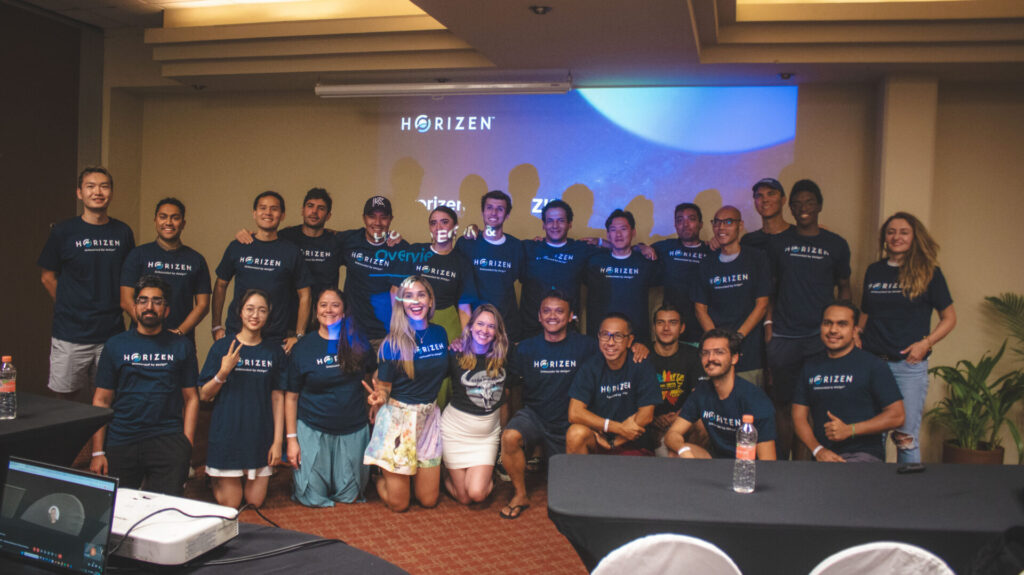 During Q3, the Horizen and Horizen Labs Teams had the opportunity to attend many different industry events! Ranging from ETHCC in Paris, to the LBank Labs Summer Bootcamp in Mexico, Korea Blockchain Week and both Token2049 and the Ordinals Summit in Singapore, Permissionless II in Austin, and Messari Mainnet in NYC, we were excited to see many of our friends and partners to reconnect and discuss new opportunities! 
Horizen Academy Articles
During Q3 we released a few different articles to our Horizen Academy, be sure to check them out to learn more about Web3!
Horizen in the News