2022 was an exciting year for the Horizen ecosystem. Several major milestones were reached, including the launch of our tokenization platform, TokenMint, the release of our new ecosystem wallet, Cobalt, and the successful turnout of our first ecosystem summit, Zencon0. 
It's an exciting time for the Horizen ecosystem as we push into 2023 with our first public EVM and many exciting announcements and partnerships to go with that, but first, let's dive into what happened in 2022!
2022 Q4 Highlights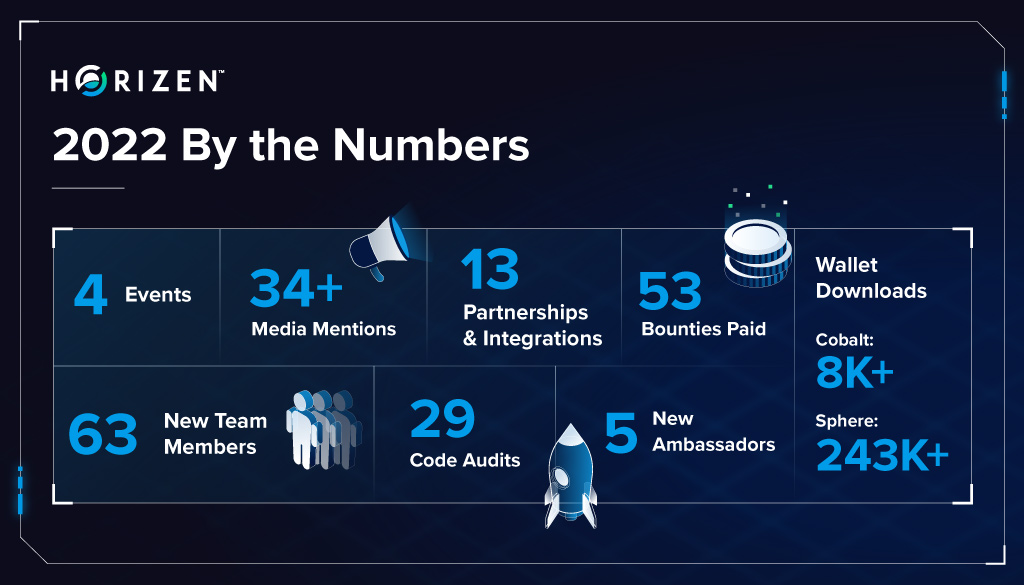 Community Growth
The community grew a lot this year. During Q4, our Twitter following grew by 130%. YouTube subscribers grew by 17.39% ! LinkedIn saw a big boost in follower growth with a jump of over 350%, and Reddit subscriber growth increased by 112.5%.

These new members helped us test our new products like TokenMint, Cobalt wallet, and more! Which helped educate upgrades to the products and future ideas for new products in the Horizen ecosystem. We are excited to see the community continue to grow in 2023!
Horizen on the Web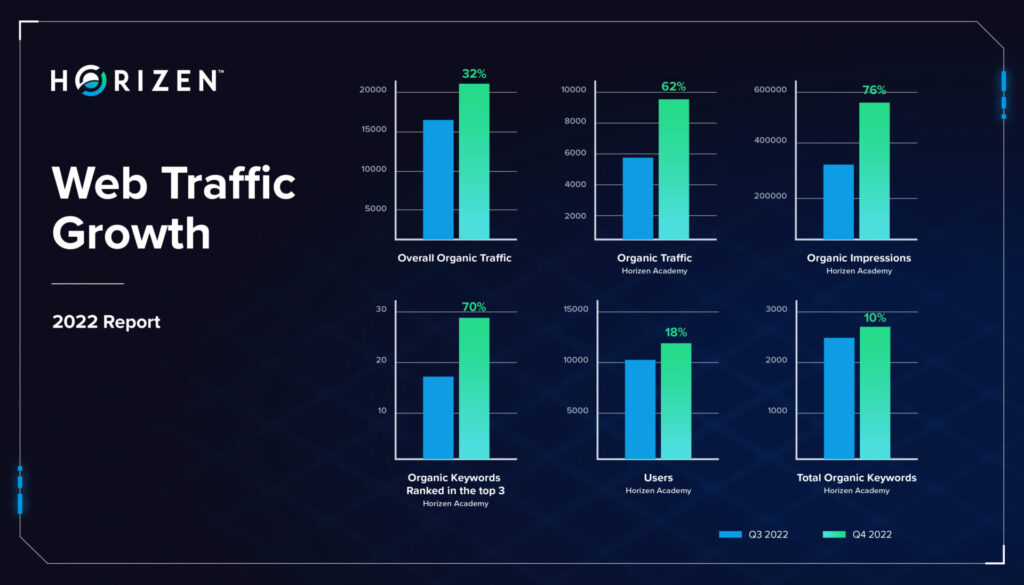 2022 has been an exciting year for the teams supporting the Horizen websites as our online representation grows and matures. Through Q4 in particular, we saw a major increase in organic traffic to Horizen Academy, our educational hub covering topics of blockchain and web3. 
15 articles were published in Q4 to Horizen Academy. Additionally, we saw an increase of 84% in weekly organic visitors and a overall increase of 15% in total users! This growth is amazing to see as adoption through education is a major goal of our project. 
2022 Highlights
Our Technology
In 2022, we launched TokenMint to mainnet. Tokenmint is a quick and easy token launch platform where anyone can create and mint their own fungible and nonfungible tokens with custom tokenomics. No developer skills are needed! The launch of TokenMint also included launching of the following tools:
We look forward to new integrations and partnerships, scoping and creating a mobile app, sidechain-to-sidechain interoperability, migrating to an account-based model, and more!
Another major focus has been the development of our first EVM sidechain that will allow developers to utilize existing Ethereum tooling to create a wealth of dapps on Horizen. The upcoming launch of the Horizen EVM will open the Horizen ecosystem up to a wider community of developers and web3 users.
Horizen's EVM sidechain is coming to public testnet soon in 2023! The Horizen EVM sidechain is currently running on an internal testnet, this is a major milestone of the EVM project we accomplished in 2022.  The team has been working with 3rd party partners and testers to perform security audits and feature improvements. 
We are also working on an EVM documentation library that will provide users everything needed to deploy dapps on Horizen! Our aim is to make our EVM as developer-friendly as possible, so builders can easily bring their projects over to Horizen to build a more open and inclusive blockchain ecosystem that will benefit all participants. 
To learn more about the Horizen EVM sidechain, check out our EVM demo video. In this video, Victor and Alberto share some insights into the latest accomplishments with a demo of our EVM pre-Alpha from Oleksandr showing ZEN on MetaMask and some of the basic functionality of the EVM chain.
Horizen Node Network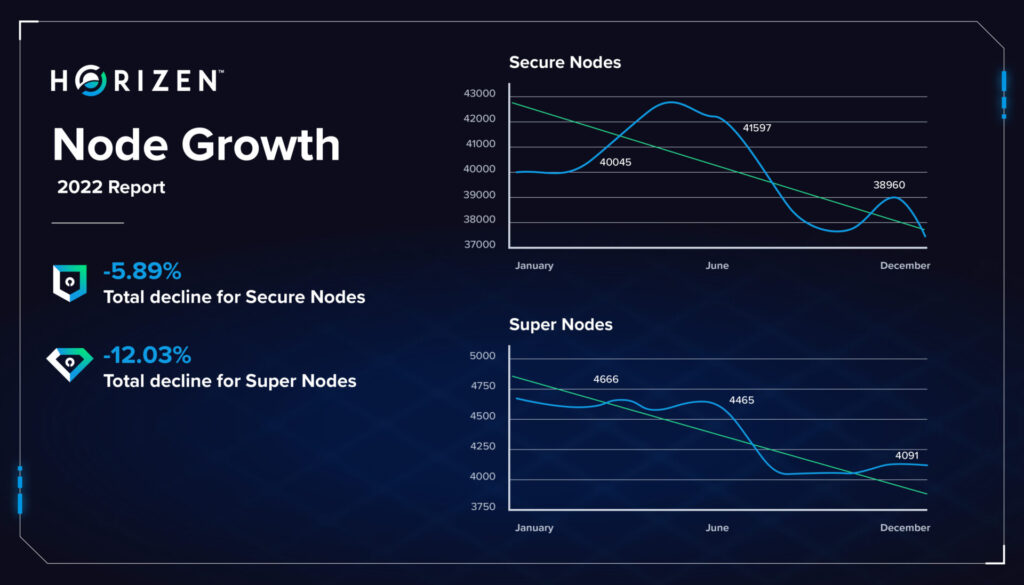 2022 was a tough year for the blockchain industry. We saw a decline in the total number of the Horizen nodes, however, the our node network continued remaining one of the largest and providing us a robust and secure infrastructure.  Learn more about why blockchain users are setting up Horizen nodes.
2022 Partnerships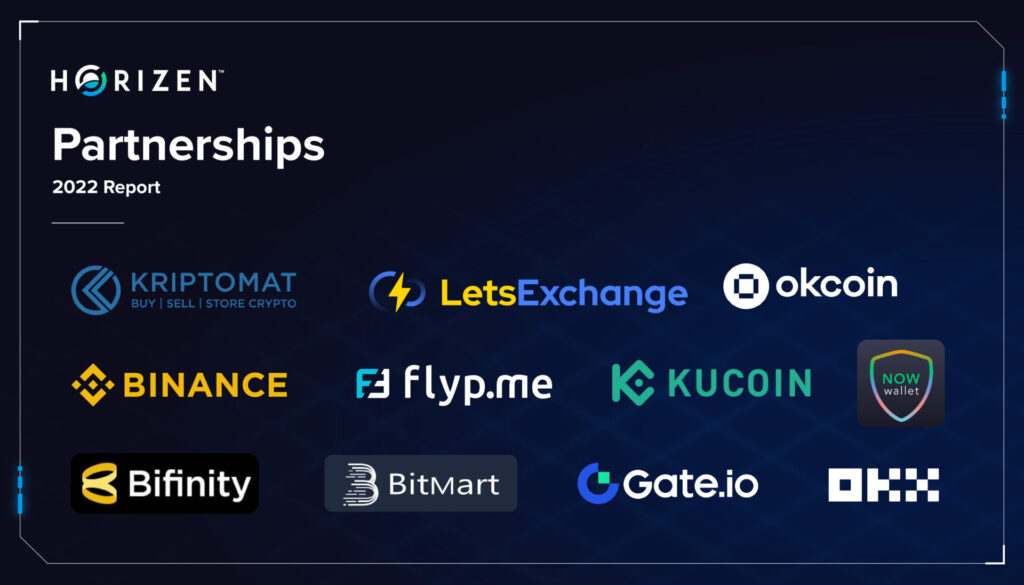 In 2022, we welcomed thirteen new integrations, of which three were multicoin exchanges, four new centralized exchanges, the first AMM model exchange support for ZEN, one new wallet, one new PoS provider, two new fiat onramps and expanded our integrations with five existing partners.
In connection with our TokenMint platform, our partner PipeFlare (now Layer3 Labs) launched Punkz Hero, an exciting play-to-earn Super Mario-type game, even with a custom Zenny character! 
Horizen Community Initiatives 
Horizen Ambassador Program
In 2022, we welcomed several new ambassadors to our Ambassador Program and look forward to seeing even more new ambassadors in 2023! We are incredibly grateful for all of the hard work our ambassadors and Zenvangelists put in each day to help grow the Horizen ecosystem, help fellow users and work on making the project thrive. 
Be on the lookout for some exciting new initiatives in 2023 centered around developer growth in the Horizen ecosystem! More information will be released around this in the New Year. 
Events
ZenCon0
ZenCon0 was our first-ever ecosystem summit, which brought together some of the greatest minds in crypto to envision our future! 
Celebrating the growth and accomplishments of our project and ecosystem with partners and supporters was a dream come true for us. Hosted by our sister company Horizen Labs, we welcomed partners, advisors, and community members that joined us at our first ecosystem summit to celebrate our achievements and share ideas for growth. 
The two-day conference was filled with spotlights, panels, and break-out sessions ranging from Metaverse on the Horizen, Web3 & Sports, The Power of Community, Zen OG stories, and more!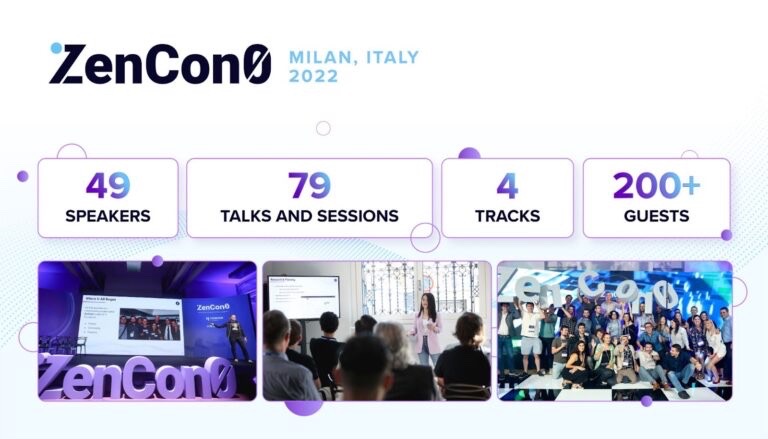 On the tech side of things, we heard incredible updates from the Horizen and Horizen Labs teams' – an overview of TokenMint and its current status, where the team is on the Horizen EVM sidechain, DeFi on Horizen, and what's next for Zendoo. 
ZenCon0 also brought the global team together in one place to brainstorm, connect, and innovate. The Horizen Labs and Horizen teams from different divisions gave presentations on their expertise areas, which allowed members of other teams to gain exposure and knowledge in areas they might not previously have. Ranging from hands-on demos and product overviews to improving blockchain communications.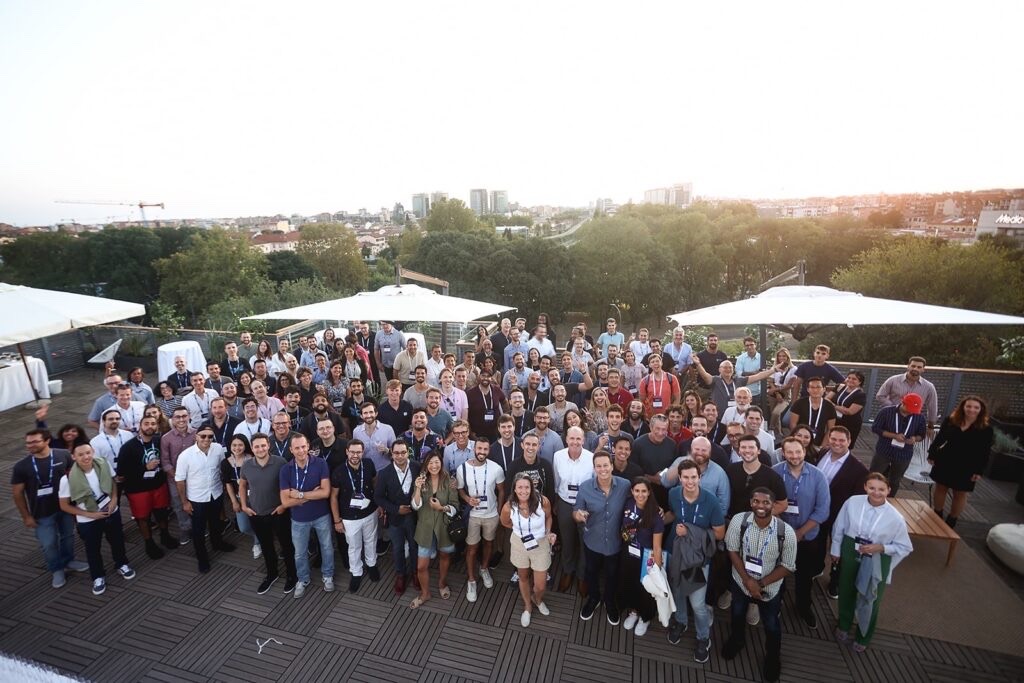 You can still watch some of our amazing talks and panels! Check out our full ZenCon0 playlist on YouTube now. It includes both mainstage and technical talks! As well as our ZenCon0 Recap, which provides a full overview of the event!
Some fantastic highlights to check out include: 
Consensus 2022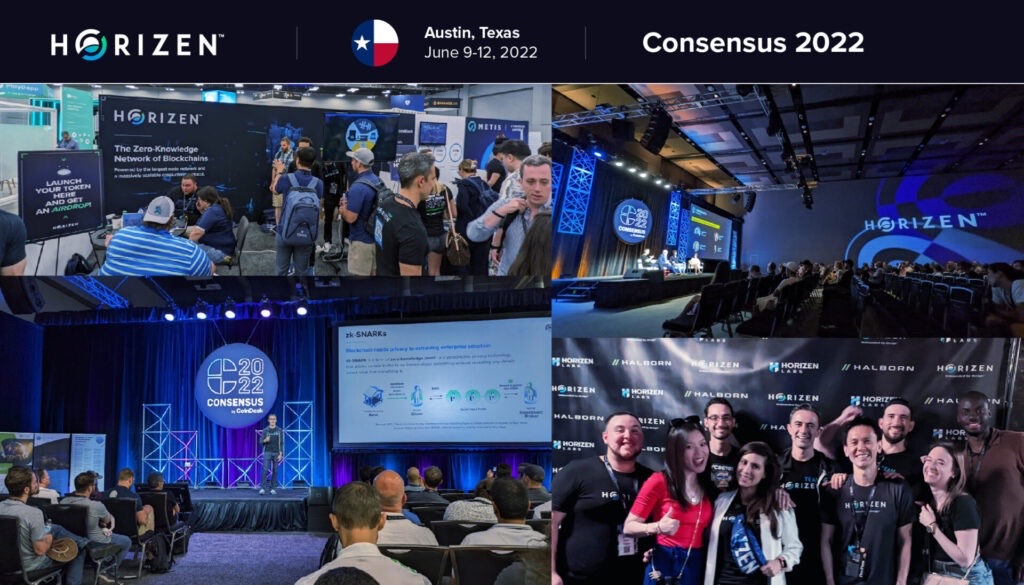 The Horizen team was in Austin, Texas, for Consensus 2022, where we had a fantastic time! We had a booth set up where we were able to give live demos of TokenMint; many attendees stopped by and created their own tokens in only 5 minutes, learning how the token generator works. 
Horizen Co-Founder and Team Lead Rob Viglione presented "From Cypherpunk to Solving the Blockchain Trilemma Through zkSNARKS" at Consensus to a packed audience while also conducting a fireside chat on "How Zero-Knowledge Proofs Change the Narrative Around Privacy."
Horizen, along with Horizen Labs, hosted a side event with our partner, Halborn Security at Consensus, where guests enjoyed food, drink, and networking! We saw many longtime community members at the event, and it was a good chance for much of the team to network and catch up with each other during the busy event week.
Paris Blockchain Week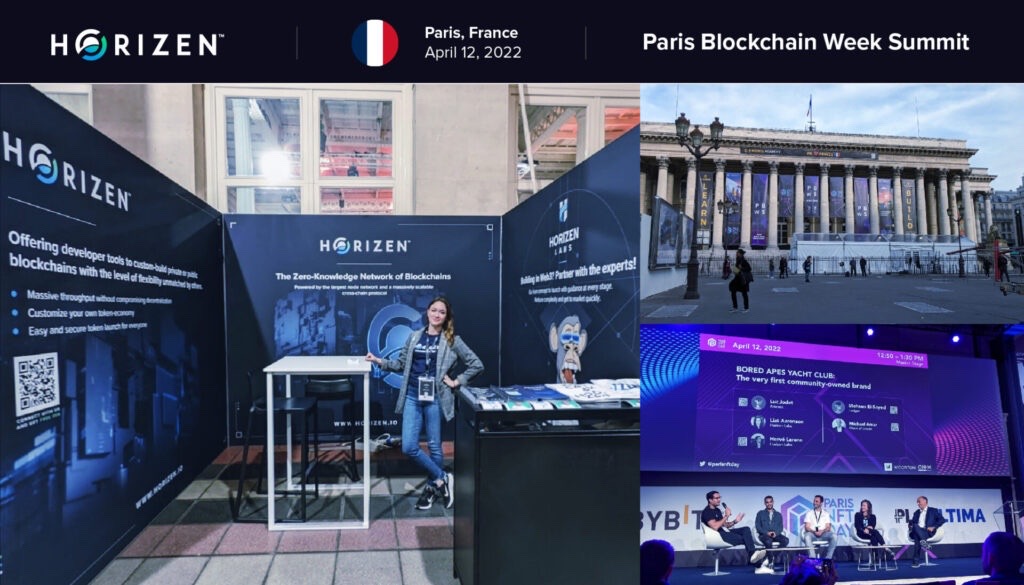 The Horizen team was at Paris Blockchain Week April 12-14! Our booth was packed during all three days of the event. We discussed our upcoming EVM-compatible sidechain and NFTs, and learned about many exciting new projects in the space. Liat also spoke on several panels about NFTs and blockchain technology.
NFT NYC 2022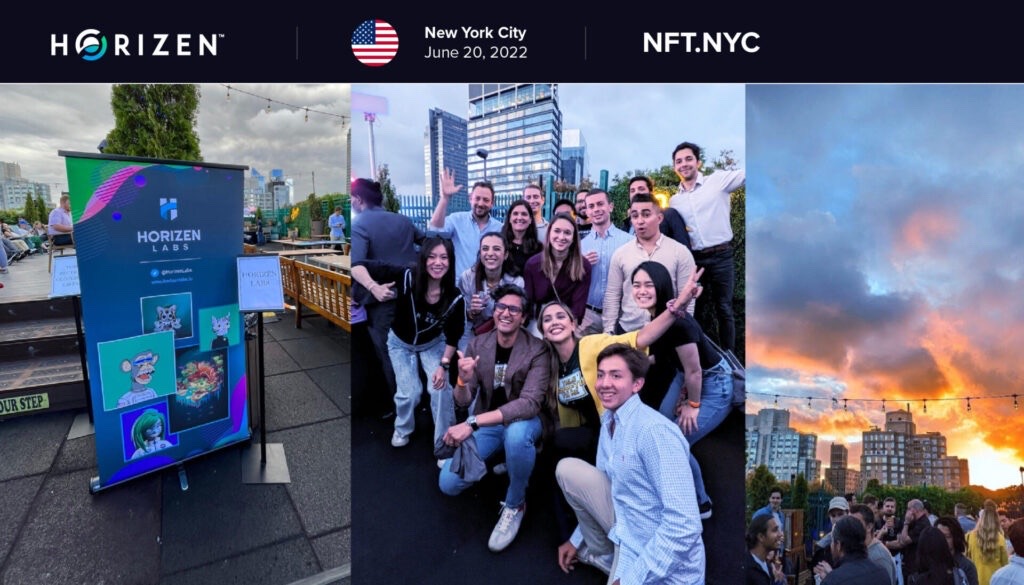 This year, Zain Cheng, Horizen's VP of Engineering, presented on the future of NFTs during this major event in NYC. Zain's panel discussion was one of our favorite talks during the event and covered his opinions on what the future of NFTs could look like. 
Horizen Labs hosted a Happy Hour event during NFT.NYC and welcomed hundreds of guests and Horizen community members. 
Horizen Media Highlights
What to Look Forward to in 2023
Our EVM sidechain project is estimated to go to public testnets in early 2023! The team is working on extensive documentation for the EVM project, creating a more efficient experience for developers to build on Horizen using our EVM. Our EVM is a functioning sidechain, compatible with Ethereum tools and able to execute all Ethereum-compatible smart contracts. It is what we are looking forward to the most, and we hope users are excited to give it a try! 
We're also looking forward to launching our monthly podcast, Beyond the Horizen, which is coming in January 2023! This will be more in-depth conversations with project partners, community members, team members, and more and is an evolution of our Weekly Insider series, be sure to check it out once it launches! More information coming soon on our social media channels. 
Also, coming early in 2023 is an upgrade to the Horizen Academy. As we continue to publish expertly written educational content on blockchain technology, we're making some upgrades to the design, structure, and functionality of the Academy. This is a really exciting development as we continue to play our part in educating the world and the community on all things blockchain, crypto, and web3.
Stay up to date on the latest Horizen news. Join our Discord and Telegram, and follow us on Twitter
Additional Links: