Q3 was an amazing quarter full of growth and exciting new milestones, including the first-ever Horizen ecosystem summit and the first meme coin on TokenMint! 
We are amazed to see the amount of growth we have experienced in a single quarter. We launched several new products and upgrades, grew the team, welcomed a new meme coin to the ecosystem using our new products and more! We are excited to continue meeting new milestones with our growing community. 
Q3 Highlights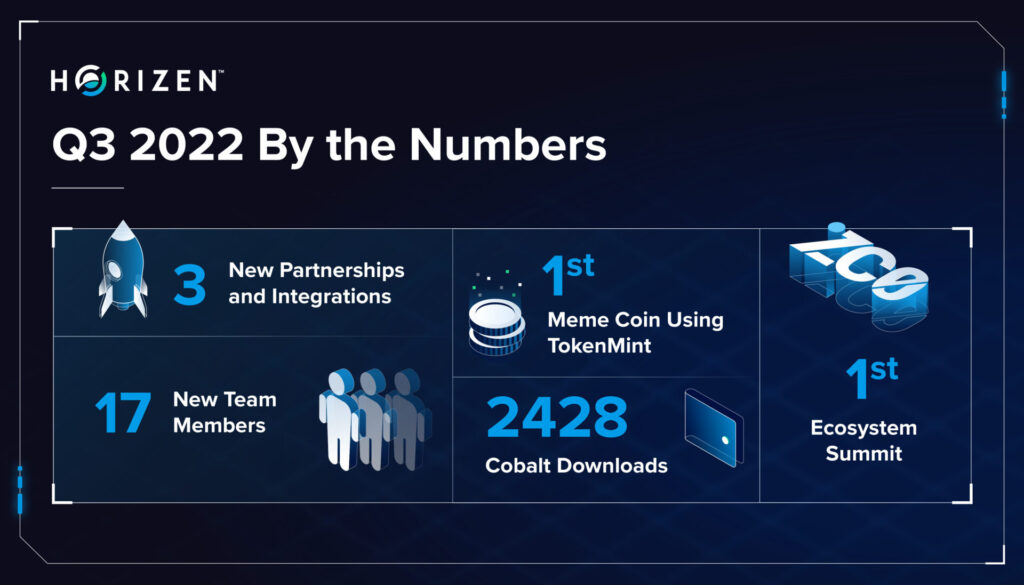 Product and Engineering 
The engineering and product teams focused on releasing upgrades to existing products like TokenMint and Cobalt this quarter to enable a wider variety of use cases on the Horizen ecosystem. This included Cobalt upgrades and documentation on how to use it in preparation for additional functionality like NFTs on Tokenmint!
TokenMint
TokenMint Mainnet Launch
Our no-code tokenization platform, TokenMint, was launched on mainnet in Q3! The platform provides a streamlined process for anybody to launch their own token easily and quickly without having a technical background. An introduction of TokenMint with a user guide was featured on Cointelegraph. The leading technology media Venture Beat also featured a story on TokenMint where the author covered the importance of tokenization and the value of platforms such as TokenMint in the effort of making blockchain technology more accessible for the mainstream. 
Punkz Token Launch 
The platform has already been used to launch the first meme token on the Horizen ecosystem called Punkz Token! The token also has it's own game called Punkz Hero, launched with our partner PipeFlare! Be sure to check it out and get Punkz for playing. 
The team has started to add additional features to TokenMint as well. This includes NFTs! While the functionality is currently available on testnet. The team is working towards the mainnet launch, which is coming soon! This will enable people to create their own NFTs utilizing TokenMint and store them on our Cobalt browser wallet. This was an important step for our project because it is one of the many functionalities requested by our community. We were excited to deliver a product many members wanted to see! If you want to try launching your own NFT on TokenMint, head to the home page now, select the NFT tab and check out the guide on loading NFT data to IPFS.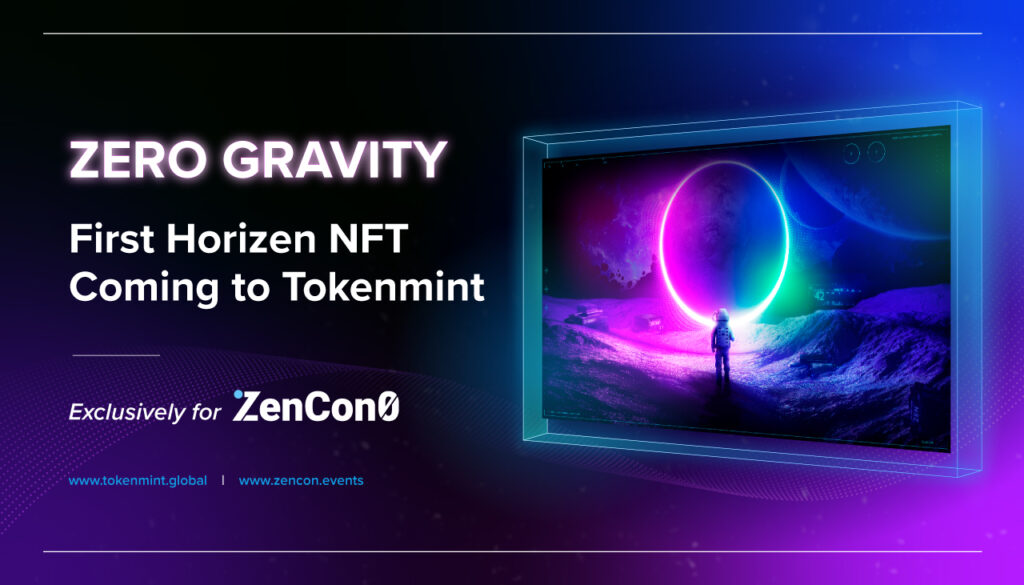 Thanks to the new NFT functionality on TokenMint's testnet we launched the first NFT series in time for ZenCon0! The series, called Zero Gravity, was issued to all event attendees as a special surprise for those who joined us.
The NFT functionality was also added to Cobalt wallet version 1.4.0! This version also added ZEN transactions between Cobalt wallet addresses to further extend the usability of our web wallet for our users. 
Additionally, the engineering team has been making great progress on the EVM sidechain. The EVM sidechain will open our ecosystem up to existing blockchain developers and projects because Ethereum has the largest and most diverse public blockchain ecosystem. This means that EVM compatibility is one of the key ingredients for blockchains like ours to build a successful ecosystem. The team is currently working on the circuit to ensure that our EVM is as secure as possible and is expecting a launch date in early Q1 2023!
There are many benefits to EVM compatibility including existing Ethereum-based defi infrastructure. There are well-established Ethereum smart contracts for an wide range of blockchain-based products, such as automated market makers, decentralized exchanges, peer-to-peer lending protocols, stablecoins, and more. All of which the team is working on or working with new and existing partners to bring to the ecosystem soon!
We also released ZEN 3.2.0! This mandatory upgrade is the first step to  preparing our exchange partners, mining pool operators, and full node users for upcoming ecosystem expansion and included upgrades like: 
Upgrading integration test suite to Python 3

Updates to build system, compatibility with newer versions of Linux

Fix IsInitialBlockDownload false positive error message
The final date to upgrade without disruption is approximately October 21st! So be sure to upgrade soon if you haven't already!
Community Growth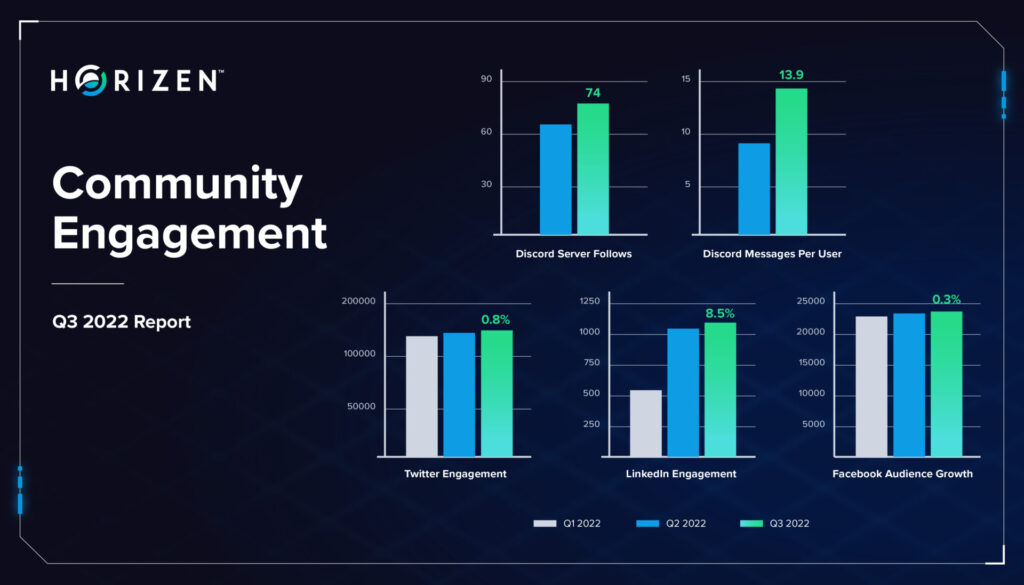 The community has continued to grow steadily this quarter with the largest growth being seen on LinkedIn. Its exciting to see all of our new community members coming together to share their thoughts on what the ecosystem should look like and actively engaging with the team to provide feedback. We look forward to learning more about our newest community members as we continue to expand what Horizen is. 
This growth has continued to be seen across not only our community, but the web traffic for Horizen as well. We saw a 13% increase in HEAP organic impressions, which suggests that a portion of our new community is developer-centric. Another exciting growth number we saw was the Horizen Academy content topic growth.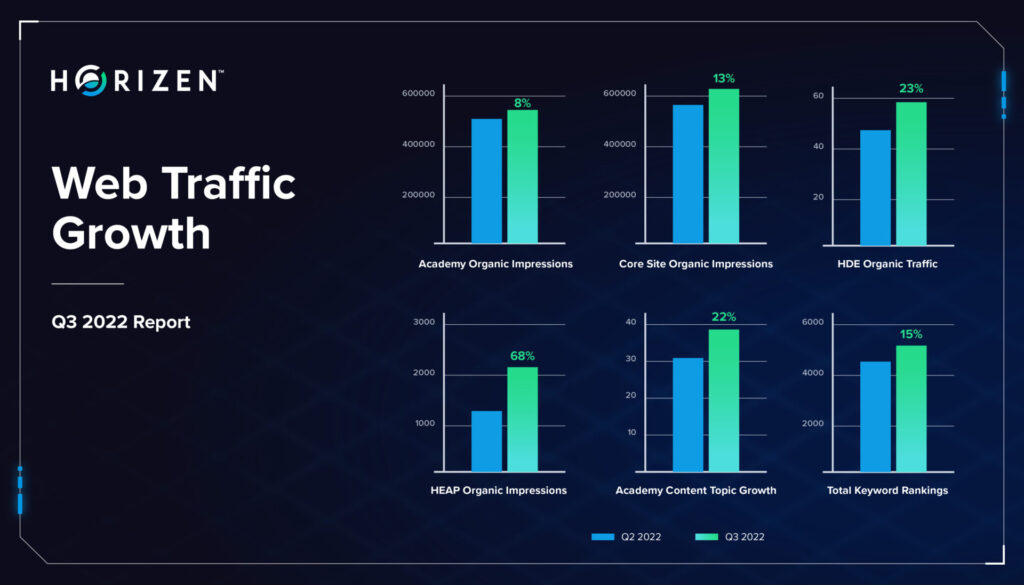 Our marketing team is in the process of launching a new Horizen Academy! The academy will include content that expands existing articles and educational resources about upcoming products and ecosystem expansion. 
There are new articles already on the academy including: 
Tokenization articles are designed to help those who may want to make their own token using TokenMint

General blockchain education

Privacy focused education
These are just a few articles we released this quarter, and we are launching more each week. So we highly recommend you check out the Academy every now and then to see what new topics we have to choose. 
Team growth
This quarter we welcomed 17 new team members across both organizations. These roles will help drive ecosystem and project growth in their own ways!
Product Manager

Sr. Software Engineer

Executive Assistant 

Director of Product Marketing  

Sr. QA Automation Engineer

Sr. Investment Associate 

DevOps

Senior Software Engineer

Cryptographer Engineer

Frontend Engineer

Senior Software Engineer

Sr. Investment Analyst

Software Engineer

System Administrator

Corporate Strategy Manager

Cryptographer

Architect
New Partnerships and Integrations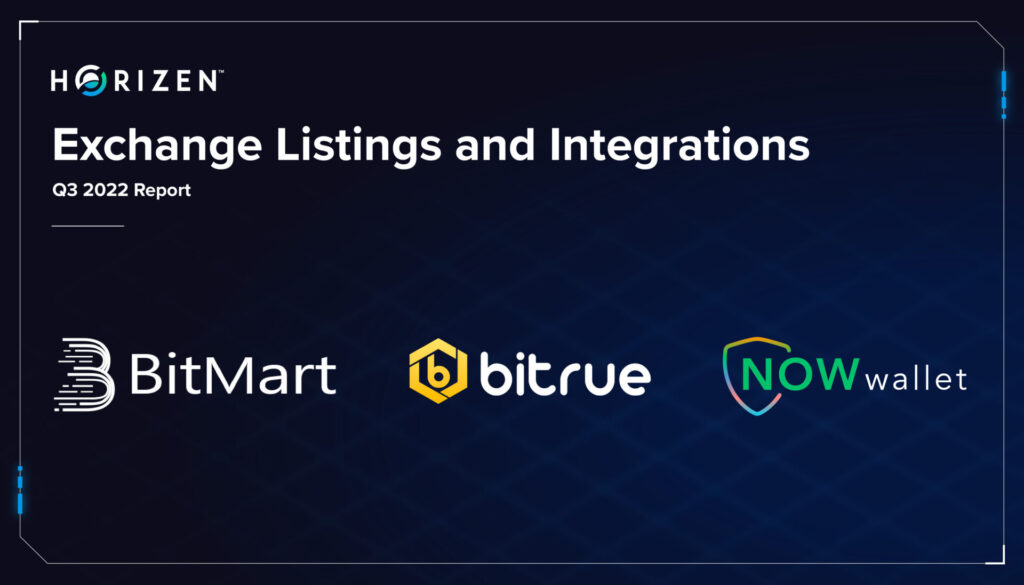 This quarter we extended ZEN accessibility on three different platforms, including adding BitMart, which now includes a USDT spot pair for ZEN. Bitrue similarly added a USDT perpetual and ETF. ZEN was also integrated with the new NOWWallet!
Horizen Node Network Growth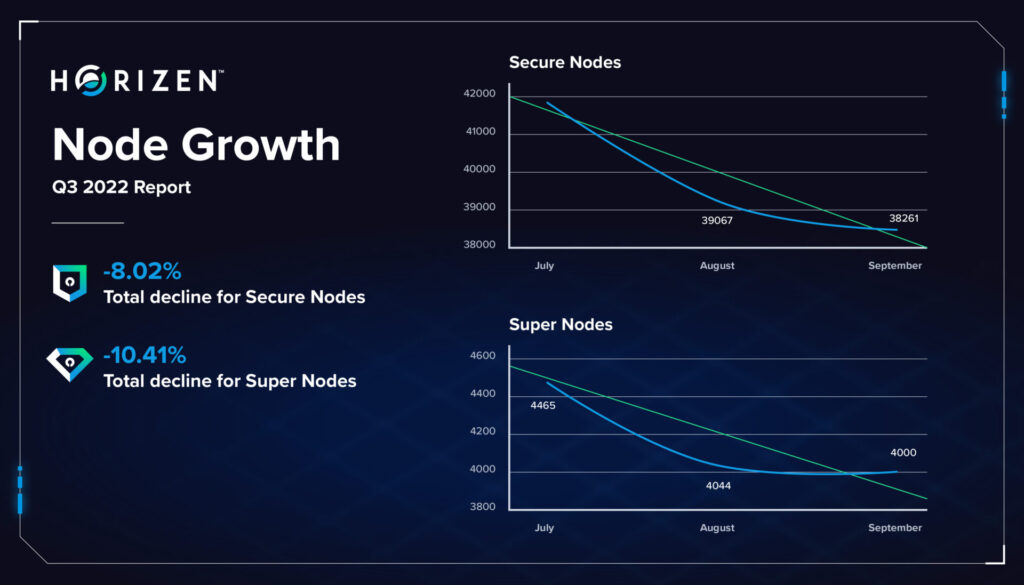 Horizen Media Highlights
Events
ZenCon0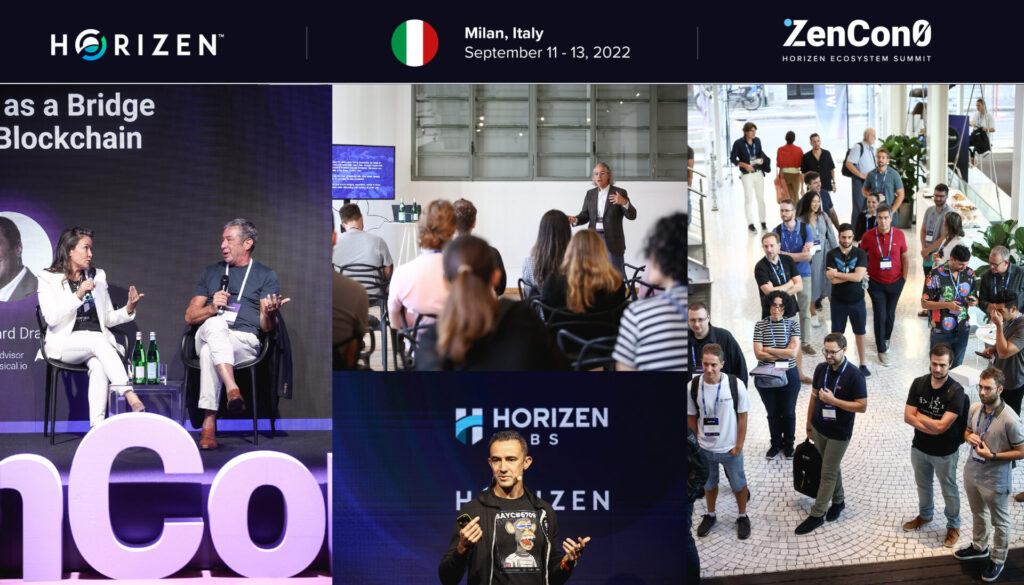 ZenCon was our first ever ecosystem summit. This event was hosted by our partner, Horizen Labs. Together we welcomed many of our partners, friends, and community members to join us to celebrate our accomplishments over the years, discuss the future of Horizen, and chat about all things Web3!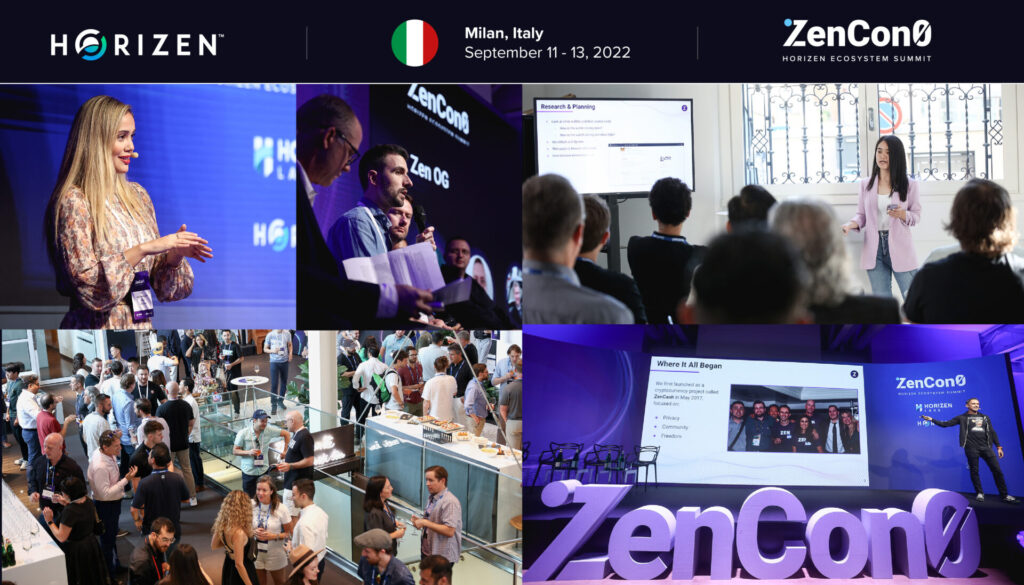 We will release the videos from our panels and discussions over the next few weeks. So be sure to watch for those on our YouTube channel and Twitter. We have several available now, including Rob's welcoming speech and the history of Horizen, Rolf's presentation of the origins of Horizen and building Zen for scale, Dean's presentation on the vision of Horizen Labs' builders, and the Zen OGs panel!
CryptoMondays in Milan
We also attended the CryptoMondays event cohosted by CryptoMondays and Horizen Labs at the Horizen Labs office rooftop! It was a fantastic event that enabled us to get to know the attendees of ZenCon0 and our team members from around the world while eating delicious food.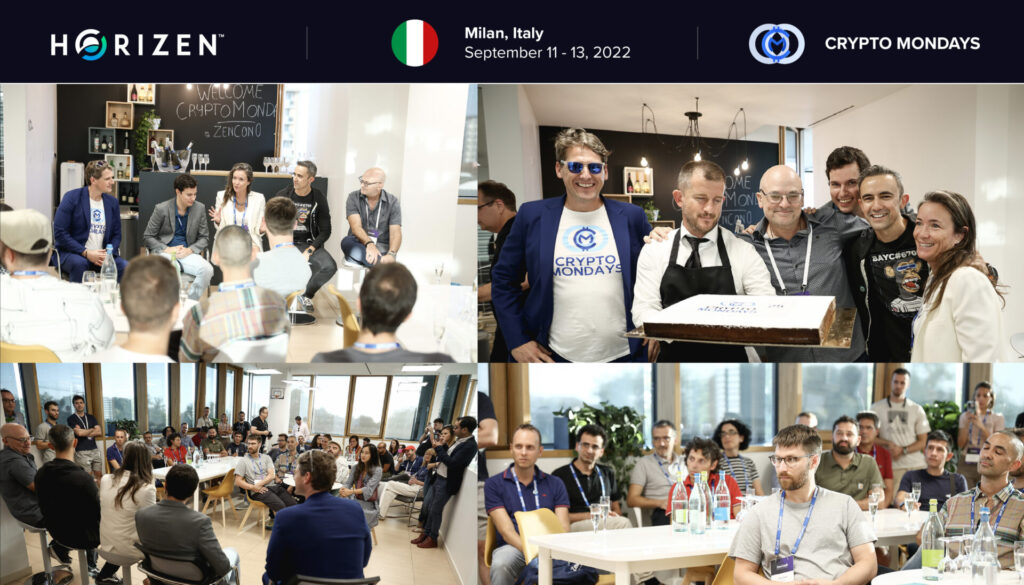 The evening finished with a mystery dinner, where the team and community members were grouped and sent to a surprise dinner location at the end of the evening!
Want to stay up to date on the latest Horizen news? Follow us on Twitter, Discord, and Telegram for the latest updates!