TokenMint is designed to provide a streamlined tokenization process for all users, with or without developer background. When first launched, the platform provided an easy and quick way to create fungible tokens. We are adding the NFT capability to TokenMint, which will enable the creation and minting of non-fungible tokens (NFTs) on TokenMint. The NFT capabilities are now live on the TokenMint testnet for anyone to try.   
To welcome this exciting milestone, we are hosting an art competition for our community!
To enter, simply turn your art into an NFT on TokenMint testnet and submit it by November 22nd to enter! The community voting will start as soon as submissions are added, so it helps to join the competition early!
How to Participate: 
Requirements: 

Latest Version of Cobalt Wallet
0.5 TZEN (0.25 TZEN to create an NFT collection, 0.25 TZEN to mint)

Design

your NFT art.

AI generated art is accepted 
Create

your NFT on testnet. Follow the tutorials for instructions:

Submit the Explorer link of your minted NFT and share a screenshot of your NFT in your Cobalt wallet via # 》tokenmint-nft-competition under the TokenMint Alpha section in our

Discord server

Vote

on your favorite submission using the Horizen logo emoji: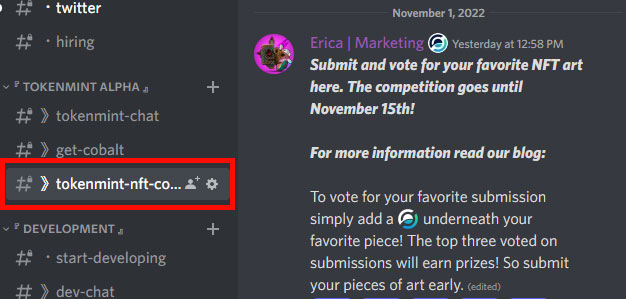 If you have questions or need support, please join the #tokenmint-chat on Discord.
Prize 
All valid entries will be voted on by the community 
Top 25 entries will receive fee reimbursement in ZEN for creating their winning NFT collections on mainnet. 
About TokenMint
The TokenMint platform is comprised of four key components and is designed to provide a seamless, simple and intuitive user experience: 
More User Guides: