2021 began with a bang for Horizen! We announced several major partnerships including IOTA, APIS, StakeHound, and

DIA
. Our team continues to grow and our community is abuzz with excitement as we move into Q2! 
Highlights
This quarter StakeHound released a new ERC-20 token called StakedZEN (stZEN) through our partnership. stZEN allows anyone to participate in the Ethereum-based defi ecosystem and earn ZenNode staking rewards at the same time! stZEN holders automatically receive Horizen node rewards without minimum staking requirements or locking periods. stZEN is now available through SushiSwap and MetaMask. We expect to see more integrations that will make stZEN more accessible and usable in the near future. 
We also announced several new Zendoo sidechain partnerships that will expand the Horizen sidechain ecosystem and welcomed new community members that drove our community growth by approximately 13.2% since Q4 2020. 
Engineering
The engineering team focused on bringing Zendoo to the mainchain this quarter. We expect to bring the cross-chain transfer protocols and sidechains to mainnet in Q3 and the work is 74% complete by the end of Q1.
We are excited to see Zendoo takeoff soon. Check out our 2021 roadmap for scheduled deliveries. Be sure to keep up to date on the progress through our weekly engineering update posts on Twitter, Facebook, and Discord! 
They also released a couple of important upgrades to the Horizen ecosystem with a mandatory upgrade to the core software ZEN 2.0.23 and Sphere by Horizen 1.2.9beta. 
Business Development
The business development team has rolled out four sidechain and strategic partnerships (IOTA, DIA, StakeHound, and APIS) and 16 integrations this quarter. These partnerships will extend the capabilities of the Zendoo sidechain protocol, enable interoperability and usability of the Horizen network.  A full list of our sidechain partnerships can be found here.
They also worked to add new integrations with major exchanges like Huobi, KuCoin, and more! We can't wait to see what they do in Q2. 
Marketing and Community Growth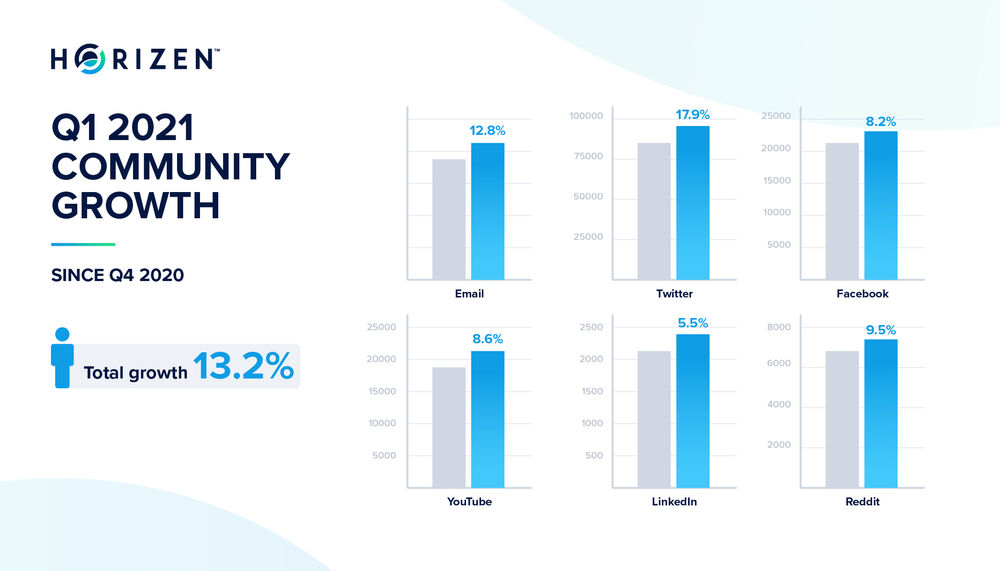 In Q1, we saw some of the most explosive growth the project has ever experienced in the community. The excitement about the upcoming Zendoo mainnet release, new sidechain use cases and stZEN has taken hold of the community!  
The biggest social media growth we saw in the first quarter was from our Twitter with a 17.94% follower increase. The total community growth is approximately 13.2%
This quarter, we welcomed over 3,000 developers to our HEAP and HDE programs since the launch in September 2020! HEAP and HDE members contribute to the Horizen ecosystem through tasks on the HDE to earn bounties and by testing the latest Horizen releases and products.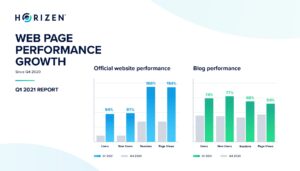 HEAP and HDE visitors increased significantly in Q1. We saw over 200% website visit increase on HEAP with a 1652% increase in sessions, and a 50% website visit increase on HDE with a 280% increase in sessions.  The team is working on new exciting updates to the HDE as well! So, be sure to look out for these updates in Q2. 
We are working to launch the ambassador program to bring together and empower the community volunteers. The new program will be released in early Q2. 
Check out the Horizen Progress Report below for the full list of accomplishments and social growth breakdown!
ZenNodes
The Horizen node ecosystem grew by 9.92% for secure nodes and -3.98% for super nodes. 
 Check out the full list of accomplishments below 
Q4 Accomplishments
4 new Zendoo partnerships

9+ events 

16 integrations and exchange listings

1 new team member
Technology 
New Team Members
New Zendoo Partnerships
New Exchange Listings and Integrations
Blox

BiKi

Digifinex

Hotbit

Huobi Global

Mandala

AEX

KuCoin

Hoo

BigONE

ExinOne

Bitpie

Copper

Getblock.io

Fireblocks

Huobi Indonesia
AMAs and Interviews
Some of the Media Coverage
Events
Guan Yin at 499block

Guan Yin at Privacy Sunrise

Guan Yin at Web 3.0

Basics of Blockchain with MLH