2021 was a special year as we successfully released Zendoo to mainnet and began welcoming a wide range of projects into our ecosystem to begin building on Horizen. 
Zendoo is the culmination of three years of the Horizen team's hard work to redefine what it means to achieve blockchain scalability. 
We navigated the complexities of zero-knowledge proof cryptography to invent Zendoo, an entirely new method of assembling blockchains to achieve horizontal scalability while maintaining the highest level of security, privacy, and decentralization.

As we push the boundaries of what is possible for decentralization with Zendoo, we are going into 2022 with a passionate and excited community and team and a handful of exciting partnerships to announce.
Q4 Highlights
The 4th quarter was our best quarter yet, with our Zendoo mainnet launch and partnerships boosting the growth and excitement of our community! We are launching ourselves into 2022 with exciting new partnerships coming out soon, but let's take a look at what we did in 2021.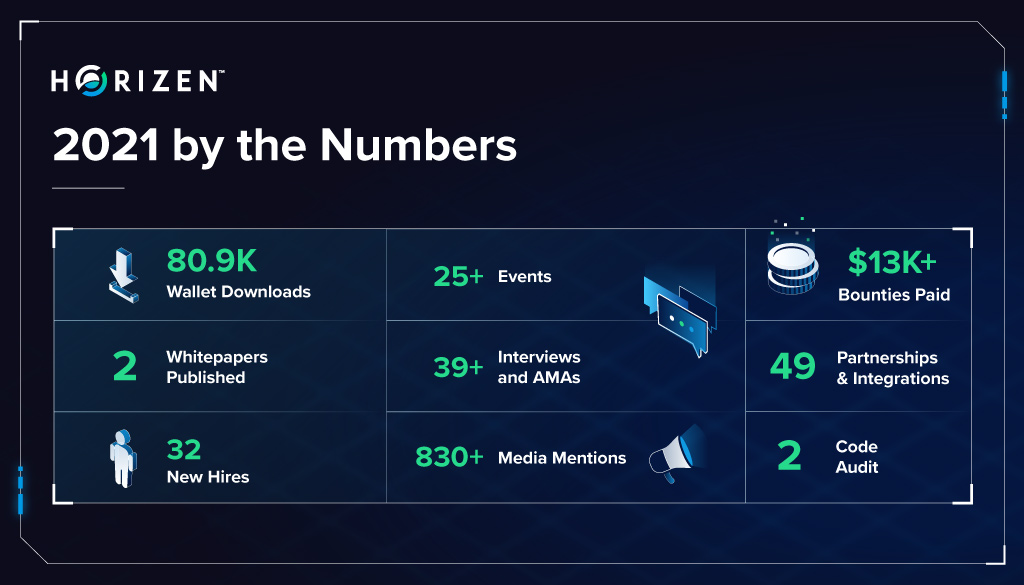 Community Growth and Updates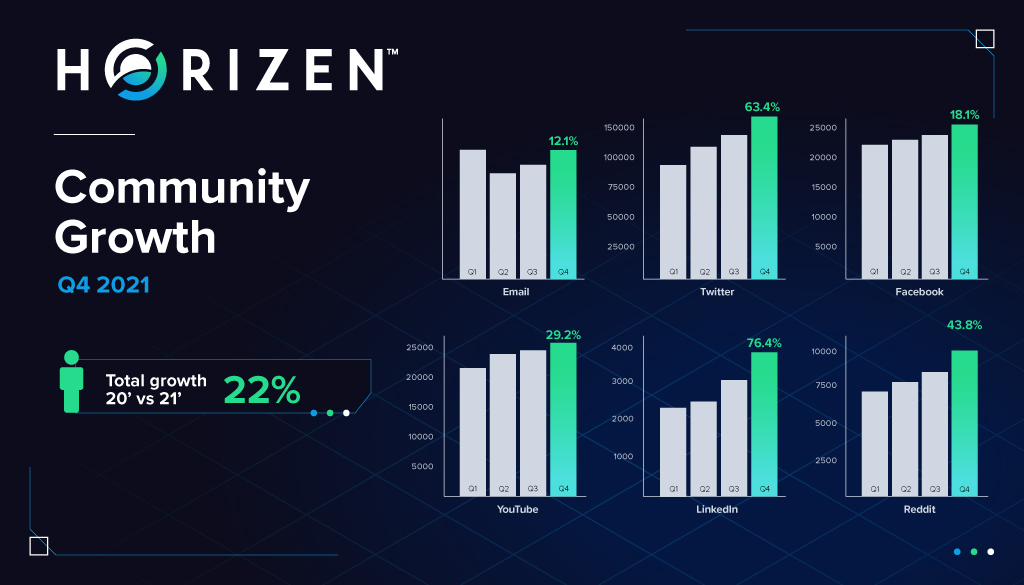 This year, our communities grew by over 130,000 followers on Twitter alone. We also saw the emergence of the  ZenArmy on Twitter and other social groups! They are a group of Horizen fans who help spread the word about ZEN.
A member of Horizen Korea Community tattooed himself as an expression of his willingness to be with #Horizen for the rest of his life.#ZenForce $ZEN #Zendoo #HZEN #ZenArmy pic.twitter.com/xBSNPo9gHP

— Ken Parksons (@Ken52976005) December 8, 2021
Our website saw an increase of traffic of over 37% total with the largest increase of traffic on HEAP, which increased 247%! We are excited to welcome new developers and people interested in testing the latest Horizen releases. 
Our team participated in events and talks, both online and in-person, to spread the word about Horizen and engage with the Horizen community across the globe. We appreciate everyone that joined us at our events to meet our team and learn about our technology.
Our Technology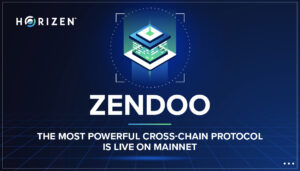 In 2021, we launched the cross-chain protocol Zendoo on the mainnet. With Zendoo, developers can custom build their own highly scalable and secure private or public blockchains. We also released zkAudit, the first and only fully decentralized and privacy-enabled audit (proof of reserve) blockchain that doesn't require any third-party validators.
Engineering Highlights
This year, we launched both our production environment testnet deployment of Zendoo and the mainnet deployment just two months later! Zendoo is now open to everyone. Developers can now join projects like Celsius, GameStation, and more by custom-building private or public blockchains on Horizen's zero-knowledge-enabled blockchain network.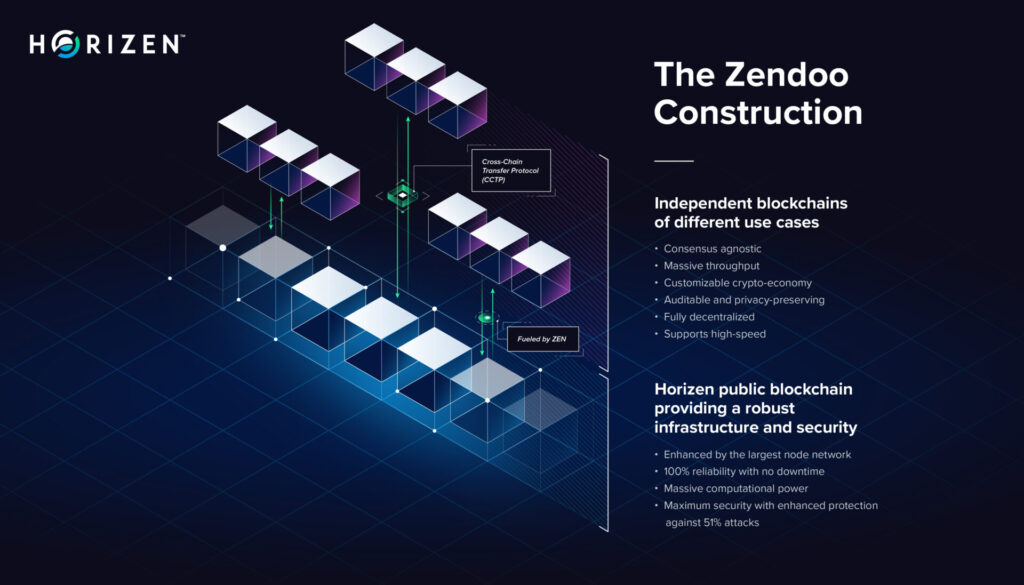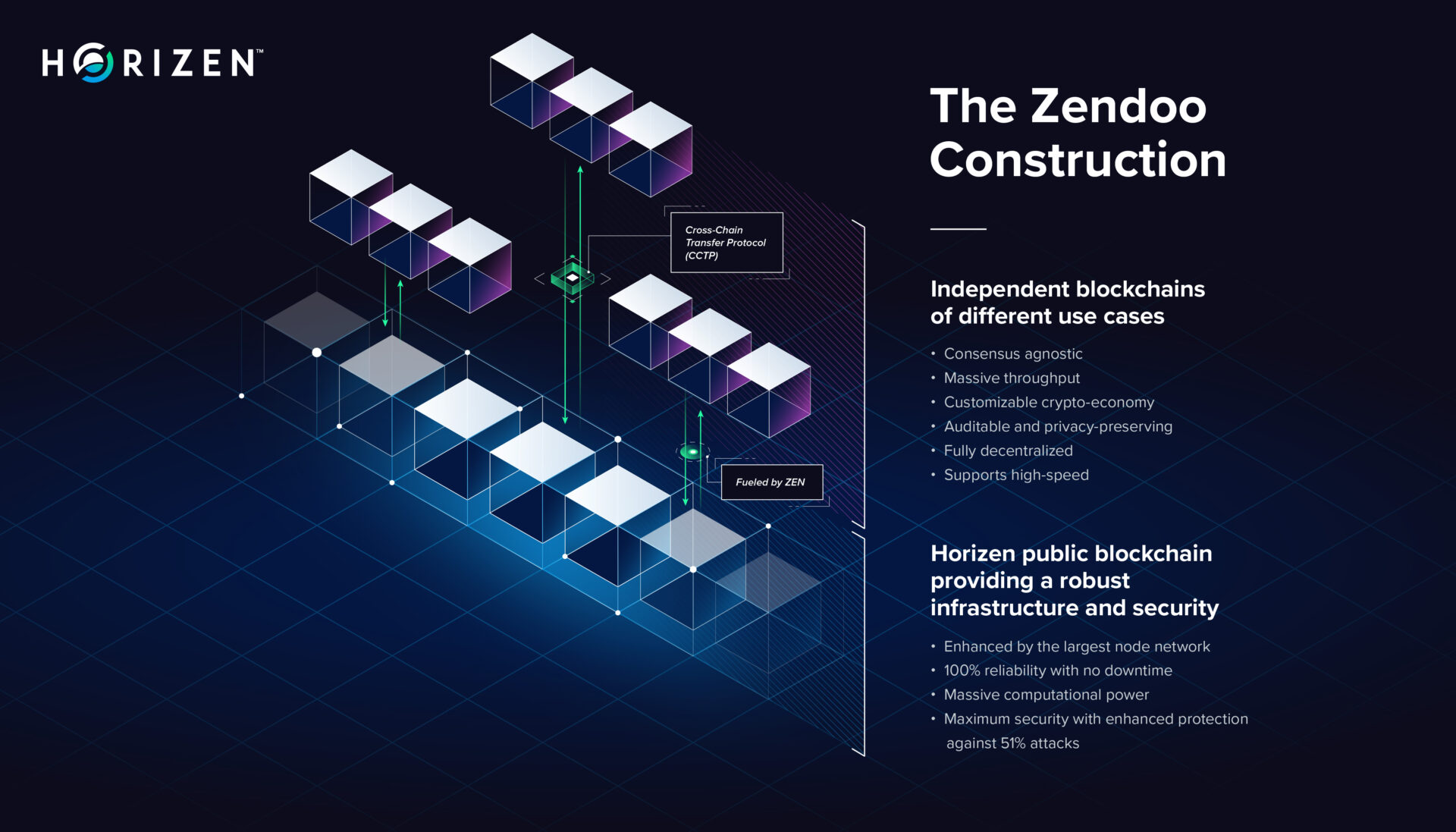 "Zendoo unleashes the potential of blockchains to scale via the creation of multiple parallel networks that operate independently and can be customized for speed, privacy preservation, and consensus." Horizen's Director of Engineering, Alberto Garoffolo
We also announced the Blaze SDK to enable developers to launch a high-speed blockchain on the Horizen network. In addition, we're working on the Latus SDK, a permissionless SDK that enables fully decentralized blockchains and EVM integration for Ethereum smart contract compatibility.
Other 2021 Updates and Releases
We welcomed many of our build and exchange partners in 2021. This year, ZEN was listed on exchanges like on Coinbase and Coinbase Pro and partnered with firms like Celsius, Dash, and GameStation.
Horizen Nodes Growth 2021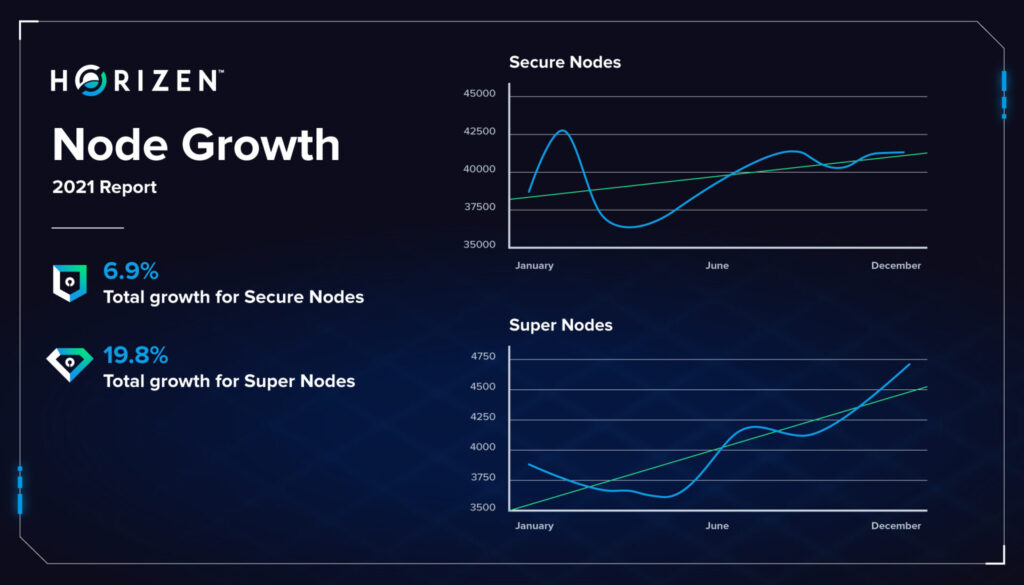 Our Partnerships
2021 was a busy year for our business development team as they secured several high-profile partnerships. These partnerships allowed us to reach new audiences and expand our market reach.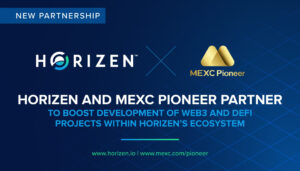 Among our biggest partnerships was MEXC Pioneer. Together we will boost the development of Web3 and DeFi projects within Horizen's ecosystem. Their platform launched a $100million growth fund to support the ecosystem growth of blockchain technology and infrastructure projects like Horizen and focuses on helping others build projects like DeFi, NFTs, blockchain games, and more. 
"The support from our highly experienced partners at MEXC Pioneer will accelerate our path towards revolutionizing Defi, NFTs, and other emerging sectors of the crypto ecosystem through our ZK-enabled cross-chain protocol, Zendoo. – Rob Viglione, Co-founder & Team Lead.
We also announced zkAudit in partnership with Celsius and Horizen Labs. zkAudit is a fully decentralized and privacy-preserving audit blockchain, helping Celsius improve their transparency while preserving the privacy of its users.
"zkAudit enables triple entry audit by using the blockchain and making auditing transparent and removes the need for the slow antiquated process of traditional auditing. We're thrilled to collaborate with Horizen Labs in this endeavor to bring Proof of Community to life and set the standard for transparency in blockchain finance." – Alex Mashinsky, CEO of Celsius.
Similarly, our partnership with Gamestation expands our reach into the blockchain gaming industry. Together we will explore ways for communities to leverage each other's technologies and work towards becoming a prominent contributor in the gaming space through the Zendoo. 
2021 Zendoo Blockchain Network and Ecosystem Partners
Celsius | GameStation | MEXC Pioneer | Dash | Morpheus.Network | HackerOne | IOTA | APIS | DIA Data
Listings and Integrations
In 2021, Horizen was on several major exchanges, and our integrations with key infrastructure providers continued to grow. This increasing exposure helped to solidify our position as a leading blockchain platform.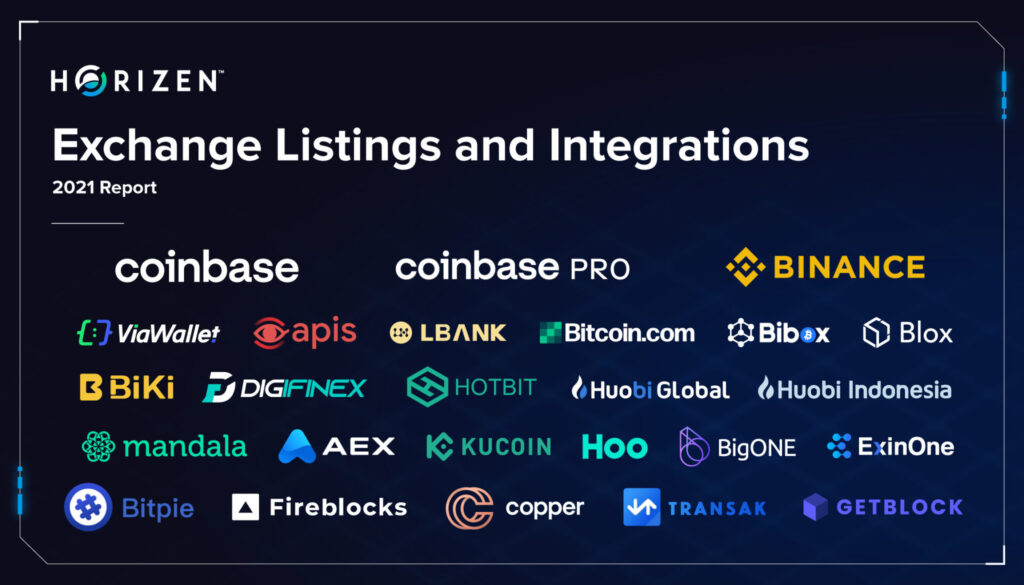 Horizen Initiatives 
Ambassador Program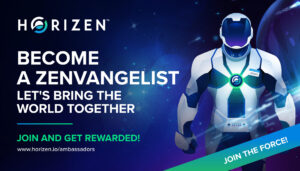 In 2021, we launched our Horizen Ambassador Program. The program empowers and supports each Zenvangelist to make a difference in their community and beyond. Ambassadors can design their own ambassadorship to help the Horizen ecosystem grow in their own way. In return, they receive development tools, rewards, and a network of like-minded people tailored to their specific needs for success.
We welcomed over 20 new ambassadors in 2021 and are looking forward to welcoming more in 2022. Each ambassador has contributed to the project in their own way including content creation, development, community assistance, and more! 
Bug Bounty Program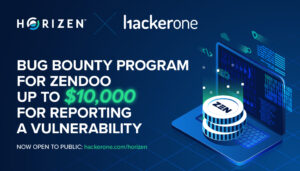 We also announced a partnership with HackerOne to help strengthen the security of the Horizen ecosystem, specifically our blockchain deployment system, Zendoo, while rewarding developers with up to $10,000 in bounties for reporting vulnerabilities. 
Horizen in the Media
Horizen was featured in many prominent media outlets in 2021. These features helped to raise awareness of our platform and increase brand recognition.
Events
We took part in dozens of events around the world, from major industry conferences to smaller meetups and panels. Our team enjoyed engaging with the community and sharing our vision for the future of blockchain.
Horizen Network Rooftop Party in NYC

Horizen at Mainnet 2021 in NYC

Horizen at CoinAgenda in Puerto Rico

Horizen x CryptoMonday event in Puerto Rico

Guan Yin at 499block

Guan Yin at Privacy Sunrise

Guan Yin at Web 3.0

Basics of Blockchain with MLH 

China Roadshow event series

PorcFest 2021 with Spencer and Nate

Horizen Meetup with Enjian School

Spencer at Miami Bitcoin Conference

Guan Yin at the Convergence of Blockchain

Horizen at ZK Jobs Fair by Zero-Knowledge Podcast
What to Look Forward to in 2022
Developing a cutting-edge blockchain ecosystem is a multi-year process that involves releasing new builds in stages. The release of Zendoo is just the beginning of an exciting new era. 2022 is a year of rapid ecosystem growth. We will continue developing the Zendoo platform to make it easier for developers to build their projects on Horizen, add new capabilities to Zendoo so it can support a wider range of products, and improve the interoperability of the network so Horizen can be even more inclusive and scalable. These developments include tokenizations, EVM compatibility, new SDK releases, Zenny Chain, and more.
in 2022, #Horizen is focusing on:

🪙 Tokenization
🌕EVM compatibility

Check out the latest Weekly Insider for more insights from @robviglione about our 2022 roadmap. https://t.co/xc6YE6EzQO pic.twitter.com/5BYt4eCUhF

— Horizen (@horizenglobal) December 29, 2021
Check out this article for a sneak peek of what's coming on the Horizen!  There is also a pipeline of new partnerships and new initiatives we are going to release in the new year.
Stay updated with us in 2022, join our Discord and Telegram, and follow us on Twitter